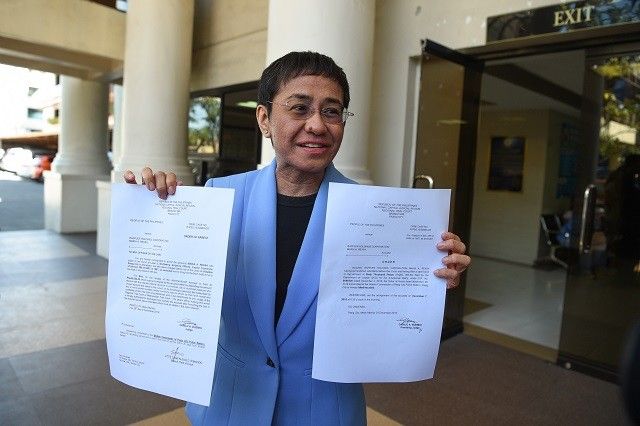 Maria Ressa, CEO of online news company Rappler shows a copy of arrest order and release order after she posts a P60,000 bail at the Pasig Regional Trial Court Branch 265 upon voluntarily surrending. Prior to this, a warrant of arrest against Ressa was issued dated November 28 over tax evasion charges.
Michael Varcas/File photo
UN rapporteur urges Philippines to drop charges vs Ressa
(Philstar.com) - December 7, 2018 - 2:32pm
MANILA, Philippines — The United Nations' special rapporteur on the promotion and protection of the right to freedom of opinion and expression urged the Philippine government to drop charges against Rappler's CEO and executive editor Maria Ressa.
He called the charges "a censorship tool."
"In light of past measures taken against Rappler, I am concerned that the charges of tax evasion constitute an attempt to silence the news outlet's independent reporting," Kaye said in a statement published on Thursday.
"This is a serious threat against independent and investigative journalism in the Philippines, and will have implications beyond its borders."
Ressa asked a Pasig court to reject the Department of Justice's tax evasion charges filed against them.
Rappler Holdings Corporation and Ressa filed this week an Urgent Motion to Quash Information before Pasig Regional Trial Court Branch 265. A copy of the pleading was made public only on Thursday.
The DOJ accused Rappler of "failing to supply correct and accurate information in the quarterly value-added tax return of RHC (Rappler Holdings Inc) for the second quarter tax year of 2015."
This is the fifth tax evasion case filed against it by the Department of Justice.
READ: DOJ files fifth tax evasion case vs Rappler
Ressa said the cases were an attempt to silence Rappler for its independent reporting. "These cases will not intimidate nor distract us from holding public officials to account through our stories," she said on November 29.
Canadian Foreign Affairs Minister Chrystia Freelan, meanwhile, tweeted on December 5 that Canada was "deeply concerned for the security" and safety of Ressa.
"The harassment and intimidation of journalists have no place in democracy," the foreign affairs minister and former journalist said. "We call for due process to be respected and stand with all journalists working in defence of truth."
Presidential spokesperson Salvador Panelo denied accusations that the Palace was persecuting Rappler. "It is a question of tax evasion," Panelo said during a Malacañang press briefing on Monday.
"You violate laws, then you will be prosecuted," he added.
The tax evasion charges are connected to a Securities and Exchange Commission investigation that found Rappler "liable for violating the constitutional and statutory Foreign Equity Restriction in Mass Media, enforceable through laws and rules within the mandate of the commission."
The SEC said that Rappler's funding from the Omidyar Network through Philippine Depositary Receipts had violated a constitutional ban on foreign ownership of media. They accuse Rappler of being a dealer in securities and that Rappler is liable for paying taxes on PDRs sold.
In his State of the Nation Address in July 2017, President Rodrigo Duterte claimed that Rappler is owned by foreigners and should be investigated.
Duterte's Solicitor General Jose Calida wrote a letter to the Securities and Exchange Commission that prompted the initial investigation into Rappler. He has also been involved in the voiding in May of Maria Lourdes Sereno's appointment as chief justice of the Supreme Court and the voiding of the amnesty granted to Sen. Antonio Trillanes IV in 2011.
Duterte has acknowledged that Calida did the research on Trillanes' alleges failure to apply for amnesty and to acknowledge guilt in mutinies against the Arroyo administration.