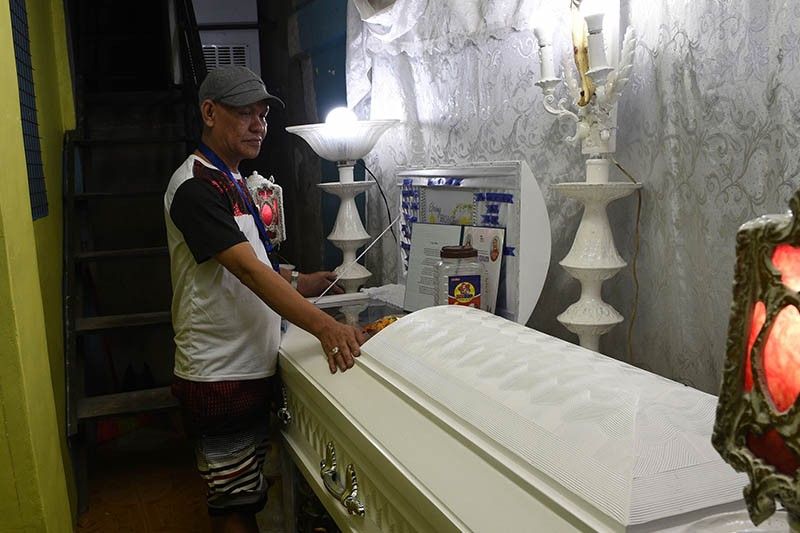 In this file photo taken on August 18, 2017, Saldy delos Santos, father of 17-year-old student Kian delos Santos, stands next to the coffin of his son who was killed during a police anti-drug raid, during a wake at his home in Manila.
AFP/Ted Aljibe
Conviction of Kian's killers 'doesn't go far enough,' rights groups say
MANILA, Philippines — Rights groups critical of the government's bloody campaign against drugs welcomed the conviction of the three Caloocan City cops for the killing of 17-year-old Kian Loyd Delos Reyes but stressed that the verdict "does not go far enough."
Caloocan Regional Trial Court Branch 125 found PO 3 Arnel Oares, PO 1 Jeremias Pereda and PO 1 Jerwin Cruz guilty beyond reasonable doubt for the killing Delos Santos during an anti-narcotics sweep on August 16, 2017. They were sentenced to up to 40 years in prison with no possibility of parole.
The three became the first policemen to be convicted of abuses in the government's brutal war on illegal drugs. Malacañang even said the conviction shows that the country has "robust judicial system."
But for Nicholas Bequelin, Amnesty International's regional director for East and Southeast Asia, the conviction "has come far too late."
"While three officers have been found guilty, more should be held to account, including superiors that may bear responsibility for the thousands of killings and other human rights violations," Bequelin said in a statement Thursday.
In a related statement, rights group Karapatan said that the three police officers' superiors should also have been held to account "for condoning and orchestrating murders done in similar police operations which resulted in the killing of Delos Santos and many others."
The group said: "They, too, should unequivocally be held accountable. We are enraged that President Rodrigo Duterte, then Philippine National Police Chief Ronaldo 'Bato' dela Rosa and several other high officials who ordered, encouraged, endorsed and even mandated the police to commit such dastardly crimes have remained unpunished."
RELATED: PNP: Kian delos Santos murder not a case of extrajudicial killing
Amnesty International's Bequelin, moreover, stressed that the verdict on the Delos Santos' killing confirmed that the war on drugs is a "brutal, murderous campaign that claims innocent lives."
"This case is just the tip of the iceberg—Amnesty and others have documented thousands more murders of mostly poor and marginalized people, including children like Kian," Bequelin said.
Karapatan said "the case of Kian should be an example to many to persevere in the struggle for genuine justice. It is likewise a message and a warning to all those in power that the people will never tire in bringing all murderers, thieves and criminals in government to justice."
The latest government record showed that more than 4,900 suspected "drug personalities" have been killed in "legitimate" police operations since Duterte, who vowed to rid the country's streets of illegal drugs and crimes, took office.
But human rights monitors have higher estimates, with some saying there have been more than 12,000 deaths.
Bequelin added that an independent body or an investigation by the United Nation is needed to investigate the killings and hold all involved responsible.
The killing of the schoolboy, slain in a dank alley, generated wide condemnation both at home and abroad and sparked protests against the conduct of the drug war.
"Never has homicide or murder been a function of law enforcement. The public peace is never predicated on the cost of human life," the court ruled.