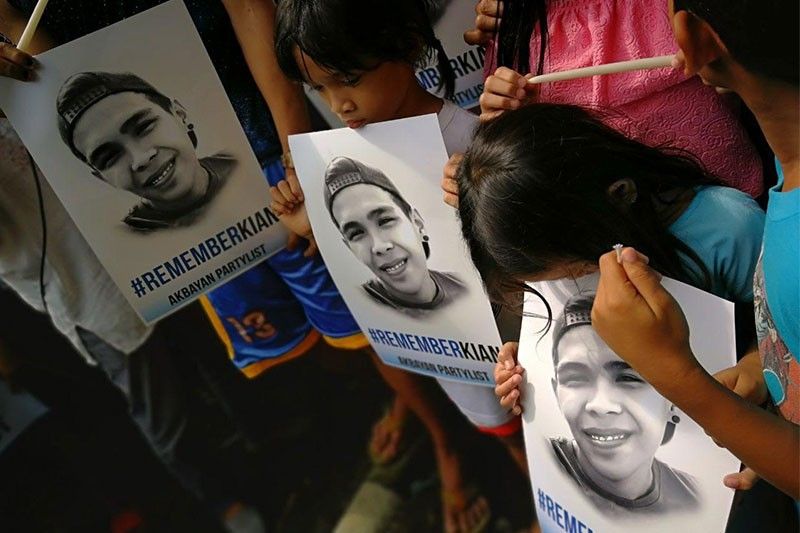 In this Aug. 15, 2018 photo, parents and children from Caloocan gathered in Beasa Libis, Brgy 160, on the site where Kian delos Santos was shot, to offer flowers and prayers.
Akbayan/Released
Palace hails 'triumph of justice' in conviction of Kian killers
(Philstar.com) - November 29, 2018 - 12:08pm
MANILA, Philippines — The conviction of Caloocan policemen involved in the killing of 17-year-old Kian Loyd delos Santos is a "triumph of justice," Malacañang said Thursday.
A Caloocan court found PO 3 Arnel Oares, PO1 Jeremias Pereda and PO1 Jerwin Cruz guilty beyond reasonable doubt of killing Delos Santos in August 2017.
The suspects were sentenced to reclusion perpetua or 20 to 40 years in prison with no possibility of parole. They were also ordered to pay the victim's family P100,000 civil indemnity, P100,000 moral damages, P45,000 actual damages and P100,000 exemplary damages with interest on all damages.
"It shows that this country has a robust judicial system," presidential spokesperson Salvador Panelo said, recalling President Rodrigo Duterte's previous declaration that those who would abuse their authority "will have hell to pay."
Panelo insisted that when Duterte declared his so-called war on drugs, his policy was always intolerant with any kind of abuse from the military and the police.
Although Senior Supt. Chito Bersaluna and Chief Supt. Roberto Fajardo were sacked as police chief of Caloocan City and chief of Northern Police District, respectively, after cops under them killed Delos Santos, the two were later promoted.
In June this year, the Human Rights Watch slammed the promotions of Bersaluna as Bulacan province's top cop and Fajardo as chief of the Philippine National Police Highway Patrol Group, saying it is an insult to drug war victims.
In August 2017, Duterte himself vowed to jail the policemen involved in the killing of Delos Santos if they are found guilty of criminal acts.
The Malacañang spokesman also emphasized that the trial of Delos Santos' case only ran for six months.
"It means that the prosecution, as well as the defense, really did their homework and finished the case on time," Panelo said.
The conviction of the cops involved in the killing of Delos Santos also demonstrates that the country has a working judicial system, reiterating Duterte's previous pronouncements that the International Criminal Court does not have jurisdiction over the Philippines.
"It also demonstrates, by the way, the theory when detractors of the president advocate the idea that the ICC has jurisdiction because this country does not have the capability of prosecuting criminals," Panelo said.
The Philippines had withdrawn its ratification of the Rome Statute, the treaty that established the ICC. The international court, however, is not a substitute for national courts and can only intervene when a state is "unable or unwilling genuinely to carry out the investigation and prosecute the perpetrators."
Duterte has been accused of committing crimes against humanity for being directly responsible for extrajudicial executions when he launched his drug war in Davao City since 1988. — Patricia Lourdes Viray
As It Happens
LATEST UPDATE: November 29, 2018 - 11:15am
The Caloocan Regional Trial Court Branch 125 finds three Caloocan cops guilty beyond reasonable doubt of murdering 17-years-old Kian delos Santos last August 2017.
November 29, 2018 - 11:15am
The Human Rights Watch says the court's verdict today finding three police officers guilty in the murder of 17-year-old Kian delos Santos is important because it is the first conviction of state agents implicated in a "drug war" killing.
"This is a triumph of justice and accountability and a warning to members of the Philippine National Police to respect due process and the rights of civilians as they do their job," Brad Adams, Asia director of HRW, says in a statement.
However, the rights watchdog is also wary because President Duterte has promised to pardon police officers convicted in "drug war" killings.
"There is reason to suspect that he will keep that promise."
"President Rodrigo Duterte's brutal 'drug war' has not spared children. Many of them died in the hands of the Philippine police during anti-drug operations. They were either targeted or were simply caught in the cross-fire as police officers raided homes and communities. Most of these killings have not been investigated by the authorities."
November 29, 2018 - 11:08am
Caloocan RTC 125 Judge Rodolfo Azucena Jr. says murder has no place in the work of a police officer.
"Never has homicide or murder been a function of law enforcement. The public peace is never predicated on the cost of human life."
This is the first conviction involving errant police in the Duterte administration's war on drugs.
November 29, 2018 - 9:09am
PO3 Arnel Oares, PO1 Jerwin Cruz and PO1 Jeremias Pereda were sentenced to reclusion perpetua with no possibility of parole.
The court, however, found them not guilty for planting illegal drugs and a gun on the teenager to make it appear Kian fought back during a "One Time Big Time" operation in Baesa, Caloocan last year.
Caloocan RTC Br 125 heavily guarded by Caloocan police for the promulgation of three former Caloocan cops in the murder case of 17y/o Kian Delos Santos @PhilippineStar pic.twitter.com/UMcGdC145W

— Marc Jayson Cayabyab (@mjaysoncayabyab) November 29, 2018