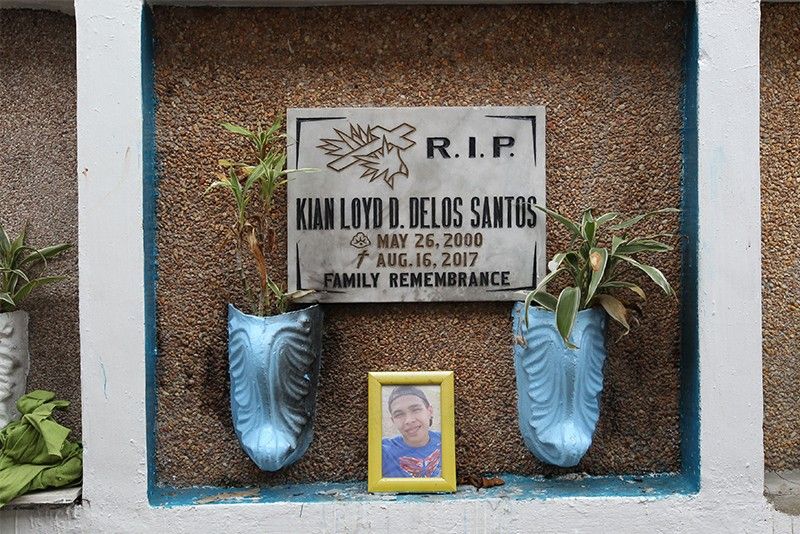 This November 29, 2018 photo shows the apartment tomb of Kian Delos Santos, a teenager killed in an anti-drug police operation in Caloocan City last year.
The STAR/Michael Varcas
PNP: Kian delos Santos murder not a case of extrajudicial killing
(Philstar.com) - November 29, 2018 - 4:47pm
MANILA, Philippines — The Philippine National Police on Thursday denied allegations of state-sponsored killings in President Rodrigo Duterte's crackdown on narcotics, following the guilty verdict of a court sentencing three cops to up to 40 years in jail for the murder of a teenager.
"Although they are still convicted, we cannot say categorically that this case was extrajudicial killing," PNP spokesperson Senior Supt. Benigno Durana told a press conference when asked if the force qualifies the killing of 17-year-old Kian delos Santos as summary execution.
Durana stressed that drug-related deaths are not included in the definition of extrajudicial killings stated in the previous administration's Administrative Order No. 35 — which human rights watchdogs say has a restrictive interpretation of extralegal killings.
"In fact there are no extrajudicial killings in the Philippines... The fact that it was tried before the court, how can they say it's extrajudicial?" Durana added. "It was never the policy of the Philippine National Police as well as the government of killing drug suspects."
According to police who seized the teenager in a wave of anti-drug operations in Caloocan City last year, Delos Santos resisted arrest, prompting them to fire back at him. Reportedly recovered from the teenager were a .45 pistol and two sachets of suspected shabu (methamphetamine).
But this version has come under fire after a CCTV footage showed Delos Santos being dragged by two plain-clothes policemen to a dark, trash-filled alley where his dead body was later found. The killing has generated condemnation in the country and abroad and sparked protests against the conduct of the drug war.
The Caloocan Regional Trial Court Branch 125 has convicted PO 3 Arnel Oares, PO1 Jeremias Pereda and PO1 Jerwin Cruz with no possibility of parole.
"Never has homicide or murder been a function of law enforcement. The public peace is never predicated on the cost of human life," the court ruled.
Last September, Duterte, who is known for his off-the-cuff remarks, said as far as he is concerned, summary executions that had taken place during his war on drugs are his only fault. He did not elaborate.
Human rights monitors say most of the fatalities in the government's anti-narcotic drive are extrajudicial killings committed by cops, something the PNP has vehemently denied. — Ian Nicolas Cigaral