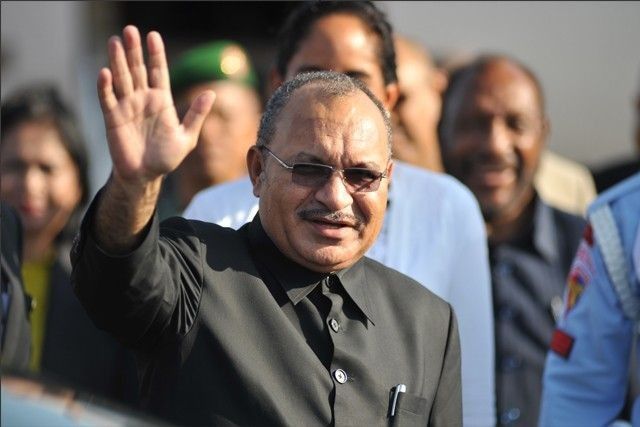 O'Neill, chairman of this year's Asia-Pacific Economic Cooperation (APEC) summit, had a small chat with Duterte during the arrival of leaders at the APEC Haus Holding Room here.
File
PNG leader asks Duterte if he had 'good sleep'
Alexis Romero
(The Philippine Star) - November 18, 2018 - 12:00am
PORT MORESBY – Did you have a good sleep?
Papua New Guinea Prime Minister Peter O'Neill yesterday asked this question of President Duterte, who faces criticism for skipping events during the Association of Southeast Asian Nations (ASEAN) Summit in Singapore.
O'Neill, chairman of this year's Asia-Pacific Economic Cooperation (APEC) summit, had a small chat with Duterte during the arrival of leaders at the APEC Haus Holding Room here.
When Duterte arrived at the venue, O'Neill greeted him with "nice to see you," to which the President replied: "Happy to see you."
After the pleasantries, the Papua New Guinean leader was heard asking his Philippine counterpart: "Did you have a good sleep?"
Duterte, known for his lengthy remarks, simply answered: "Yeah."
O'Neill asked Duterte again: "Did you have a good rest?"
Duterte replied: "Yeah."
O'Neill and Duterte shook each other's hands and posed for a photo opportunity.
Duterte created a buzz among foreign and local media after skipping the ASEAN special summits with Australia and South Korea, the working lunch for ASEAN leaders and gala dinner on Wednesday in Singapore.
Officials said the 73-year-old President had to take power naps because of his tiresome schedule.
Duterte also cut short his visit here and was expected to depart for the Philippines Saturday night.
Duterte had to cut short his participation in the APEC Summit because of "urgent domestic developments," Malacañang said yesterday.
Presidential spokesman Salvador Panelo did not say what developments prompted Duterte to skip some of the events in the summit, which he described as "the most important economic cooperation platform in the world."
"Urgent domestic developments... require the Chief Executive to return to the Philippines after today's activities. The President will personally convey this imperative decision to his good friend Papua New Guinea Prime Minister Peter O'Neill who, we hope, will understand the same," Panelo said.
Duterte was expected to depart for Davao City at 11:15 p.m. Saturday night instead of 4:15 p.m. today as originally planned.
"The Philippines remains supportive of Papua New Guinea's chairmanship and will continue to be positively engaged with APEC… especially in reinforcing the formulation of the new and inclusive APEC Vision beyond (2020)," Panelo said.
Panelo's statement was sent hours before Malacañang announced that Duterte would depart for the Philippines a day earlier than scheduled. After about half an hour, Panelo's office recalled the statement, saying it would issue an updated one.
Trade Secretary Ramon Lopez would represent Duterte for the remainder of the APEC meetings. The trade chief is expected to work with leaders of other APEC economies toward enabling small businesses in the region to link internationally.
Duterte participated in yesterday's APEC-related events, which included a dialogue before prominent business leaders during the summit of chief executive officers of the APEC Business Advisory Council, a meeting with leaders of the Pacific Islands Forum and a gala dinner.
The APEC activities that the President will skip are the taking of the leaders' official family photo, informal dialogue with International Monetary Fund and leaders' retreat and working lunch.
Earlier, Foreign Affairs Secretary Teodoro Locsin Jr. represented the President during the ASEAN events.
Panelo had said Duterte was not able to attend the events because he took "power naps." He claimed Duterte loses sleep because of his dedication and taxing schedule but critics believe the President's absence during the events indicate poor health or laziness.
Power nap important
Health Secretary Francisco Duque III yesterday came to the defense of Duterte, explaining that given the Chief Executive's age and responsibilities as head of the country, it is important for him to take power naps.
According to Duque, there is nothing wrong for a person to take power naps to rebuild strength.
"It is normal. Even the young ones take power naps, so how much more the elderly or the senior citizens? If you are tired, your body will naturally demand for rest," he noted in a radio interview.
Duque added that the public should understand that even a President also needs time to "recharge," considering that he has been hands-on in fulfilling his duties and responsibilities.
"The job of a president is not a joke. Let us not deprive him of rest if he needs it because he has to attend to all of our needs… Not only the President but each of us has to listen to what our body has to say so we can rebuild our strength," Duque maintained. – With Sheila Crisostomo