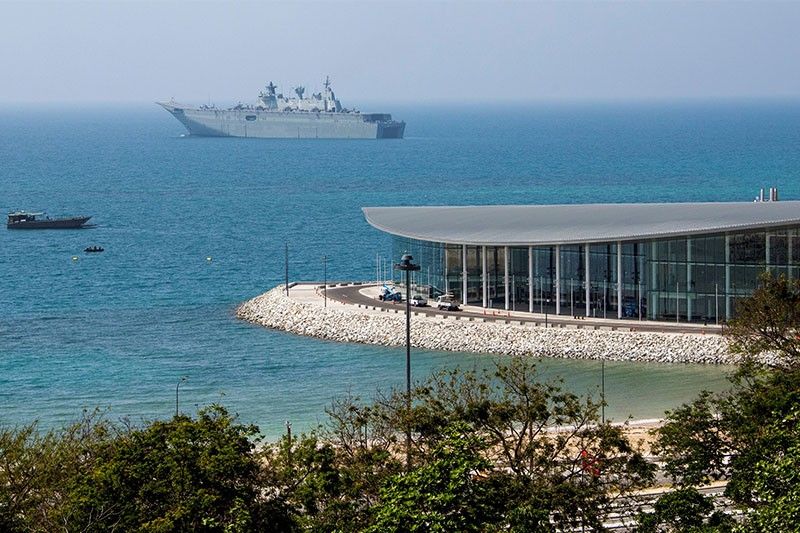 This photo taken on Nov. 4, 2018 shows the Australian warship HMAS Adelaide moored off APEC Haus in Port Moresby, the host city for the upcoming Asia-Pacific Economic Cooperation (APEC) summit from November 17. Papua New Guinea has deployed a multi-national force of warships, fighter jets and elite counter-terrorism troops to protect world leaders attending the APEC summit in its crime-plagued capital this week.
AFP/Ness Kerton
Duterte to attend APEC, meet Filipinos in Papua New Guinea
MANILA, Philippines — President Rodrigo Duterte will join 20 other world leaders at the 19th Asia Pacific Economic Cooperation (APEC) Economic Leaders' Meeting in Port Moresby, Papua New Guinea this weekend.
The regional economic forum will be held from November 17 to 18. This will be the first time that Papua New Guinea will be hosting the summit since joining the APEC in 1993, Foreign Affairs Undersecretary Ernesto Abella said.
Aside from attending the APEC summit, the president will also meet with the Filipino community in the southwestern Pacific country.
"There's a planned [Filipino community] meeting with the approximately 40,000 Filipinos based there. He is scheduled to meet up with them," Abella said during a Malacañang briefing Monday.
Abella added that over 200 Philippine companies also operate in Papua New Guinea.
"The Philippines provides important service to the people of Papua New Guinea. Foremost of which is agricultural expertise assisting local rice growers to improve yields and to maximize efficiency," the DFA undersecretary said.
In May, Duterte hosted Papua New Guinea Prime Minister Peter O'Neill at Malacañan, where the two heads of state signed a joint declaration of agricultural cooperation with emphasis on rice production.
Duterte's attendance at the upcoming regional economic forum symbolizes a "new era" for Filipino engagement on the world stage, Abella said.
Abella described the Asia Pacific region as the epicenter of global growth, making the APEC the most important platform in the world.
"As one of the best performing economies in the fastest-growing region in the world, the Philippines has much to contribute as well as much to gain from a fruitful discussion with our neighbors, friends and allies in APEC," Abella said.
Duterte will also be attending a dialogue before prominent business leaders in the region at the APEC Business Advisory Council.
"The president joins other leaders in affirming commitment to an international rules-based regime, support of multilateral trading system and bodies by organizations like the World Trade Organization," Abella said.
Chinese President Xi Jinping, Japanese Prime Minister Shinzo Abe, United States Vice President Mike Pence and Russian Prime Minister Dmitry Medvedev are also expected to attend the regional forum.
Australia, New Zealand and the US have provided special forces to guard Port Moresby to protect world leaders attending the summit. About 4,000 military personnel, half of them foreign, will work with police to patrol Port Moresby.