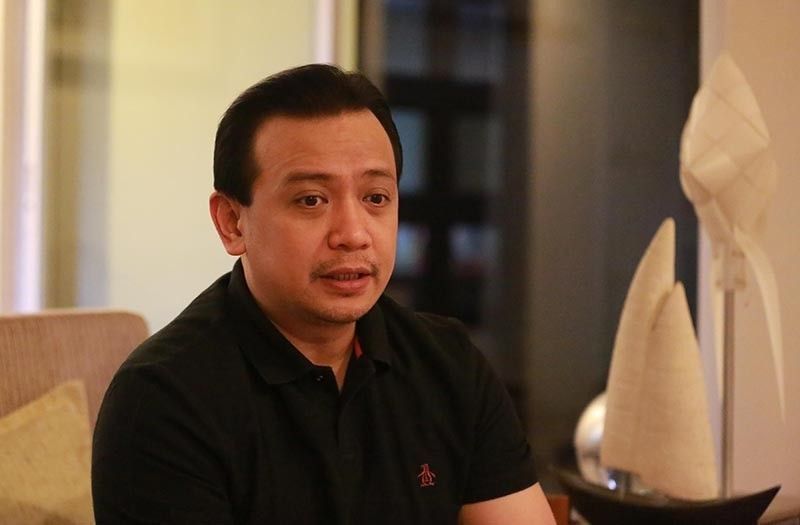 Makati Regional Trial Court Branch 148 Judge Andres Soriano conducted a hearing last October 5 to allow both parties to present their evidence and witnesses before open court.
The STAR/Michael Varcas
Makati court wraps up proceedings on DOJ's plea for warrant vs Trillanes
MANILA, Philippines — Makati Regional Trial Court Branch 148 has wrapped up its proceedings on the Department of Justice's motion for warrant against Sen. Antonio Trillanes IV.
Judge Elmo Soriano said that, pursuant to the Supreme Court's order, "the factual issues...and the issue on the 'legality' of Proclamation 572, Series of 2018 based on the pleadings/motions filed by the parties—as they may bear upon the prosecution's Urgent Ex-Parte Motion for Issuance of Hold Departure Order and Issuance of Alias Warrant of Arrest against [Trilanes]—are now considered submitted for resolution."
The order is dated October 11, but was released only on Friday morning.
The court ruled to admit that most of the evidence presented by Trillanes' camp except for the printout of the official Facebook page of the Department of National Defense and the printouts of "throwback picture" of the senator as these "have not been duly authenticated and were never identified by any defense witness."
Soriano conducted a hearing last October 5 to allow both parties to present their evidence and witnesses before open court.
Among the witnesses who took stand in the hearing are Lt. Col. Thea Joan Andrade, Department of National Defense Legal Affairs chief Norman Daanoy, journalist Mark Merueñas, Col. Josefa Berbigal and former DND undersecretary Honorio Azcueta.
Andrade signed the certification stating that there is no available copy of Trillanes' application for amnesty in their records, but she stressed that she did not mean to say that the senator did not apply.
"[It was] never your intention to certify that Trillanes did not apply?" Reynaldo Robles, lawyer representing Trillanes, said.
Andrade answered: "Not my intention." She also said that she has "no personal knowledge if he (Trillanes) applied."
Andrade's certification is cited on President Rodrigo Duterte's Proclamation 572 that said the amnesty granted to the senator is "void from the beginning."
Meanwhile, Berbigal and Azcueta both attested that they have received and processed Trillanes' amnesty application. They also stated that the senator attached the narration of facts indicating his involvement in the crimes he was being charged with, as required.
Trillanes had been facing a coup d'etat charge before the Makati RTC Branch 148 over his involvement in the 2003 Oakwood Mutiny case.
Meanwhile, he is moving for the setting aside of the issuance of warrant, at Makati RTC Branch 150.