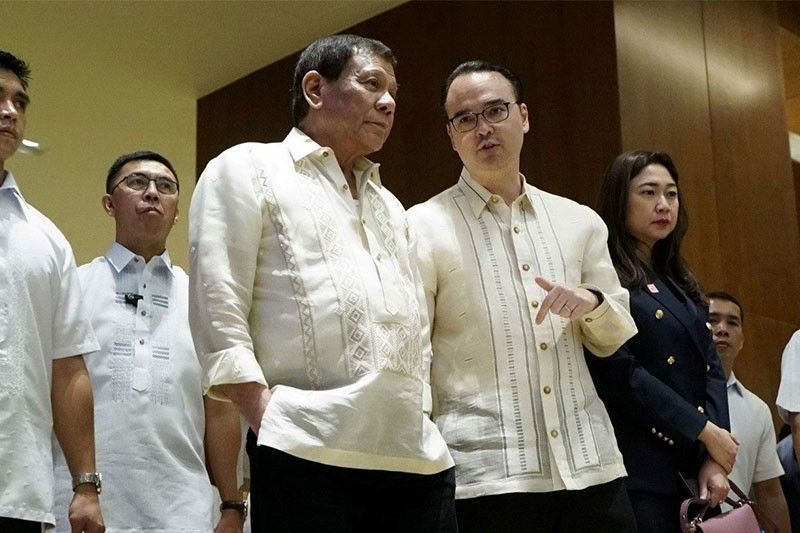 "With all humility, I will seek another term in my hometown, the district of Taguig and Pateros, and then let's see where it goes from there," Foreign Affairs Secretary Alan Peter Cayetano said.
Presidential Photo/King Rodriguez/File
Alan Peter Cayetano: Duterte wants me to become speaker
BALI – Foreign Affairs Secretary Alan Peter Cayetano yesterday did not hide the fact that he is running for Congress, representing a district in his hometown Taguig City, in the midterm elections next year and with it the chance to become speaker of the House of Representatives in the next Congress.
Cayetano was quick to point out, though, that the decision to run for Congress was made after he had a heart-to-heart talk with President Duterte.
"The President has a vision for the country of a safe and comfortable life for everyone. I was with him, like millions of Filipinos during the journey, so I really want him to succeed. So we had a heart-to-heart talk, and we both agreed that a role in Congress and a leadership position in Congress would be good in terms of pursuing that vision," Cayetano told media on the sidelines of the Association of Southeast Asian Nations (ASEAN) Leaders' Gathering held in this resort island in Indonesia.
Considerations were made, according to Cayetano, before he decided to throw his hat into the congressional race and leave the Department of Foreign Affairs altogether.
"With all humility, I will seek another term in my hometown, the district of Taguig and Pateros, and then let's see where it goes from there," he said.
Cayetano admitted he would seek the leadership position in the House, although "it is a complex matter."
"You have to win first in your district, and I want to focus on that first, and then you have to win the trust and confidence of the whole Congress, especially that we have a specific vision," he said.
Cayetano said it would not be simple to enter Congress and become speaker or want a new leadership.
"It's how you want to pursue this vision in the next three years. And, as we all know, administrations are most effective usually in the fourth and fifth year… Actually, as the fifth year enters, everyone is thinking of the next election already. So, practically, we have two years from now… to get to work on the changes that are really needed," he said.
Cayetano likewise pointed out that it was not an easy decision to leave the DFA, which he considers family.
"It's a very fulfilling job. To be honest, I thought, possibly, this is my last job in the government. So it wasn't easy to decide. But the idea was broached by some original supporters of the President and then it's the third time now of the present Speaker, so things like that," he added, referring to Gloria Macapagal-Arroyo.
Cayetano said that as a good soldier, he had to follow the vision that the President wants to pursue. He added that he offered to first finish certain functions that he had to attend to as foreign secretary but the President prevailed, prompting him to let go, especially after he would have filed his certificate of candidacy.
Cayetano's participation in the ASEAN meet is his last foreign trip as foreign affairs chief as he would no longer attend the meetings scheduled until yearend.
"I did offer to complete first the events that were lined up: the European Union-ASEAN Leaders' Summit in Brussels, the ASEAN, the Asia-Pacific Economic Cooperation and preparations for the state visit of Chinese President Xi Jinping. But it's the President's call, so my feeling, as of now, is that he'd rather that those who want to run go ahead and file and allow him to reorganize," he said.
Cayetano expressed confidence that the one who will replace him will be "very capable and would do a better job."