Salvador Panelo back as Duterte spokesman; Go awaits replacement
October 12, 2018 | 12:00am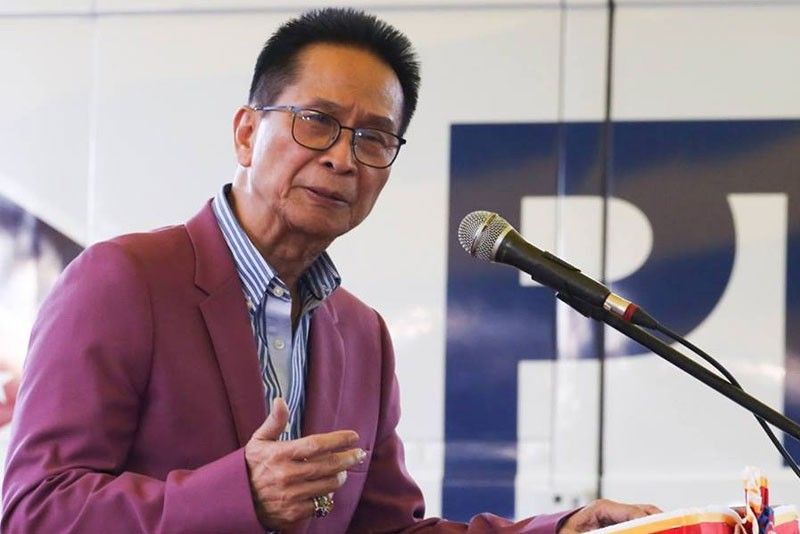 MANILA, Philippines — Chief presidential legal counsel Salvador Panelo has been named presidential spokesman while Harry Roque Jr. is on leave.
Panelo will serve in a concurrent capacity as spokesman for President Duterte, Special Assistant to the President Christopher Go told reporters yesterday. This means Panelo will remain as Duterte's chief legal adviser.
Panelo confirmed in a text message that he has already been informed of his designation. He said he is not new to the job, having served as Duterte's spokesman during the campaign period for the May 2016 elections.
"Nothing really changed because since day one of the presidential campaign of the President, I was already his spokesperson. And when he assumed presidency, I was also his spokesperson. In fact, the executive order creating this office, my present position, states that I am the spokesperson of the President," Panelo said in a video sent by Communications Secretary Martin Andanar.
"The only difference, I think, (is) I would be more visible this time. Because as chief presidential legal counsel, I was really speaking for the President on matters of sensitive national issues that require my articulation of thoughts and ideas of the President," he added.
After winning the presidential race two years ago, Duterte announced he would appoint Panelo as presidential spokesman. A few days before he assumed office, however, Duterte named former pastor and educator Ernesto Abella as his spokesman and appointed Panelo as his chief legal counsel. Last November, Roque was named presidential spokesman, succeeding Abella, who was appointed foreign affairs undersecretary.
Roque, who is in China to attend a conference, declined to comment on Panelo's appointment.
"I will defer any comment until Monday since I am in China," Roque said.
Roque is considering running for senator next year. The announcement on Panelo's appointment came even if Roque has not yet resigned from his post.
Go, however, clarified that Roque was not dismissed from his post.
"Roque is on leave. He is still weighing his options. There was no firing," the presidential aide said.
Roque confirmed this, saying he has not yet decided whether or not he would run for senator.
On Tuesday, Duterte said Roque had threatened to quit after being kept in the dark about the former's visit the hospital last week. The Chief Executive said Roque felt he had been "placed in a bad light" when he was not informed about the President's medical checkup at the Cardinal Santos Medical Center on Wednesday last week.
"(Roque) said he would resign because he didn't know that I was in the hospital. So he was not informed. I do not need to tell him everything. There are things which are limited to the immediate members of the family," Duterte told reporters at Malacañang.
"He said he would resign. I told him, 'Go ahead'," he added.
Duterte claimed that while Roque had flip-flopped about his political plans, he needed to appoint a successor to avoid a "paralysis in the flow functions."
Last Thursday, Roque denied that Duterte was brought to a hospital only to be contradicted later on by the President himself, who admitted undergoing endoscopy at Cardinal Santos Medical Center.
Last Saturday, Roque said Duterte was in Davao City but this was proven inaccurate after Go released photos of the President and his family in Hong Kong.
Roque admitted having limited access to the President, making it hard for him to perform his functions.
Go's replacement up to Duterte
Meanwhile, Go is leaving it to Duterte to choose his replacement.
"I am sure mas marami pa pong magagaling na (there are a lot of other outstanding) Filipinos," Go said when asked about who could replace him as the President's special aide.
Go has been the closest and most trusted aide of Duterte for over 23 years, even when the latter was still mayor of Davao City.
Go is considered by many to be the gateway to Duterte; no one goes to the President without passing through his chief aide.
Go likewise said he still does not have a definite date yet in filing his certificate of candidacy (COC) should he finally decide to run for the Senate in the 2019 midterm polls.
Just when everybody else is rushing to file their COCs for next year's polls, Go said he still has to think things over.
"Naghihintay ako ng (I'm waiting for) enlightenment galing sa Panginoon (from the Lord) and from the President," he said.
Go added that he needs the go-signal from Duterte for him to ultimately decide to run for the Senate.
"I believe in the wisdom of the President. Hintayin na lang natin 'yong araw na yon if mag-file ako (Let's just wait for that day if I'm going to file)," Go said.
Meanwhile, the President is keeping his hands full in looking for those who will replace not only Go but other Cabinet members running in next year's elections, according to Go.
"(The President) is thinking and he will be the one to choose who will be replacing those who will leave the Cabinet," he added.
Among those leaving the Duterte Cabinet are Foreign Affairs Secretary Alan Peter Cayetano, political adviser Francis Tolentino and Cabinet Secretary Leoncio Evasco.
Cayetano is running for Congress representing Taguig, Tolentino for the Senate and Evasco for governor of Bohol. – With Edith Regalado