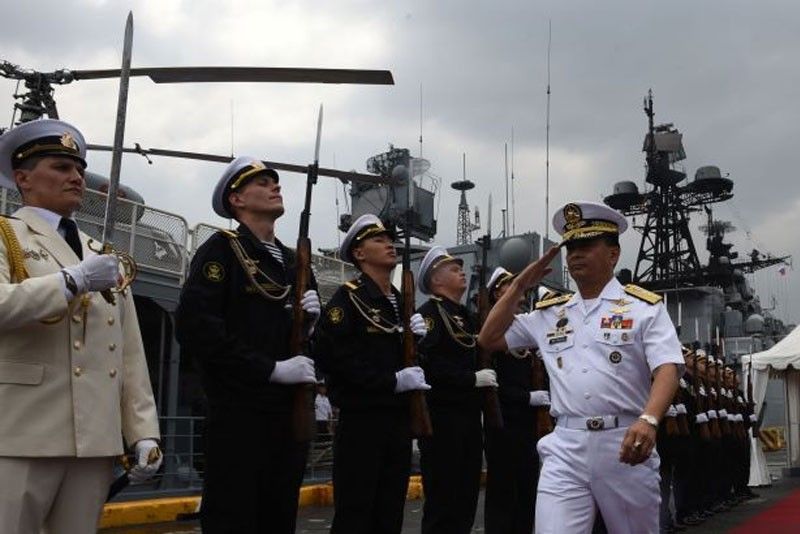 The games were held on a football field, a half hour drive to the city's outskirts.
AFP/File
Russian forces too much for Filipinos… in tug-of-war
Jaime Laude
(The Philippine Star) - October 3, 2018 - 12:00am
VLADIVOSTOK – The Russian Navy proved too strong for the Philippine Navy (PN), but although the Filipinos lost the friendly games, they certainly won new friends.
The first engagement yesterday was a tug-of-war between members of the Marine contingent of the Navy's Task Force 87 (NTF-87) against a Russian Navy team held at the compound of the Russian Pacific Fleet in the Far East here.
While the Russians took two of the supposed three-match contest against their Filipino foes, the winning trophy was given to the Filipino Marines with matching shirts for each player, courtesy of their Russian counterparts.
Navy and Marine footballers also proved no match for the Russian Navy footballers, but the Pinoys likewise took home the trophy for scoring a lone goal – against the opponent's 10.
The same fate befell the PN's volleyball team that lost all three sets to the well-prepared Russian Navy spikers.
The games were held on a football field, a half hour drive to the city's outskirts.
NTF-87 commander Capt. Florante Gagua waseen cheering the teams. He said winning or losing is not as important as developing the bond and friendship between the two forces.
Russian sailors and Marines were in the Philippines last year and early this year where friendship games were also held.
"It's OK. We might have lost in all the games, what is important is we have won ourselves new friends," NTF-87 spokesman Lt. Edward Pablico said.
Yesterday's friendly games were part of the series of engagements that include shipboard tours of a contingent of Russian sailors on the Philippine Navy's Strategic Sealift Vessel BRP Tarlac.
A reciprocal shipboard tour was also done by a contingent of Filipino sailors and Marines on Russia's warship nearby.
In the late afternoon, the NTF-87 officials led by Gagua and Tarlac skipper Capt. Estelito Lagadia Jr. played host to their Russian counterparts in a dinner held at the helicopter hangar of the ship.