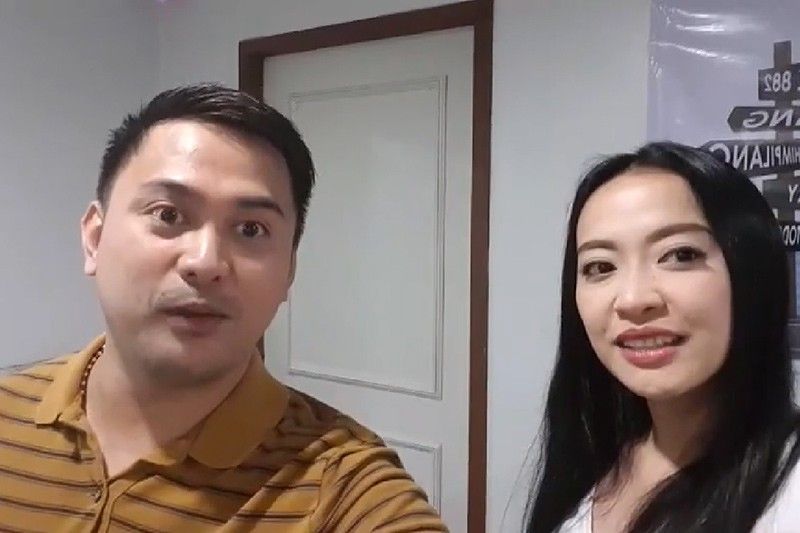 A screengrab of the controversial video last Thursday, Sept. 13, 2018, showing blogger Drew Olivar with Presidential Communications Assistant Secretary Mocha Uson. The two got flak anew after Olivar made sign language gestures that were decried as insensitive towards the deaf community.
Facebook
Police: No 'special treatment' for pro-Duterte blogger under probe for 'bomb threat'
(Philstar.com) - September 22, 2018 - 4:48pm
MANILA, Philippines — Metro Manila police on Saturday denied giving "special treatment" to controversial pro-Duterte blogger Drew Olivar, who is under investigation for posting on social media unverified information about an alleged bomb threat.
In a Facebook post that is no longer available, Olivar discouraged people from joining demonstrations related to the 46th anniversary of the declaration of martial law, saying word of a threat as deadly as the 1971 Plaza Miranda bombing was spreading.
Olivar's post came at a time some colleges and universities in the capital were receiving back-to-back bomb scares.
The National Capital Region Police Office has launched a probe into Olivar's controversial Facebook post, which generated scathing backlash from netizens.
At a press conference, NCRPO Director Chief Superintendent Guillermo Eleazar — who sat alongside Olivar and Palace Communications Assistant Secretary Mocha Uson — said the embattled blogger "voluntarily" went to the police to submit himself.
He also maintained that Olivar is not getting "special treatment" from law enforcers.
"There are no sacred cows here," Eleazar said. "We immediately investigated this incident after it was reported to us."
Protesters on Friday marked the anniversary of the 1972 martial law declaration by the late Philippine dictator Ferdinand Marcos, whom President Rodrigo Duterte considers the best president the country ever had.
FROM PHILSTAR NEWSLAB: 31 years of amnesia: Stories on the myths that made Marcos
According to the NCRPO chief, Olivar might have violated Presidential Decree No. 1727 or the "Anti-Bomb Joke Law." Under the presidential decree, violators will be imprisoned for a maximum of five years or be fined up to P40,000.
For his part, Olivar issued an apology and denied inciting fear with his post, saying he was just reminding both pro and anti-administration protesters to keep themselves safe during the demonstrations.
He also confirmed receiving information about the alleged bomb threat, but admitted to not reporting it to proper authorities because he was "busy" and was "focused" on social media.
Olivar's controversial "bomb scare" Facebook post is the latest in a series of social media scandals involving him and Uson, who is facing complaints before the Ombudsman.
Uson was recently in hot water after Olivar, a co-host of her online show, danced lewdly supposedly to create public awareness about federalism.
The two was criticized anew by netizens for uploading a video last Thursday showing the pair making fun of deaf people. — Ian Nicolas Cigaral