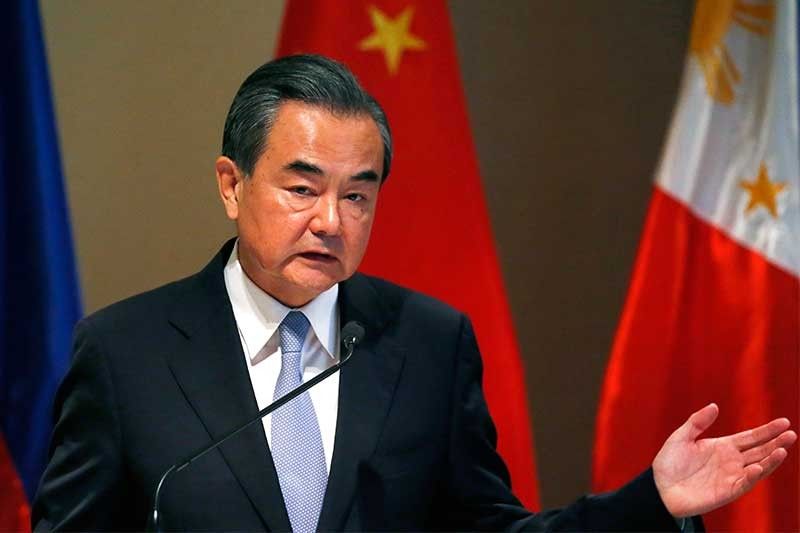 In this July 25, 2017 photo, Chinese Foreign Minister Wang Yi gestures during a joint news conference with Philippine Foreign Affairs Secretary Alan Peter Cayetano following their bilateral meeting in Manila.
AP/Bullit Marquez, file
Chinese state councilor's Philippine visit rescheduled due to 'Ompong'
(Associated Press) - September 15, 2018 - 6:12pm
MANILA, Philippines — Chinese State Councilor and Foreign Minister Wang Yi's visit to the Philippines has been moved "at a later date" as typhoon Ompong (international name: Mangkhut) slices through Luzon and threatens southern China and Hong Kong.
Upon the invitation of Foreign Affairs Secretary Alan Peter Cayetano, China's top envoy was supposed to undertake an official visit to the country from September 16 to 18.
The Philippine foreign affairs department did not give the exact date of Wang's rescheduled visit.
"The Philippines and China will continue to work closely together to ensure the success of all future high-level engagements and the sustained advancement of our bilateral cooperation," the DFA said in a statement.
"Discussions on all levels will continue uninterrupted between both sides," it added.
Wang's trip to Manila comes a month after Philippine economic managers visited Beijing.
The Philippines and China are expected to discuss infrastructure projects, as well as oil and gas cooperation, with a view of coming up with a framework on the possible joint exploration in the West Philippine Sea.
The framework is expected to conform to domestic rules and regulations and international laws, as both sides have been stating in the past.
According to state weather forecasters, "Ompong" continues to weaken after it hit land. Many areas are still under storm signal warnings.
Powerful winds and heavy rain brought by the massive storm have set off landslides in areas it pounded. It also caused heavy damage on an airport terminal, knocked out power and communication lines and blew off roofs.
LIVE UPDATES: Typhoon Ompong
— Ian Nicolas Cigaral