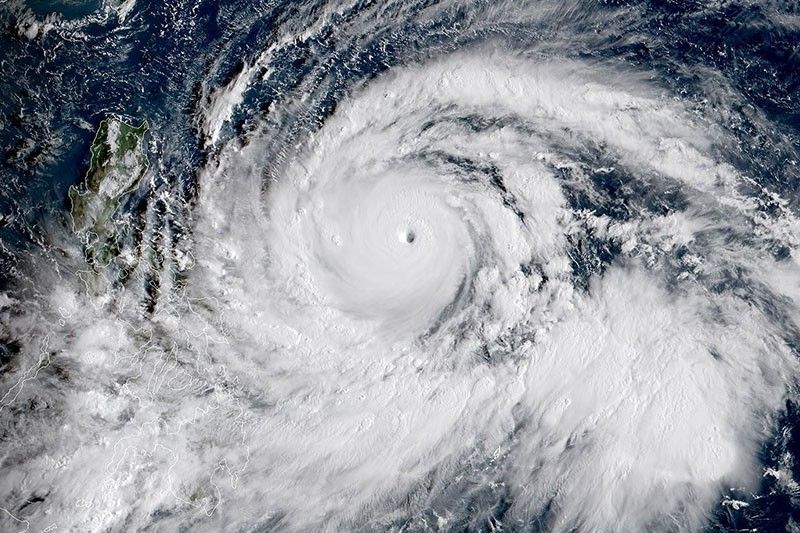 This NOAA/RAMMB satellite image taken at 00:20 UTC on September 13, 2018, shows Typhoon Mangkhut off the Philippines east coast in the Philippine Sea. Millions of people are at risk from a strong typhoon set to smash into the northern Philippines this weekend which could bring floods, landslides and huge waves to the disaster-prone nation, rescue workers said Wednesday, September 12, 2018.
Agustin PAULLIER / NOAA/RAMMB / AFP
Signal No. 3 up in 3 areas as 'Ompong' moves closer
MANILA, Philippines — State weather bureau PAGASA has placed at least three areas in Luzon under Signal No. 3 as typhoon "Ompong" (international name Mangkhut) moves closer.
The typhoon continues to threaten northern Luzon and is expected to make landfall in the Cagayan-Isabela area by Saturday morning.
Tropical cyclone warning signals have been hoisted in the following areas:
Signal No. 3 (Winds of 100 to 185 kph in at least 18 hours)
Northern Aurora
Cagayan
Isabela
Signal No. 2 (Winds of 60 to 100 kph in at least 24 hours)
Abra
Apayao
rest of Aurora
Babuyan group of Islands
Batanes
Benguet
Ifugao
Ilocos Norte
Ilocos Sur
Kalinga
La Union
Mountain Province
Nueva Ecija
Nueva Vizcaya
Pangasinan
Quirino
Tarlac
Northern Zambales
Signal No. 1 (Winds of 30 to 60 kph in at least 36 hours)
Albay
Bataan
Batangas
Bulacan
Burias Island
Camarines Norte
Camarines Sur
Catanduanes
Cavite
Laguna
Lubang Island
Masbate
Marinduque
Metro Manila
Northern Occidental Mindoro
Northern Oriental Mindoro
Pampanga
Polillo Island
Quezon
Rizal
Northern Samar
Sorsogon
Ticao Island
rest of Zambales
Areas under Signals No. 2 and 3 will experience stormy weather while areas under Signal No. 1 will experience occasional rains and gusty winds.
At 7 a.m., Ompong was located 605 kilometers east of Baler, Aurora packing winds of 205 kph and gusts of up to 255 kph. It is expected to move west northwest at 20 kph.
The typhoon will also continue to enhance the southwest monsoon or "habagat" which will bring moderate to occasionally heavy rains over Visayas.
Palawan, Zamboanga Peninsula, Northern Mindanao and Caraga will experience light to moderate to at times heavy rains due to the southwest monsoon.
"Residents in these areas, especially those living near river channels, in low-lying areas and in mountainous areas, are advised to take appropriate actions against possible flooding and landslides, coordinate with local disaster risk reduction and management offices, and to continue monitoring for updates," PAGASA said.
Forecast position
24 hours (Saturday morning): In the vicinity of Peñablanca, Cagayan
48 hours (Sunday morning): 430 km west Northwest of Laoag City, Ilocos Norte (Outside PAR)
72 hours (Monday morning): 1,205 km west of Basco, Batanes (Outside PAR)
96 hours (Tuesday morning): 1,800 km west of Basco, Batanes (Outside PAR)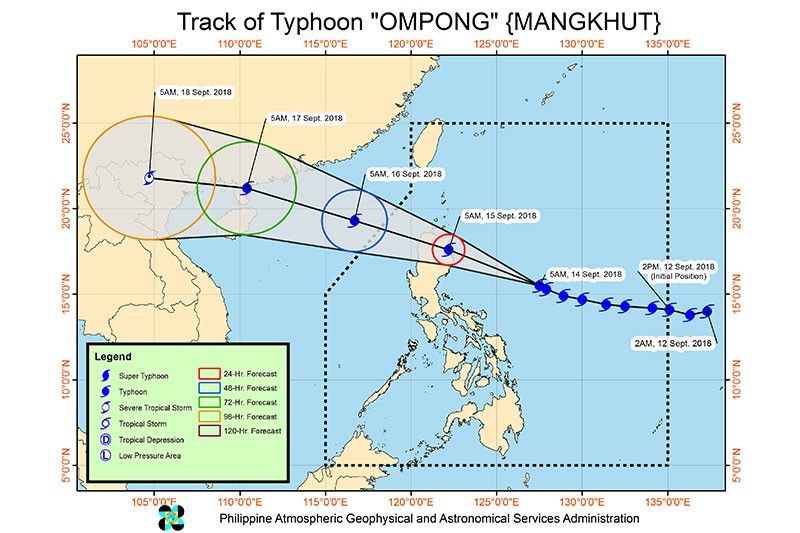 <
>