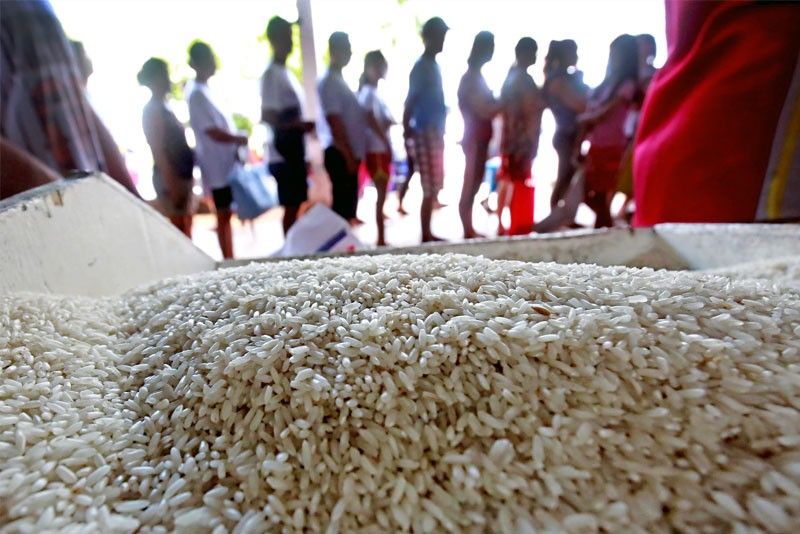 People line up at the Pasig Mega Market to buy National Food Authority rice for P32 per kilo yesterday. Each person is limited to buying five kilos.
Michael Varcas
'Inflation self-inflicted, not caused by Trump'
Paolo Romero
(The Philippine Star) - September 10, 2018 - 12:00am
MANILA, Philippines — US President Donald Trump and other global factors should not be blamed for the Philippines' accelerating inflation, which is largely triggered by the Duterte administration's policies, Senate President Pro Tempore Ralph Recto said yesterday.
Recto made the statement after President Duterte twice in two days blamed Trump's tariff policies and the raising of interest rates in the US for the country's inflation that took off in February and continues to rise.
"World events, external factors are a given. That's always the case. We must anticipate. In any situation there are both opportunities and threats. A big part of our inflation problem is self-inflicted. They are internal," Recto said in a text message.
He said the continued depreciation of the peso is also a major factor in the increase of prices of commodities.
Recto, who served as head of the National Economic and Development Authority during the Arroyo administration, said the Duterte government can no longer afford to continue intervening in the agriculture sector, particularly subsidizing rice and other crop production.
He suggested various policy measures to slow down inflation and restore confidence in the economy, including incentivizing private sector investment and credit to agriculture to increase productivity; speeding up the granting of land titles to farmers while allowing land consolidation; reducing tariffs on agricultural products, and pushing private sector investment in technology and mechanization in the sector.
He also said the Bangko Sentral ng Pilipinas can improve its management of both interest rates and the exchange rate.
He also advised the Department of Finance to ask Congress to temporarily suspend the second package of the Tax Reform for Acceleration and Inclusion (TRAIN 2).
"It's (TRAIN 2) bad timing. The looming trade war and conflicts around the world will affect the global economy. I suggest our economic managers anticipate both threats and opportunities," Recto said.
He warned TRAIN 2 could further increase prices of good, increase costs for business, and "will not attract investments at this time."
Sen. Francis Pangilinan, president of the Liberal Party, hit Duterte for blaming Trump for the country's rising inflation.
He said Duterte's argument could hold water if other countries in Southeast Asia have also registered rise in prices.
"That (argument) could have been good if other countries in the Asean (Association of Southeast Asian Nations) also have high inflation. We have the highest (inflation) and by a wide margin," Pangilinan told dzMM.
He said it was the poor policies and neglect by the Duterte administration of the economy that led to the situation.
Cabinet meeting on inflation
Duterte will tackle inflation and rice supply during the regular Cabinet meeting at Malacañang today.
Duterte has reiterated that the 6.4 percent inflation in the Philippines, the highest level in nine years, is brought by the policies of US imposing higher tariffs on goods.
The President also stressed that no administration had not experience a rise in inflation rate. He cited Philippine Statistics Authority's data showing that inflation reached 41 percent in 1974 and was at its highest at 50.3 percent in 1984.
The President earlier warned he would raid warehouses of traders reportedly hoarding rice supply.
Duterte said he would call on the military and the police to pounce on the warehouses if rice supply would continue to be scarce. – With Edith Regalado