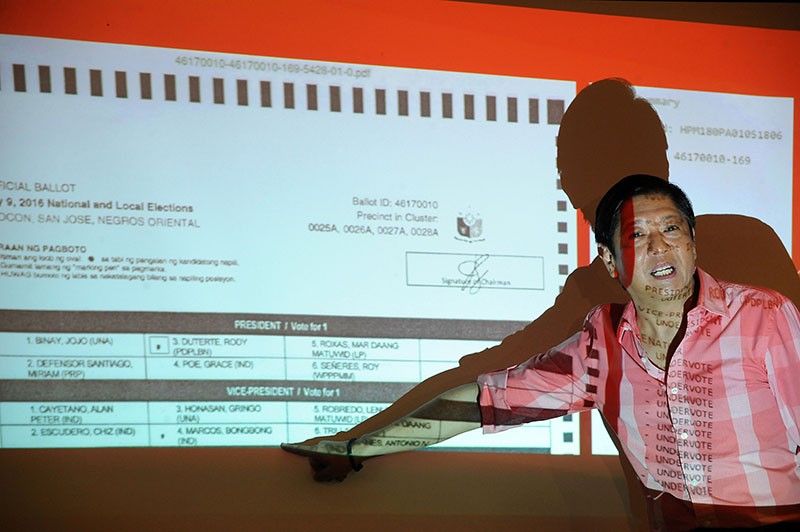 Former Sen. Ferdinand "Bongbong" Marcos Jr. sought the recusal of Associate Justice Alfredo Benjamin Caguioa from the electoral case against Vice President Leni Robredo, but the PET junked his plea for lack of merit.
Ben Nabong
PET junks Bongbong's plea for Caguioa's recusal in his poll protest
MANILA, Philippines — The Supreme Court, sitting as the Presidential Electoral Tribunal, has junked former Sen. Ferdinand "Bongbong" Marcos Jr.'s plea for inhibition—which it called a "mere scrap of paper"—against Associate Justice Alfredo Benjamin Caguioa.
"Upon judicious scrutiny of the Motion to Inhibit and after weighing the allegations against the prevailing circumstances of the instant Protest, the Tribunal denies the same for utter lack of merit," the PET said in its ruling dated August 29.
The tribunal also "sternly warned" Marcos and his legal counsels "that any unfounded and inappropriate accusation made in the future will be dealt with more severely."
Marcos on August 6 sought for the recusal of Caguioa, member-in-charge of his electoral protest against Vice President Leni Robredo.
The former senator accused Caguioa of being a "partial and biased" judge. He cited the justice's ties with former President Benigno Aquino III, who, Marcos said, "bear[s] a grudge" against their family.
He also said how it was "curious" that the case landed on Caguioa's sala. This, despite cases filed before the SC being raffled off to sitting justices.
Marcos also cited Caguioa's wife who allegedly has close ties with Robredo.
But the tribunal dismissed Marcos' allegations as a "good reading as a conspiracy theory."
Marcos' narration "may even fodder for discourse in social media, but his theories, when used for ground for an inhibition of a Member of this Tribunal must transcend fiction," the resolution read.
READ: Bongbong's accusation of PET as unfair: What's behind it?
Caguioa: Impartial judge
The PET stressed out that Caguioa "has shown impartiality" in the course of proceedings in Marcos' poll protest.
The tribunal pointed out that despite "numerous pending incidents" on the case, the proceedings pushed forward, such as the preliminary conference of the case last July 2017 and the ballot revision or recount in April 2018.
"Weighed against protestant's imagined misgivings, the foregoing shows that Justice Caguioa's conduct of the matters involved in this Protest has been nothing but impartial," the resolution read.
The high court also stressed that all rulings it has issued were arrived at through a majority vote among all members.