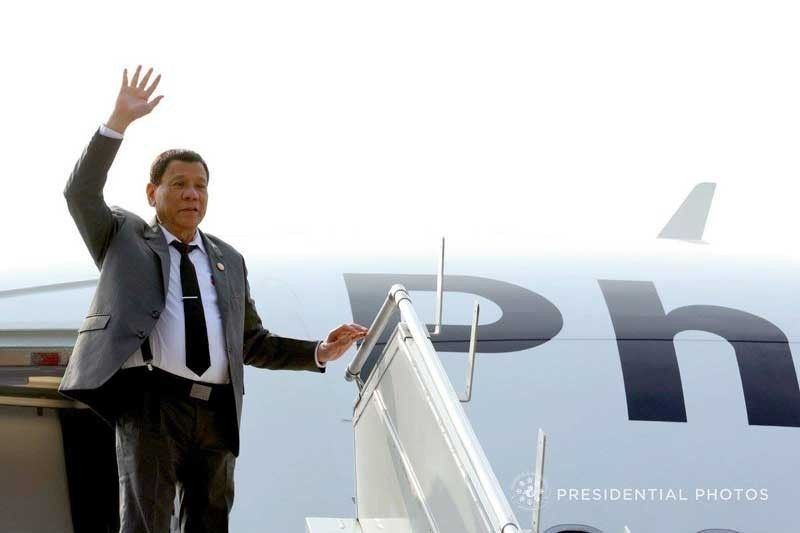 President Duterte is scheduled to leave this afternoon for the official trip to Israel, followed by the official visit to nearby Jordan.
File
Large business delegation joining Duterte in Israel trip
MANILA, Philippines — More than 150 Filipino businessmen will accompany President Duterte on his visit this week to Israel, according to the Israel foreign ministry.
Embassy officials said yesterday Duterte will lead a business seminar for heads of large companies from Israel and the Philippines.
Duterte is scheduled to leave this afternoon for the official trip to Israel, followed by the official visit to nearby Jordan.
Before he leaves for Israel, Duterte accepted the credentials of Israeli Ambassador to the Philippines Rafael Harpaz during the presentation of credentials at Malacañang last Friday.
After the presentation of credentials, Duterte and Harpaz exchanged views on how to further strengthen Philippine-Israeli relations.
"President Reuven Rivlin and Prime Minister Benjamin Netanyahu are looking forward to meeting the President." Harpaz said.
Philippine-Israel relations stand on the noble deed of the Philippines through the late President Manuel Quezon's "Open Door" policy that saved 1,300 Jewish people from the Holocaust.
"Israel is eternally thankful to the gracious deed of the Philippines to save Jewish lives," he said.
"We are also appreciative of the approximately 30,000 Filipinos who are working as caregivers to many Israelis in need," Harpaz added.
The ambassador also expressed appreciation to the thousands of Filipino professionals who participate in development programs in Israel and in the Philippines, through MASHAV, Israel's international agency for development cooperation.
He also commended the more than 600 Filipino students from 29 state universities and colleges who participate in the 11-month internship in modern agriculture program in Israel every year.
In a pre-departure briefing last Thursday, Foreign Affairs Undersecretary Ernesto Abella said it will be the first time that a Philippine president visits Israel and Jordan.
From Sept. 2 to 8, the Department of Foreign Affairs said the President will work to expand ties with Israel and the Hashemite Kingdom of Jordan upon the invitation, respectively, of Israeli Prime Minister Benjamin Netanyahu and His Majesty King Abdullah II of Jordan.
"The visits will mark historic milestones, benefit trade and strengthen relationships with key partners in the Middle East," Abella said.
Duterte's official visits to Israel and Jordan are in line with the administration's foreign policy of "friends to all, enemies to none."
Justice Secretary MenardoGuevarra was designated as government caretaker when President Duterte leaves today.
The usual caretaker during presidential trips abroad, Executive Secretary Salvador Medialdea, the so-called "little president," will be part of Duterte's official delegation.
The President is set to depart at around 1 p.m. today from the Ninoy Aquino International Airport before returning to the country via Davao City on Sept. 9.
Among those expected to join the President on the trip are presidential daughter and Davao City Mayor Sara Duterte-Carpio and son Sebastian Duterte.
In Israel, Duterte is expected to sign agreements with Netanyahu on areas of cooperation concerning labor, science and investment.
The labor deal with Israel would include improvements in the deployment procedures and elimination of excessive placement fees imposed on overseas Filipino workers (OFWs) bound for Israel.
There are reportedly about 28,300 OFWs in Israel as of last year.
Meanwhile, Duterte's three-day visit to Jordan would be an opportunity to reciprocate the visit of the late King Hussein, who visited the Philippines 42 years ago.
The late king's visit in 1976 marked the formal establishment of diplomatic relations between Jordan and the Philippines.
An official of the Catholic Bishops' Conference of the Philippines (CBCP) yesterday said he supports the planned meeting of President Duterte with OFWs in Israel and Jordan because this would show they are given a sense of importance.
In an interview over the Church-run Radio Veritas, CBCP-Episcopal Commission on Migrants and Itinerant People chairman Bataan Bishop Ruperto Santos said that the President's meeting with the OFWs in these two Middle East countries gives an impression that he values their contribution to the country and recognizes their love for their families.
The official trip of President Duterte to Israel is expected to hasten the defense department's key procurement projects from the highly military-capable Jewish state, for the Armed Forces of the Philippines (AFP).
Philippine Coast Guard commandant Admiral Elson Hermogino, who is joining the trip, would also look for ammunition that could be installed in their newly acquired vessels.
"What we will be looking for in Israel are armaments for our new vessels and other law enforcement and anti-terrorist equipment," said Hermogino.
A senior military official, who asked not to be named, said that included in talks between Filipino and Israeli officials duirng Duterte's visit is the procurement of military equipment.
"We are looking forward that defense deals will be discussed or even forged during the President's visit to Israel," the official said.
The source pointed out that Israel has been a major source of key military equipment like radars and missile systems currently being used in the three major services of the AFP.
Some Philippine Navy ships are now equipped with Israeli-made Spike ER (Extended Range) missiles.
Aside from the Navy, dozens of the Army's infantry fighting vehicles and armored personnel carriers are also armed with Israeli-made remote control weapons systems. – With Evelyn Macairan, Jaime Laude, Edith Regalado