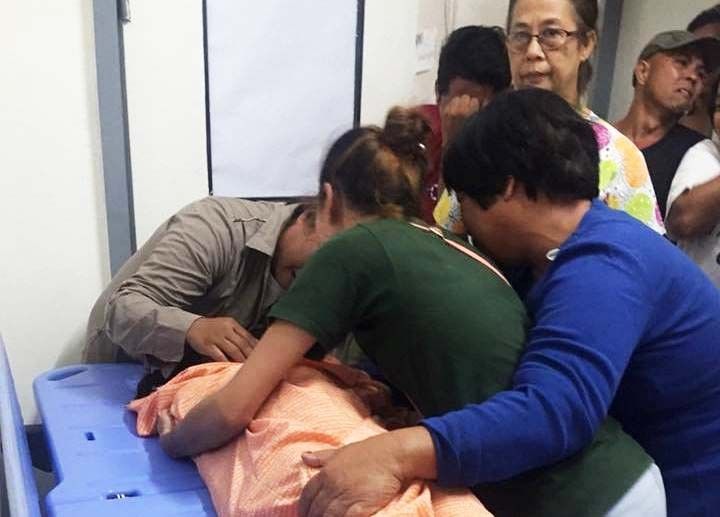 Family cries over the lifeless body of the seven-year-old victim who died from shrapnel wounds during the blast in Isulan town, Sultan Kudarat.
Philstar.com/John Unson
ARMM execs support martial law extension; blast death toll rises to 3
John Unson
(Philstar.com) - August 30, 2018 - 10:26am
SULTAN KUDARAT, Philippines — Local officials will not oppose an extension of the Mindanao-wide martial law as a possible consequence of the deadly bombing Tuesday night in Isulan town in Sultan Kudarat.
Three were killed while more than 30 others, two of them soldiers and a militiaman, were injured in the attack that marred the town's good harvest "Hamungaya Festival."
It is a yearly event involving Muslim, Christian and Lumad residents in Isulan, an agricultural hub and capital town of Sultan Kudarat under Administrative Region 12.
Executive Secretary Salvador Medialdea reportedly hinted Wednesday that extending the martial law, to terminate by yearend, could be an option since the bombing in Barangay Kalawag in Isulan town indicated that there is still need for it.
The incident resulted in the instant deaths of Leny Dohina Ombrog, 51 and the seven-year-old Devy Shane Alayon.
A 21-year-old college student Wellmark John Lapides, died in a hospital 24 hours later.
Barangay officials in Isulan told reporters Thursday that they favor an extension of the martial law in Mindanao to sustain the expanded authority of the police and military in addressing peace and security issues in Sultan Kudarat and nearby provinces where there are Islamic State inspired blocs.
Local executives in Sultan Kudarat said they will not oppose an extension of the martial law that President Rodrigo Duterte declared hours after combined Maute and Abu Sayyaf terrorists laid siege to Marawi City on May 23, 2017, sparking hostilities that lasted for five months.
Even Maguindanao Gov. Esmael Mangudadatu said Thursday he and mayors in the province are not against any extension of the martial law.
"We don't have problem with that. Whatever can hasten maintenance of law and order in central Mindanao, we in Maguindanao shall willingly support," Mangudadatu told reporters on Thursday morning via text message.
He said an extended martial law will complement the joint efforts of his administration, the Army's 6th Infantry Division and the Police Regional Office-Autonomous Region in Muslim Mindanao to secure the peaceful surrender of hardcore Islamic militants in Maguindanao.
Police and Army officials have pointed to the Bangsamoro Islamic Freedom Fighters as responsible for the bombing in Isulan.
There are enclaves of the BIFF, which operates in the fashion of the Islamic State, in Maguindanao's adjoining Datu Saudi, Mamasapano, Datu Salibo and Shariff Saidona Mustapha towns.
More than 20 BIFF members have surrendered to the 6th ID in the past four months, four of them trained in fabrication of bombs by the slain Malaysian terrorist Zulkifli bin Hir, most known as "Marwan."
The group is known for venting ire on non-military targets to avenge losses in encounters with pursuing units of 6th ID.
Soldiers have killed more than 30 BIFF gunmen in encounters in Maguindanao and in nearby North Cotabato province in the past four months.
Superintendent Aldrin Gonzalez, spokesman of the Police Regional Office-12, said Thursday investigators are still trying to identify the two couriers of the improvised explosive device detonated near a roadside establishment in Barangay Kalawag at past 8:00 p.m. Tuesday.
Gonzales said the homemade bomb was placed on a motorcycle parked in front of a store near a popular night market in Isulan.
Initial reports said the IED was placed in a tricycle parked along the busy street in Barangay Kalawag, where a crowd was watching the festival celebration.
The IED, fashioned from blasting powder packed with metal fragments with jagged edges, was detonated from a distance using a mobile phone, officials said.
Government forces have been on alert in restive southern regions in recent weeks due to intelligence reports that IS-inspired militants, who have sustained battle setbacks in government offensives, planned to carry out bombings in public areas, military officials said.
Last month, a bomb-laden van exploded in a powerful blast in Lamitan City in Basilan killing 11 people, including the suspected foreign militant who drove the vehicle.