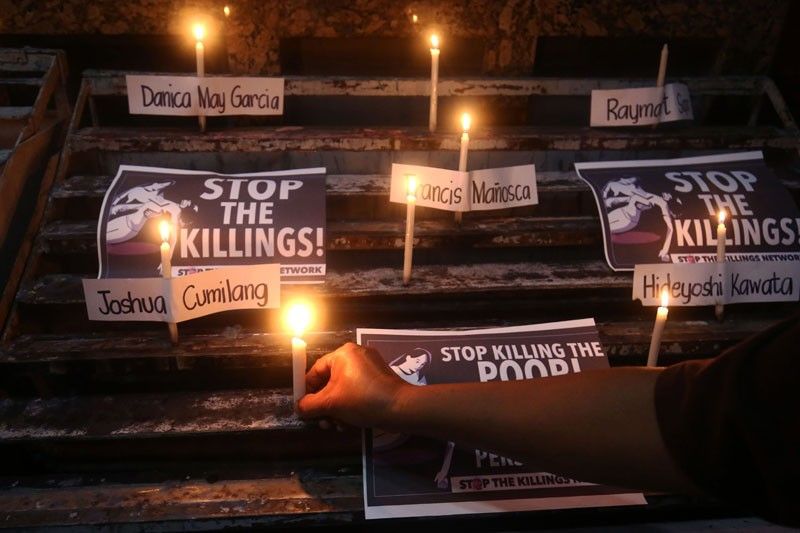 The complainants called Duterte the mastermind of the "state-sponsored killings" of drug suspects, mostly from poor families, and described those killed as victims of his "murderous rage."
Miguel de Guzman
EJK victims' kin sue Duterte before ICC
MANILA, Philippines — For the first time, relatives of victims of extrajudicial killings yesterday filed a complaint for crimes against humanity against President Duterte before the International Criminal Court (ICC).
The complainants called Duterte the mastermind of the "state-sponsored killings" of drug suspects, mostly from poor families, and described those killed as victims of his "murderous rage."
Presidential spokesman Harry Roque Jr. downplayed the 50-page complaint, saying, "That's not a complaint, that's a communication because it's still to be acted upon by the ICC. Procedure is different. Anyone can file a communication."
Roque said that even Pope Francis has a communication filed against him, so the case brought against Duterte "doesn't mean anything."
This is the third complaint for crimes against humanity filed against Duterte, the first two having been filed by Sen. Antonio Trillanes IV, Magdalo Rep. Gary Alejano and lawyer Jude Sabio.
The case brought before ICC prosecutor Fatou Bensouda had as complainants Irma Locasia, Dennise David, Maria Lozano, Mariel Sabangan, Normita Lopez and Purisima Dacumos, whose relatives were killed in police operations in 2016 and 2017.
The families, aided by the National Union of Peoples' Lawyers (NUPL) and Rise Up for Life and for Rights, accused Duterte of being "criminally responsible and liable" for murder "for the extrajudicial killings of thousands of Filipinos" and other inhumane acts "for causing great suffering to the victims and their families," all punishable under the Rome Statute of the ICC.
They said the President is responsible for the "systematic" and "widespread" killings of drug suspects by his police officers in the administration's brutal campaign against illegal drugs.
Duterte, according to the complaint, is responsible being the "commander and superior authority" of the police.
"The extrajudicial killings, mass arrests and other inhumane acts committed by and under President Duterte, whether 4,410 killed as claimed by the Philippine government or 23,000 as claimed by human rights and media groups, the mass murder and rights violations are so grievous and so heinous that is of sufficient gravity to justify further action of the Court," the complaint read.
If the 4,410 slain drug personalities were to be considered, this means that an average of six persons were killed daily as of July 31, 2018, according to the complaint, citing official figures from the police.
"Majority, if not all, of these killings were orchestrated, premeditated and treacherously committed by the police and state forces in their official capacities – in essence, murder, either ordered, incited, goaded, encouraged, tolerated or sanctioned by President Duterte," the complaint read.
While the police alleged they only killed the drug suspects out of self defense, their experience tell a different story, the families told the ICC prosecutor.
The complaint cited the cases of Djastin Lopez, an epileptic who his family said was just hanging out by the railroad tracks when he was chased and shot at by police in a dark alley in Tondo in May 2017; Bernabe Sabangan and Arnold Vitales, killed by police while they were watching television at Sabangan's house in Barangay Bagong Silangan, Quezon city on May 15, 2017, but police said it was a shootout following a drug sting operation; Salvador Locasia Jr., who had been included in the drug watchlist and was killed during a wake in Bagong Silangan, Quezon city on Aug. 31, 2016, just a month into the Duterte administration. His family said he was taken by police and then killed nearby but police said he fought back.
Other cases include those of Crisanto and Juan Carlos Lozano, brothers who were included the watchlist and were also killed in what police said was a followup operation to a robbery incident on May 12, 2017; Danilo Dacumos, also in the drug watchlist, who was killed in his own residence in Caloocan on Aug. 3, 2017 also allegedly by police; and John Jezreel David, a hotel attendant who was last seen alive on Jan. 19, 2017 and was found days later at a morgue.
NUPL chairman Neri Colmenares said the sheer number of 4,000 deaths is enough to constitute a crime against humanity.
"It doesn't matter whether it's tens of thousands or 4,410; there are several dead already. This is up to the standard of crimes against humanity," he said.
Lawyer Krissy Conti of the same group added that the directive of the President to "neutralize" drug suspects is a clear order for police to kill alleged pushers and users.
"We think the term 'neutralize' in the tokhang memorandum is a directive to kill not only in the language of police themselves, but also in practice," Conti said.
"These killings must be stopped and justice must be served, not only for the individual families of the victims, but for all of us as a people. The poor have been striving hard to get out of poverty but the President's answer buried them instead, literally and figuratively, to greater woes. And now, this prevailing atmosphere of death and impunity forces us to live in fear of the state forces and masked men roaming around our humble communities, carrying a license to kill assured by no less than the President himself," Rise Up coordinator Deaconess Rubylin Litao said.
In ending the complaint, the families called for an "end to the madness," quoting the President's words when he compared himself to Hitler, "one of the most evil men in history," in ordering the deaths of drug suspects.
Dennise David, the father of John Jezreel David, said he took the courage to file a case against the Chief Executive so he could seek justice for his son.
"Pinatay ang aming mga mahal sa buhay. Ayaw naming maramdaman ng ibang pamilya ang nararamdaman namin. Dapat mahinto na ang pamamaslang at mapanagot ang dahilan ng patayan (Our loved ones were killed. We don't want other families to feel what we feel. The killings should be stopped and the perpetrators should be brought to justice)," he said.