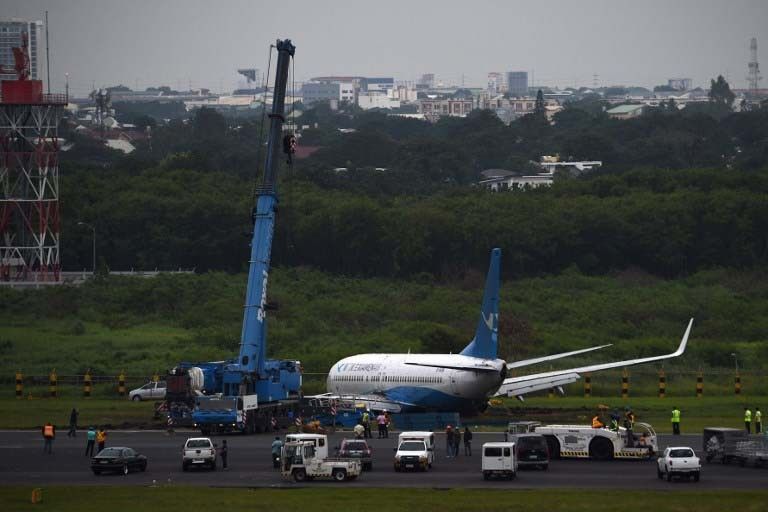 A crane prepares to lift a Xiamen Air Boeing 737-800 series passenger aircraft, operating as flight MF8667 from Xiamen to Manila, after it skidded off the runway while attempting to land in bad weather at the Manila international airport on August 17, 2018. The Chinese passenger jet slid off the runway as it landed at Manila airport in torrential rain, authorities said on August 17, with all 165 people on board safely evacuated.
AFP/Ted Aljibe
Xiamen plane lifted away from NAIA runway; closure extended
none (Philstar.com) - August 18, 2018 - 10:14am
MANILA, Philippines — A Chinese passenger jet that skidded off at Ninoy Aquino International Airport in Manila has been lifted away.
Two cranes were used to hoist the Xiamen Airlines which ran into trouble moments after landing at NAIA in torrential rain on Thursday.
The Manila International Airport Authority said on Saturday that the passenger jet was already removed and transferred to NAIA's Balabag ramp.
Xiamen Air aircraft now at Balagbag Ramp. Runway clearing operations and equipment demobilization in progress. https://t.co/jSzyxl7gBz

— NAIA (@MIAAGovPH) August 17, 2018
The Xiamen Airlines plane, carrying 157 passengers and eight crew, landed on its second attempt before skidding onto the grass and ripping off its left engine late Thursday evening, airport general manager Ed Monreal said.
All on board were safely evacuated from the aircraft with no serious injuries.
But nearly 24 hours after the accident, rescue crews were still unable to remove the plane, forcing the airport to cancel take-offs and landings from the largest of its two runways.
An official statement said the runway would remain closed until around 5:00 a.m. Saturday. However, the MIAA set a final extension of the NAIA runway closure until 12 noon Saturday.
"A final extension of runway closure until 12 noon today is necessary to give way for the demobilization of heavy equipment used to lift the aircraft. Simultaneously, clearing the runway of debris and other foreign objects will also be done," Monreal said in a statement early Saturday.
Civil Aviation Authority of the Philippines spokesman Eric Apolonio said at least 67 local and international flights were canceled on Friday.
He said that recovery efforts were being hampered by recent heavy rains that had softened the ground around the runway, making it difficult to lift the aircraft.
Four people suffered "superficial scratches" as they evacuated the Boeing 737-800 jet, which had flown to the Philippine capital from Xiamen in southeast China, airport general manager Monreal said.
"With God's blessings all passengers were able to evacuate safely," Monreal said, adding the cause of the incident was under investigation.
The second runway for smaller aircraft remained open, but the authorities said the accident has delayed thousands of passengers, including holidaymakers travelling ahead of a long weekend.
Footage from the main airport terminal showed hundreds of passengers still lined up as they sought to re-book their flights.
Many angry comments appeared on social media Friday.
"The roads are at a standstill and the main runway at (the airport) is closed. Inept and incompetence at its finest. Welcome to the Philippines," one person said in a tweet. — with report from AFP