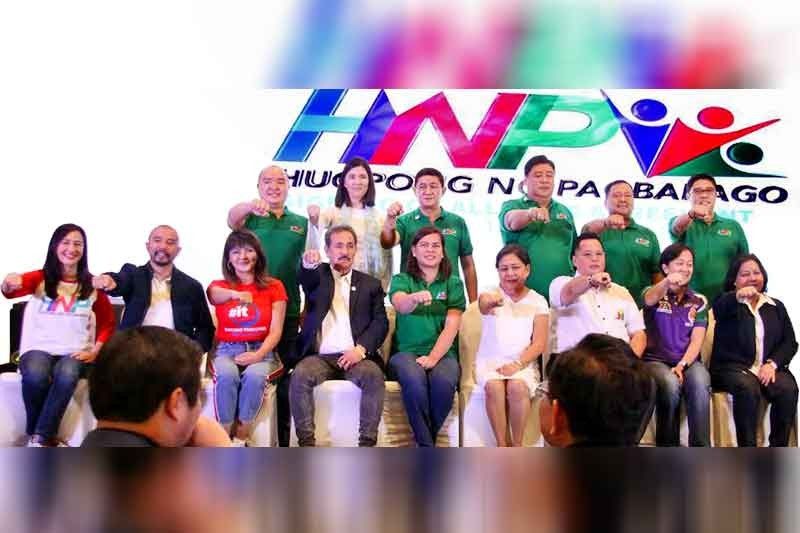 Hugpong ng Pagbabago, the Davao regional party chaired by Davao City Mayor Sara Duterte-Carpio, inked solid alliances with various national and local parties yesterday. With her in photo are Quezon City Vice Mayor Joy Belmonte of the Serbisyo sa Bayan Party (SBP); Rep. Seth Frederick Jalosjos of Aggrupation of Party for Progress-Zamboanga; Gov. Imee Marcos of Ilocano Timpuyog/Nacionalista Party-Ilocos Norte chapter; Rep. Fredenil Castro of the National Unity Party; Sen. Cynthia Villar and Rep. Pia Cayetano, both of the Nacionalista Party; Sen. JV Ejercito; former Batangas Rep. Mark Leandro Mendoza, secretary general of the Nationalist People's Coalition; Nadya Emano-Elipe of PaDayon Pilipino; Gov. Lilia Pineda of Kambilan Pampanga; Norris Oculam of Alyansa Bol-anon Alang sa Kausuban; Compostela Valley Gov. Jayvee Tyron Uy; Davao Occidental Gov. Claude Bautista; HNP secretary general Anthony del Rosario; and other HNP officials.
9 parties join Sara group
DAVAO CITY, Philippines — At least three national political parties and six local groupings forged an alliance with the Hugpong ng Pagbabago (HNP) regional party of President Duterte's daughter, Davao City Mayor Sara Duterte-Carpio, yesterday morning.
The parties include the Nationalist People's Coalition (NPC) and National Unity Party (NUP), and local groups Serbisyo sa Bayan Party (SBP) of Quezon City, Alyansa Bol-anon Alang sa Kausaban (ABAKA) of Bohol and Zamboanga del Norte's Aggrupation of Party for Progress (APP).
Although the Nacionalista Party (NP) was not among the major parties that joined the alliance with HNP, its party head Sen. Cynthia Villar was present and among those who signed the agreement at the Blue Leaf Filipinas Aseana in Parañaque City.
Villar said the NP is committed to help HNP in improving the lives of the people in Region 9 as well as the Duterte administration's push for the country's growth. She added that the signing was just a formality since both parties have already been aligned in principle.
"Likewise, (in) this alliance, we acknowledge that we share the same beliefs, thrusts, vision and mission with HNP. We at the Nacionalista Party have always placed the interests of the Filipino people over and above everything else," Villar said.
She said the NP and HNP will push together for economic reforms that will end poverty, create jobs, strengthen peace and order and fight criminality. She believes the two parties will also be partners in developing agriculture and protecting the environment.
Sen. Aquilino Pimentel III, president of PDP-Laban, welcomed the new alliance, adding that this has no implications for his party.
"The HNP is a new entity hence it is still expanding its network," Pimentel said, noting that the PDP-Laban also forged ties with political parties and organizations during the speakership of Davao del Norte Rep. Pantaleon Alvarez.
Others who inked the HNP alliance were former representative Mark Llandro Mendoza (NPC), Rep. Fredenil Castro (NUP), Norris Oculam (ABAKA) and Rep. Seth Frederick Jalosjos (APP).
Also joining the alliance were Ilocos Norte Gov. Imee Marcos for Ilocano Timpuyog and NP-Ilocos Norte chapter, Pampanga Gov. Lilia Pineda for Kambilan and Nadya Emano-Elipe for Padayon Pilipino of Misamis Oriental.
Quezon City Vice Mayor Joy Belmonte also represented the Serbisyo sa Bayan Party (SBP) in forging the HNP alliance.
Witnessing the event were HNP founding officers and provincial Governors Tyrone Uy (Compostela Valley), Nelson Dayanghirang (Davao Oriental), Claude Bautista (Davao Occidental) and Anthony del Rosario (Davao del Norte).
While HNP is a regional political party recognized by the Commission on Elections, several political groups nationwide, including major national parties, have signified intention to form an alliance with it. The party plans to endorse at least six senatorial candidates in next year's elections.
Marcos said she joined the alliance because HNP "is not a monolithic, hierarchical or traditional party. Its approach is very local."
She added that the group does not require members to abandon their political parties but is, instead, forging coalitions in localities.
"I think it is a very interesting model, something that is workable on the ground. This model is better because a candidate wins or loses in the local contests anyway. It is not about the big political parties in Manila," Marcos pointed out.
She believes HNP will become the voice of Mindanao and a force to reckon with, just like the time-tested Solid North. She revealed that leaders from eight North Luzon provinces are also getting ready to join the alliance. – With Artemio Dumlao, Paolo Romero