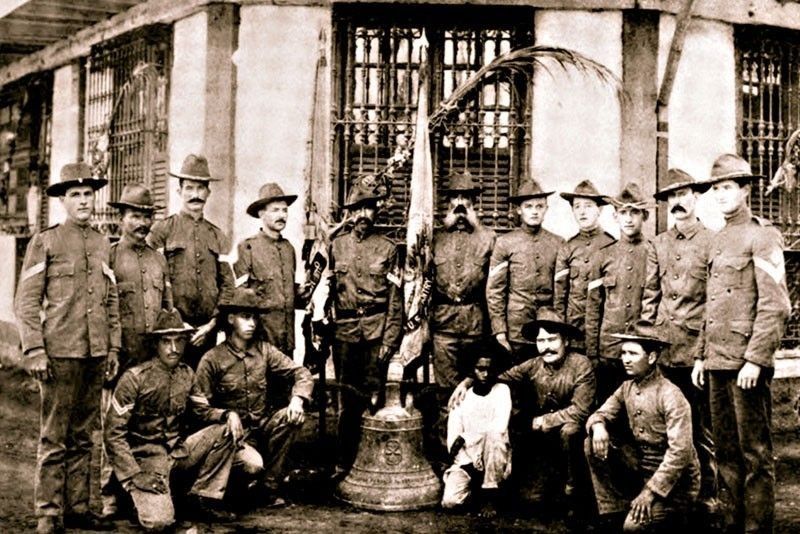 Image from the book "History of the Ninth US Infantry, 1799-1909" by Fred R. Brown shows American soldiers posing with a Balangiga bell in Calbayog, Samar in April 1902.
Public Domain
Palace to work with US for return of Balangiga bells
(Philstar.com) - August 12, 2018 - 6:25pm
MANILA, Philippines — Malacañang Sunday vowed to work with the United States for the return of the Balangiga bells, which was seized by American troops as a war booty in the early 1900s.
Presidential spokesman Harry Roque said the Palace has been informed of the US Defense department's announcement that it intends to return the bells to the Philippines.
"We welcome this development as we look forward to continue working with the United States Government in paving the way for the return of the bells to the Philippines," Roque said in a statement.
The tolling of the church bells in Balangiga, Eastern Samar signaled an assault by Filipino guerrillas on American forces from the 9th US Infantry Regiment. A total of 48 US servicemen were killed during the incident, which is now known as the Balangiga massacre.
The US military retaliated by conducting an offensive that sought to turn Samar into a "howling wilderness." The operation resulted in the death of more than 2,500 Filipinos dead.
American soldiers also removed three bells from the town church and took them as war trophies. Two of the bells are now in a US military base in Cheyenne, Wyoming while one is displayed at a museum in South Korea.
In 1994, the Philippines under then-President Fidel Ramos requested the US to return the bells but it was not acted upon by the US government.
During his second State of the Nation Address last year, President Rodrigo Duterte called on the US to return the Balangiga bells, saying it was painful for Filipinos to see items that are part of their national heritage to be taken away from them.
The US Embassy in Manila announced over the weekend that the US Defense department is willing to return the bells to the Philippines. The agency has informed the US Congress of its decision but no specific date has been set for the return of the bells.
Last February, some American lawmakers have expressed their opposition to the return of the bells to the Philippines, citing the alleged human rights violations under the administration of Duterte.
Democratic Rep. James McGovern and Republican Rep. Randy Hultgren, co-chairs of the bipartisan Tom Lantos Human Rights Commission, said the US Defense department should not agree to return the bells until the Philippines makes "clear, measurable efforts to stop extra-judicial killings" in its war on drugs.
Duterte has denied endorsing extrajudicial killings in its crackdown on narcotics but has ordered policemen to shoot drug suspects who pose threat to their safety. — Alexis Romero