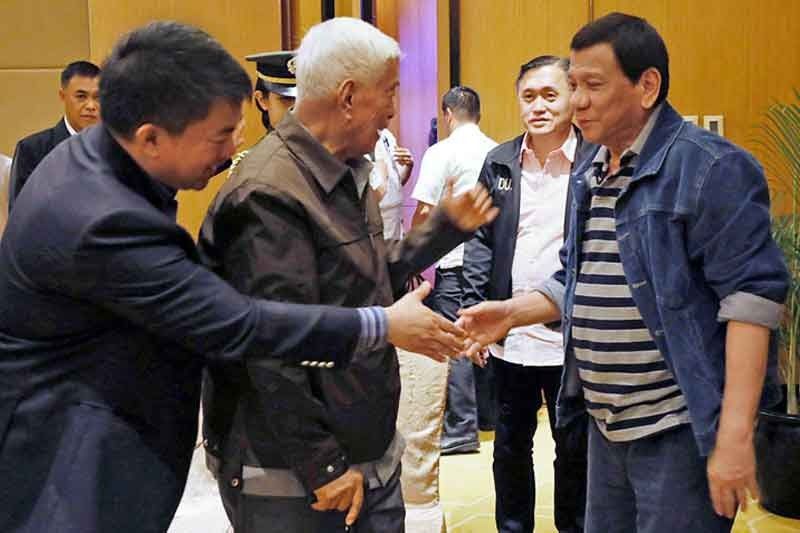 President Duterte greets Senate President Aquilino 'Koko' Pimentel III and former senator Aquilino 'Nene' Pimentel Jr. prior to the start of the meeting with officials from the Partido Demokratiko Pilipino-Lakas ng Bayan at the Diamond Hotel in Manila the other day. Joining the President is Special Assistant to the President Bong Go.
Duterte fails to unite warring PDP-Laban factions
MANILA, Philippines — Following a five-hour meeting between President Duterte and members of the fragmented Partido Demokratiko Pilipino-Lakas ng Bayan (PDP-Laban) last Thursday evening, the two factions – led by Sen. Aquilino Pimentel III and lawyer Rogelio Garcia – have yet to reconcile their differences.
Duterte mediated between the warring factions, urging them to unite or go their separate ways, presidential spokesman Harry Roque Jr. said yesterday, adding this would be critical to the party's position in next year's midterm elections.
Roque, who was present during the meeting, said in a radio interview yesterday another caucus is planned in a bid to work on maintaining the bond among party leaders and members.
But Roque said the President is of the position that if there is no way to unite, the two groups may have to part ways. It was not clear whose faction would remain with the party.
"The President has urged them to try to iron out their differences. He told them that if they couldn't agree, then they can part ways," the Malacañang official said.
Duterte met with the two factions one after the other at the Diamond Hotel in Manila. One function room was occupied by PDP-Laban founder and former senator Aquilino Pimentel Jr., former House of Representatives speaker Pantaleon Alvarez, Rep. Rodolfo Fariñas, Finance Secretary Carlos Dominguez III and Energy Secretary Alfonso Cusi, among others; another hall was used by Garcia's group.
Duterte then addressed the two groups together.
Also present during the meetings were Executive Secretary Salvador Medialdea, Special Assistant to the President Christopher Go and Presidential Adviser for Political Affairs and former Metropolitan Manila Development Authority chairman Francis Tolentino.
"We have to unite… The small issues, if there are questions about party processes, party leadership, public rebelling is not the way to do it. (Duterte told us) that 'if there is a problem, let us talk'," the younger Pimentel said in a TV interview.
Garcia was elected party president when his group held a national assembly last July 27 at the Amoranto Amphitheater in Quezon City.
But Pimentel and Alvarez maintained that they are the legitimate officers of PDP-Laban, adding that they had previously warned the public against individuals who claimed to be officers of the party.
Pimentel is PDP-Laban president and Alvarez is the party's secretary-general, according to their group.
Pimentel pointed out that the Amoranto assembly was not sanctioned by PDP-Laban. He warned that those who participated in the gathering would face sanctions, including expulsion.
Duterte is PDP-Laban national chairman.
In a message to reporters, Pimentel said the President told them that "PDP-Laban is his party and that he is duty bound to campaign for its candidates."
"He requires only two qualifications of PDP-Laban candidates: competence and honesty. Another more 'formal' meeting is scheduled on Sept. 1," Pimentel added.
With the faction of Garcia insisting that they were the true representatives of PDP-Laban, Pimentel said "no one recognizes them except themselves."
Pimentel said he is willing to give up his position as president of PDP-Laban but not to Garcia and his group, who he said were jumping on the bandwagon.
"I don't cling to a position or title, but why would he reap what others have sown?" Pimentel said in Filipino.
"If the people who benefit from our hard work are our allies, you won't hear anything from us. There shouldn't be shortcuts," added Pimentel, whose father is one of the founders of PDP-Laban.
For his part, Garcia told GMA News TV's News to Go that the President's meeting with him and his group was already a victory on their part.
Garcia said Duterte asked the two sides "to talk and have a dialogue and to understand the problem and find some solution."
"We have to continue talking to each other. The President will practically sponsor the solution to this problem that we are facing now. So between now and Sept. 1, he might be calling us from time to time, whether in person or through a mediator," Garcia added.
A long-time member of PDP-Laban and a classmate of the President in law school, Garcia complained that Pimentel and his group have been belittling and ignoring him and his group.
'Hugpo' willing to help
The President's daughter, Davao City Mayor Sara Duterte-Carpio, said Hugpong ng Pagbabago (HNP), the regional political party that she leads, is willing to help the embattled PDP-Laban.
"If there is anything that HNP can do to help PDP-Laban, our group is ready to assist them," she said yesterday in a statement.
"HNP respects the history, experience and the wisdom of the PDP-Laban. HNP finds it truly unfortunate that PDP-Laban is embroiled in internal problem and hopes that competing party members resolve their differences," Carpio said of PDP-Laban.
But HNP does not intend to recruit members of PDP-Laban or other national political parties, she said, adding that HNP is a regional party whose members are from Southern Mindanao.
She said while HNP has supporters outside of Davao, HNP has advised them to form their own local groups or join national parties – National Unity Party, Nationalist People's Coalition or PDP-Laban.
Meanwhile, the President's daughter said HNP is offering its hand of friendship to all other political parties that support the Duterte administration. – With Marvin Sy, Edith Regalado