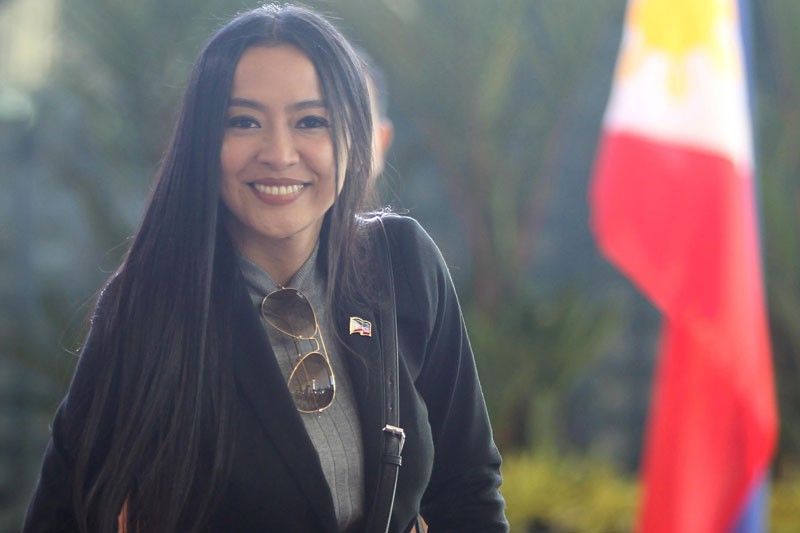 Presidential communications Undersecretary Lorraine Badoy said her boss, Presidential Communications Operations Office Secretary Martin Andanar, had asked her to give Uson a written reminder, which she clarified is not a memo.
KJ Rosales
PCOO to remind Mocha Uson about gender laws
MANILA, Philippines — Presidential communications Assistant Secretary Mocha Uson will be reminded formally about gender laws following the backlash over the controversial federalism video that offended even the allies of President Duterte.
Presidential communications Undersecretary Lorraine Badoy said her boss, Presidential Communications Operations Office Secretary Martin Andanar, had asked her to give Uson a written reminder, which she clarified is not a memo.
"The official stand of the secretary is to just remind Asec. Mocha. I think the secretary just spoke to her and that's about it. Well, she is a presidential appointee and we cannot actually fire her. It's the presidential prerogative," Badoy said on "The Chiefs" aired on Cignal TV's One News channel yesterday.
"She (Uson) has to align with the laws regarding gender and development, all the laws and the rules," she added.
Uson ignited a firestorm over an online game show that critics said maligned federalism.
The controversial PCOO official cheered as her co-host, pro-Duterte blogger Drew Olivar, touched his crotch and chest, shouting "I-pepe, I-dede, Ipederalismo!"
"Pepe" is Filipino childspeak for the female genitals while "dede" is a term for breast.
Senators and internet users have accused Uson and Olivar of bastardizing federalism and insulting the intellect of Filipinos. Because of the controversy, some lawmakers called for the removal of the PCOO budget while critics demanded that she apologize for the episode.
Uson refused to apologize and clarified that the online show is not part of the information campaign for federalism. She also accused some senators of being disrespectful and accused them of covering up the alleged cheating during the 2016 elections.
Badoy, who handles the news media team, revealed that some people in PCOO were shocked by the "pepedede-pederalismo" video.
"As expected some of us are really shocked by it and we wish that she would have been a bit more circumspect, but as the President said, she does have the right to free expression," Badoy said.
Badoy said the video may have breached ethical standards under Republic Act 6713 or the Code of Conduct and Ethical Standards for public officials and employees. But she is convinced that Uson makes people face the hypocrisies in society.
"I do see that Mocha is able to communicate really well with the people that follow her. And I find her really interesting because she does trigger a lot of people, there's a reaction to her, right?" Badoy said.
"And I think it's very good for us as a country because I think Asec. Mocha reminds us of a lot of hypocrisy in our society and she makes us face them, the things inside herself because we're such a hypocritical society. This is what I find fascinating about Asec. Mocha."
Asked how the controversy is affecting the morale of PCOO personnel, Badoy said: "It's OK… honestly, there's just so much to do and this was just one of those things that happens and there are bigger things that we need to get done."
Badoy also defended Andanar, who was accused of not being aware of what's happening in his agency.
"We have a really hardworking president. There's just so many things going on so we're really understaffed and overworked for this to have slipped the attention of Sec. Martin, it's possible. Sec. Martin's leadership style is he doesn't micro manage so this could really have slipped his mind," she said.
Badoy also believes Olivar, the blogger who performed the 'pepedederalismo' dance, crossed the line when he cursed at Vice President Leni Robredo and accused her of engaging in sexual activities during a trip to South Africa last year.
"You know this guy, sometimes he's really funny. I've never met him in person but that particular thing about the (Vice President) was just too much," Badoy said.
Not helping
Supporters of President Duterte who were behind the controversial 'pederalismo'video are not helping the image of the Chief Executive, Vice President Leni Robredo said yesterday.
In an interview with reporters in Camarines Sur, Robredo said Olivar is not helping the President when he made the suggestive dance to promote federalism.
"If their goal is to help, they are not achieving it," she said in Filipino.
"They are giving wrong impression of the President because they are the supporters. They should be the ones showing good manners," she added.
Robredo said the video is offensive to the entire nation, especially as it was shot inside a government office under the supervision of an official, referring to Uson.
Her spokesperson Barry Gutierrez said that they are considering filing a case against Olivar over his previous statements against the Vice President.
In a video posted earlier on his Facebook account, Olivar ranted against Robredo, claiming that she was sleeping around when she went to South Africa.