Carmen Guerrero Nakpil, essayist, visionary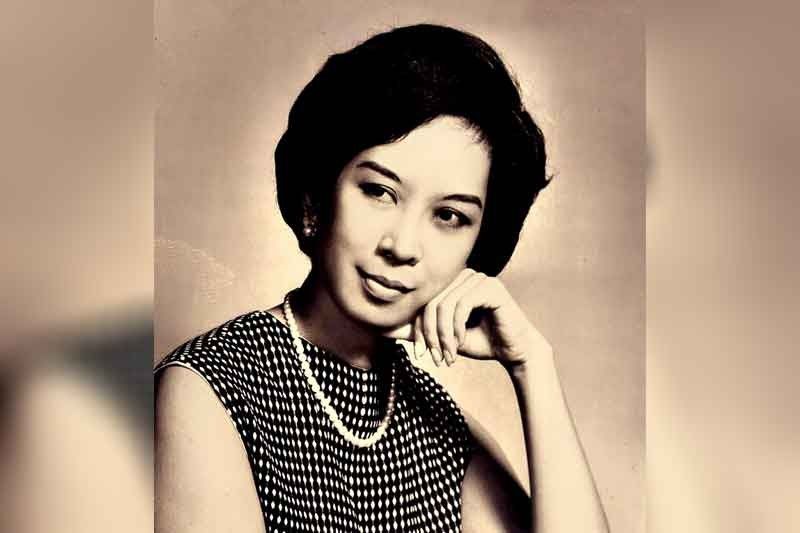 MANILA, Philippines — Columnist, essayist, author, visionary public servant and international technocrat Carmen Guerrero Nakpil died yesterday at 1:30 a.m. at her home in Makati, age 96. She had been suffering from a bout of incipient pneumonia.
She was considered ahead of her time in many ways, championing women's rights – as well as voices – before it became fashionable or even recognizable, in post-war Manila.
As chair of the National Historical Commission a decade later, she took up tirelessly the task of marking historical sites in a rebuilt Manila.
She circulated calendars of important national events, and popularized what was then the dry and dusty field of history-writing, an enterprise she pioneered as early as 1952 with a column entitled "The Good Old Days" for a weekly magazine. She also started the first traveling exhibition of Philippine history called "Kasaysayan," on board a government vessel that docked at ports across the country. In the 1980s, she became an elected member of the UNESCO Paris executive board, winning handily to give the Philippines a foothold in that important council. She was also appointed managing director of the Technology Resource Center that pioneered low-interest loans to many pioneering entrepreneurs as well as people-friendly and environmentally sound tech.
Post-1986, she resumed her writing, producing not only a three-volume autobiography, but also numerous columns and articles on the political landscape and various historical landmarks in her piquant, sometimes acerbic, always irreverent style.
Nakpil always thought of her successes as "accidental" – after all, she first began her career as a proofreader in newspapers. However, she combined a charismatic glamor with a razor-sharp wit and intelligence that soon catapulted her to a platform in the country's most widely circulated newspapers. She was descended from the Guerreros of Ermita, a family of eminent scientists, writers and artists.
"Chitang is eternal. Our history as a people is in her flesh and blood. Her pen is might and her best will be written by those she inspired," said Joven Cuanang, founder of the Pinto Museum.
"I mourn the death of Chitang Guerrero Nakpil, a very wise and learned woman who served the nation for a very long time. Rarely do we find a Filipina like her. I pray she will find peace in the Lord," said former senator Juan Ponce Enrile.
"I am very sad at her passing but glad that she has gone to her rest. Her books shaped my intellectual and moral values as a Filipino. Carmen Guerrero Nakpil was the greatest National Artist for Literature we never had," said Deanna Ongpin, trustee, Museum Foundation of the Philippines.
"Carmen Guerrero Nakpil is a most intelligent Filipino writer. Her mastery of the English language is incomparable. Her sense of history is as great as her knowledge of our country's past," said Virgilio Almario, head of the National Commission for Culture and the Arts and National Artist for Literature.
She is survived by her children from her first husband Ismael Cruz: Gemma Cruz Araneta and Ismael Guerrero Cruz; and by the children from her second husband, Angel Nakpil: Lisa Guerrero Nakpil and Luis Guerrero Nakpil; as well as Nina Nakpil Campos, her stepchild. Other children, Ramon Guerrero Nakpil and Carmina Nakpil Dualan, have passed before her.
Meanwhile, art critic and University of the Philippines art professor Alice Guillermo died on Sunday at the age of 80.
Guillermo's son Bomen Guillermo confirmed the news of her passing to GMA News Online.
The UP College of Arts and Letters – where Guillermo once served as chairman of the Department of Art Studies – paid her a tribute.
"She was a pioneering force in Philippine Art. Along with other esteemed faculty members, she helped set new directions in the field of art scholarship," the UP college posted on Facebook.
"Among her legacies are multiple books and essays on art history, art criticism and cultural studies that serve as foundations for art studies in the Philippines," it added.
Guillermo's books included the "Mobil Art Awards" published in 1981, "Social Realism in the Philippines" in 1987, "Blanco: The Blanco Family of Artists" in 1987, "Images of Change" in 1988, "The Covert Presence" in 1989, "Alfredo Carmelo: His Life and Art" in 1990, "The National Museum Visual Arts Collection" (1991) "Cebu: A Heritage of Art in 1991 and "Color in Philippine Life" in 1993.