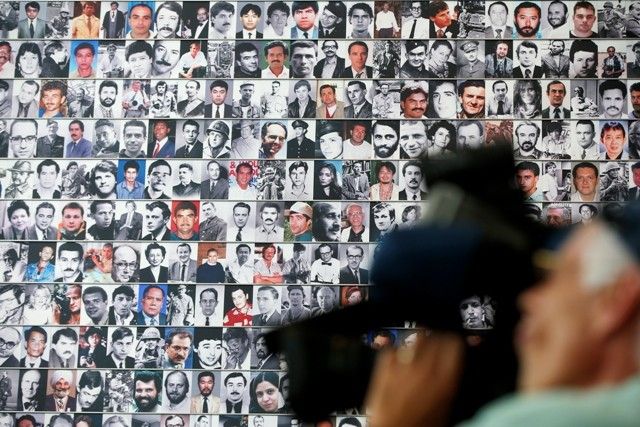 A wall of photographs of journalists killed while reporting the news lines a wall during the rededication of the Journalists Memorial at the Newseum in Washington.
AP/Charles Dharapak, File
Local, foreign journalists slam latest media killing in Philippines
WASHINGTON – Local and foreign journalist-organizations have condemned the killing of Filipino broadcaster Joey Llana last Friday near Legazpi City in Albay province and called on authorities to do everything possible to find those responsible.
The International Federation of Journalists (IFJ) said the murder of Llana underscored the dangerous working environment that the media in the Philippines faced every day.
"The government of the Philippines must take immediate action to curb the culture of violence and impunity against the local media. The Philippine democracy is weakened every time a journalist is killed," IFJ said.
Reporters Without Borders (RSF) said Llana's murder was a serious press freedom violation and welcomed the decision by President Duterte's office to open an immediate investigation into the case.
"The Philippines, which is one of the most dangerous countries for journalists in Asia, must do everything possible to effectively combat violence against the media and impunity for this violence," RSF said.
In Dagupan City in Pangasinan province, the Kapisanan ng mga Brodkaster ng Pilipinas (KBP) also condemned the killing of Llana last Friday.
"We condemn, in the strongest sense of the word, the killing of our fellow broadcaster, (Llana), of 92.3 FM Home Radio Legazpi. This attack on the member of the Fourth Estate is clearly an attack on democracy. This is unacceptable," read the statement issued by Mark Espinosa, iFM Dagupan station manager and KBP-Pangasinan chairman.
"We may not yet know the real motives for this recent killing of our colleague, but there is no justification for violence against any member of media," the statement added.
Espinosa's statement described the killing as "the work of cowards who speak for no one."
KBP-Pangasinan is calling for justice for Llana and other media practitioners who were killed in the line of duty.
"There may be times when we are powerless to prevent injustice, but there must never be a time when we fail to protest," Espinosa said in his statement, quoting Nobel Peace Prize winner Elie Wiesel.
Negative for drugs, gunpowder
Meanwhile, Philippine National Police chief Director General Oscar Albayalde yesterday ordered PNP Region 5 director Chief Superintendent Arnel Escobal to prioritize Llana's case by creating a special investigation task group and ensure that the perpetrators are put behind bars.
"Through relentless investigative work and follow-up police actions, let us put these criminals and their patrons behind bars as soon as possible," Albayalde said in a statement.
Albayalde also condoled with Llana's family and vowed to give them justice.
Investigators are still looking for leads on the possible masterminds and their motive, Albayalde said in a brief interview on the sidelines of the 23rd Police Community Relations Month celebration in Camp Crame.
As this developed, the PNP Region 5 crime laboratory at Camp Ola said urine taken from the cadaver of Llana showed negative results on the presence of tetrahydrocannabinol methamphetamine metabolites or substances from marijuana or shabu.
The sachets containing white crystalline substance found in Llana's sport utility vehicle also tested negative for the presence of methamphetamine hydrochloride or shabu, according to Senior Inspector Malou Calubaquib, PNP Region 5 spokesperson, quoting forensic chemist Chief Inspector Wilfredo Idian Pabustan Jr.
Calubaquib added that paraffin examination on the cadaver did not show nitrates or nitrites, explaining that Llana did not fire a gun prior to his killing.
Dactyloscopy report did not show Llana's fingerprints on the sling bag and lighter that were also found in his vehicle, Calubaquib said, after examination by Senior Police Officer 2 Rogelio Isidoro Laneza Jr.
"(A) thorough investigation is being undertaken by the PNP to (locate) possible witnesses to the crime as well as gather pieces of evidence that (are) of probative value," Calubaquib said.
For his part, Undersecretary Joel Sy Egco, executive director of the Presidential Task Force on Media Security said he is waiting for the official report of the team tasked to investigate Llana's murder.
"I will be going to (Legazpi) next week to personally conduct a dialogue," Egco said during an interview yesterday morning.
Taking his cue from Presidential Communications Operations Office chief Secretary Martin Andanar, Egco urged yesterday members of the media to report threats to the authorities.
Egco warned a group of journalists in Baguio City that death threats are a "first sight of trouble."
Senators condemn murder
Sen. Joseph Victor Ejercito condemned the killing of Llana, saying these violent acts as well as the intimidation of a free press have no place in a democratic country.
"I urge the (PNP) to find the perpetrators of this cowardly crime and ensure the safety of all journalists in the country," Ejercito said.
Sen. Leila de Lima said Llana was yet "another victim of the dark cloud of impunity enveloping our land."
She said the killing of Llana was just part of the spiral of violence and bloodshed enveloping the country, which has a government whose centerpiece program is an all-out war against drugs.
De Lima denounced how the authorities appear to be linking the killing of Llana to the illegal drug trade.
"Why are they linking his death to illegal drugs? Was it to taint Llana's reputation and justify his death? Needless to say, murder is murder and it is wrong under any circumstances, contrary to what this government wants us to accept," De Lima said.
"In Llana's case, we also saw the intersection or at least an attempt to overlap drug killings and threats against media to further instill fear among our people," De Lima added. – With Eva Visperas, Celso Amo, Christina Mendez, Emmanuel Tupas, Marvin Sy