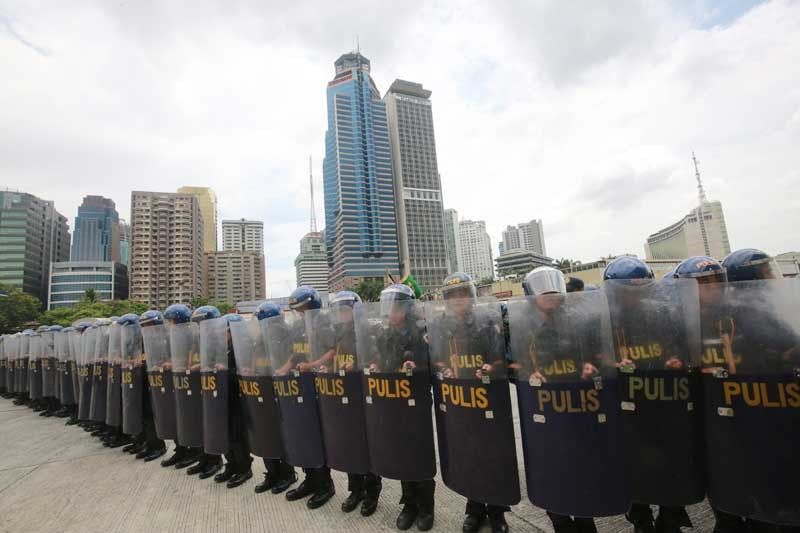 Presidential guards started manning the gates and patrolling the complex yesterday.
Michael Varcas
Lockdown at Batasan for SONA
Jess Diaz
(The Philippine Star) - July 21, 2018 - 12:00am
MANILA, Philippines — The Batasan complex in Quezon City, home of the House of Representatives, is on lockdown for President Duterte's third State of the Nation Adress (SONA) on Monday.
Presidential guards started manning the gates and patrolling the complex yesterday.
No person is allowed to enter the Batasan compound without a SONA identification card issued by the House legislative security bureau. Even if one has an ID card, presidential guards have to verify it.
Journalists covering the House and the SONA have to coordinate with the House media staff in entering the Batasan.
Security is extra tight this year apparently because of the collapse of peace talks between the government and communist rebels.
Europe-based communist leaders have said they would work for President Duterte's ouster.
House officials said they have prepared "for the best but we are ready for the worst."
While there is no monitored threat, the Armed Forces of the Philippines yesterday went on red alert.
More than 6,000 soldiers and policemen will be deployed around the compound and in nearby areas.
Navy commandos were seen this week doing a mock assault on the Batasan complex.
House officials also advised Duterte yesterday not to meet with protesters outside the Batasan, as he did last year after his SONA because communist rebels intending to harm him might infiltrate the ranks of protesters.
"For the good of the President and the country, we are advising him to refrain from going there," House sergeant-at-arms Roland Detabali said.
He suggested that if the Chief Executive wants a dialogue with protest leaders, he could just invite them inside the Batasan.
Protests to greet Duterte
Duterte will be greeted by protests outside and inside Batasan.
While their supporters are holding protest rallies outside the Batasan complex, leftist lawmakers will show their opposition to administration policies inside the House session hall where the President will deliver his third SONA.
The lawmakers said they would wear barong depicting their protest against Duterte's policies, including his cancellation of peace talks with communist rebels and his administration's pursuit of Charter change and imposition of fuel taxes under the controversial Tax Reform for Acceleration and Inclusion (TRAIN) law.
Bayan Muna Rep. Carlos Zarate said he would don a simple barong depicting "Filipinos from all walks of life calling for the resumption of the peace negotiations between the government and the National Democratic Front of the Philippines to resolve the root causes of the almost five-decade rebellion in the country."
Anakpawis Rep. Ariel Casilao said his attire would portray the call of farmers and employees for genuine land reform and a P750 national minimum daily wage. Representatives of women's group Gabriela are expected to protest Duterte's "masochism and misogyny."
Outside the Batasan, leftist and other militant groups have vowed to organize the largest protest rallies since Duterte assumed office.
They said the TRAIN law has made life harder for most Filipinos.
Zarate and his colleagues have filed a bill that would effectively repeal the TRAIN law. However, the administration's economic managers are opposed to its repeal or suspension.
Labor issues
The Associated Labor Unions-Trade Union Congress of the Philippines (ALU-TUCP) hopes that Duterte will tackle in his SONA how he intends to address the rising inflation rate, demand for wage hike, soaring prices of commodities and services, and his unfulfilled campaign promise to stop contractualization.
"As the head of this country, there is a need for President Duterte to say something on these issues so he could provide hope, direction and inspiration for all workers who are now suffering," ALU-TUCP spokesman Alan Tanjusay said.
Tanjusay also pointed out that the middle and lower income workers are the ones who carry the brunt of crisis yet they also play a big role in economic growth.
"(Duterte) has to unite and rally the people towards a certain course of action out of this misery" and he could do this through his upcoming SONA," Tanjusay said.
The labor sector yesterday came up with their own SONA, which highlighted the continued failure of the Duterte administration to improve the lives of workers.
In its SONA, the Nagkaisa! Labor Coalition and Kilusang Mayo Uno (KMU) presented the "real state of Filipino workers."
Amnesty International also criticized Duterte's policies on human rights.
Malacañang disputed the report of Amnesty International that the country has become a more dangerous place under Duterte.
Presidential spokesperson Harry Roque Jr. said Duterte's tough stance against illegal drugs may have left many drug personalities killed, but the President has not condoned the killings.
Leni doesn't mind insults
Meanwhile, Vice President Leni Robredo said yesterday she will attend the SONA even at the risk of being insulted again in public.
"Yes I will attend even if others don't want me to attend. Some are afraid that I might only be insulted or humiliated, but to me it's my obligation (as vice president) to be there," Robredo said in a press conference in Naga City.
"I'm used to being insulted. I think it would not make me a lesser person," she said in Filipino. "If I would be insulted, I think it's no longer my fault. I'm ready to face anything."
Duterte on July 10 criticized Robredo's ability to lead the country after the Vice President announced she would lead a "united opposition" against the President.
"I don't think she can ever be ready to govern a country. Reason? Incompetence. She's not capable of running a country like this, Philippines," Duterte said in a speech in Clark, Pampanga.
Robredo made a short response on the President's remarks, saying Duterte should focus on addressing the country's economic woes rather than insulting her or God.
Robredo said she is looking forward to hearing Duterte's plan to stop the rising prices of goods.
Acting Chief Justice Antonio Carpio will not attend the SONA. House Secretary General Cesar Pareja said Carpio's office sent the senior associate justice's regrets. – With Helen Flores, Sheila Crisostomo, Jaime Laude, Rhodina Villanueva, Christina Mendez, Ghio Ong, Artemio Dumlao