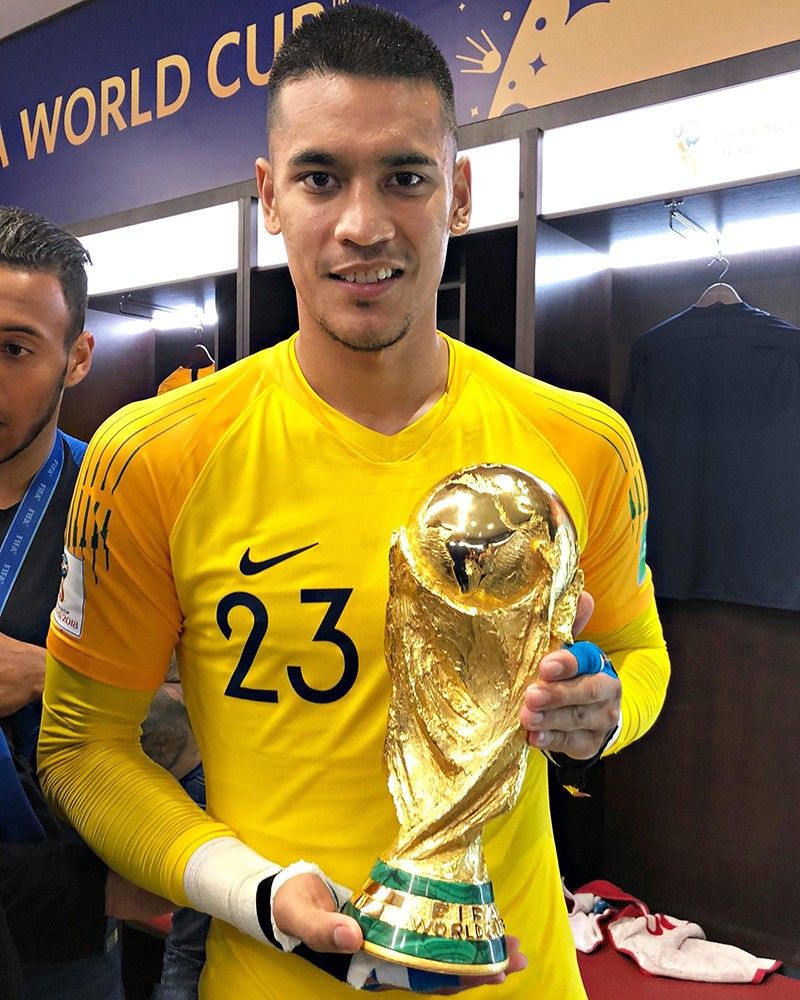 Image from Alphonse Areola's Instagram account shows the 25-year-old Filipino-French goalkeeper with the World Cup trophy after France defeated Croatia in the final.
Fil-French keeper celebrates World Cup win
Olmin Leyba
(The Philippine Star) - July 17, 2018 - 12:00am
MANILA, Philippines — Filipinos joined the celebration of France's triumph in the 2018 World Cup in Russia, taking pride in having a Filipino footballer, reserve goalkeeper Alphonse Areola, reap success with Les Bleus.
The 25-year-old Areola, born to Filipino parents who immigrated to France, is being hailed as the "first player with Filipino blood to win the World Cup."
Areola had long been eyed by the Philippine Azkals since his days with the French youth squad, with manager Dan Palami inviting him to join the Philippine 11 back in 2011.
But Areola's stint with France flourished, and after starring in the Junior Les Bleus' championship run in the U20 World Cup in 2013, his chances of being elevated to the French senior team skyrocketed. By 2015, he was already called up for Les Bleus and eventually made it to their final roster in the Russia World Cup.
"It wasn't the Azkals he represented in the World Cup but being part of the champion France team in the biggest tournament of all is something to make us Filipinos proud," said football fan Jona Tamayo in Filipino.
The 6-foot-5 Areola was the third choice keeper behind skipper Hugo Lloris and Steve Mandanda and didn't earn his cap in the Russia WC but he's expected to get his chance in future forays of Les Bleus.
Areola, currently a goalkeeper for Paris Saint-Germain FC, is one of 18 players in the French team with immigrant background, along with the likes of Paul Pogba from Guinea, Kylian Mbappe from Algeria and Cameroon and Samuel Umtiti from Cameroon.
French Ambassador Nicolas Galey yesterday emphasized that France's victory in the FIFA World Cup, a day after Bastille Day, is a reminder of the power of sports in bringing peoples and cultures together.
"A day after the celebration of the French National Day last July 14, we applaud the victory of the French National Football Team in the 2018 FIFA World Cup after an excellent match against Croatia, whose team played impressively as well," Galey said in a statement.
"This triumph, which comes 20 years after winning the championship for the first time in 1998, symbolizes the spirit, unity and also diversity of the French nation, exemplified by athletes such as Alphonse Areola, a young French-Filipino football player," he added.
"We thank our Filipino friends who fervently cheered alongside our compatriots throughout the competition, and look forward to more occasions to share our passion for sports in the Philippines," Galey said. With Pia Lee-Brago