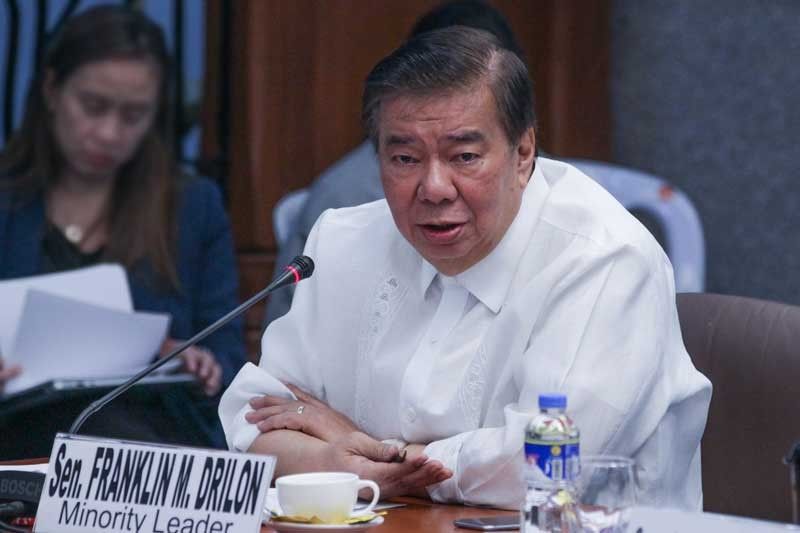 Senate Minority Leader Franklin Drilon emphasized that amending the Constitution could not be treated like ordinary lawmaking.
Geremy Pintolo
Don't rush Congress on Cha-cha – senators
Marvin Sy
(The Philippine Star) - July 16, 2018 - 12:00am
MANILA, Philippines — Congress should not be rushed into amending the Constitution just so the administration can change the form of government to a federal system, three senators said yesterday.
Senate Minority Leader Franklin Drilon emphasized that amending the Constitution could not be treated like ordinary lawmaking.
"Amending our Charter is not like passing ordinary legislation. It is much harder than that. It requires comprehensive studies and deliberations. There are a lot of imponderables and implications that can affect our people of today and of the generations to come," Drilon said.
"Let the committee system work. Let the committee draft its report and route it to its members. Then, let the debate proceed," he added.
Drilon also aired his apprehensions about the motives of the allies of the administration in rushing the Charter change ("Cha-cha") proceedings especially with the midterm elections just around the corner.
Speaker Pantaleon Alvarez has raised the possibility of postponing the May 2019 midterm elections so that Congress would have time to work on the amendments to the Constitution.
There is little time left for Congress to work on amending the Constitution because shortly after President Duterte delivers his third State of the Nation Address on July 23, Congress would have to work on the 2019 national budget.
In October, legislators eligible for reelection will have to file their certificates of candidacy and by February next year, they would be busy with their campaigns.
Drilon said it now appears that the rush to amend the Constitution is to pave the way for the postponement of the elections and consequently, extend the term of elected officials.
"As the saying goes, 'the cat is out of the bag.' (Cha-cha) is being pushed in order that the election could be postponed. Clearly, Cha-cha is meant for no election ('no-el'),'" Drilon said.
Senate Majority Leader Juan Miguel Zubiri also warned against rushing Cha-cha and continuing the talks about a possible no-el scenario.
Zubiri said amending the Constitution should be studied carefully and that talks of no-el would only scare away investors who see this as instability of the country.
Sen. Francis Pangilinan, chairman of the Senate committee on constitutional amendments and revisions of codes, said the rush to amend the Constitution with or without the participation of the Senate and the talks of extending the terms of elected officials are all "anti-democratic."
An all-senators caucus has been scheduled for July 24 where the proposed shift to federalism would be tackled as well as other issues related to Cha-cha.