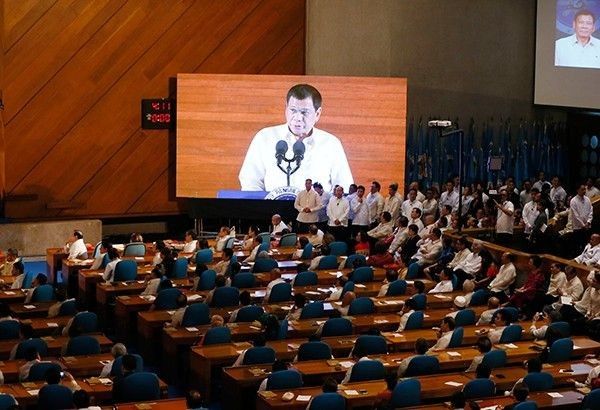 The Palace said the elections next year would push through as scheduled despite the call of Speaker Pantaleon Alvarez to suspend them to focus on the shift to a federal form of government.
AP Photo/Bullit Marquez, File
Palace: Despite Alvarez's statement, 2019 polls to push through
(philstar.com) - July 12, 2018 - 6:25pm
MANILA, Philippines — The 2019 midterm elections would push through despite calls by House Speaker Pantaleon Alvarez for the polls to be postponed to focus on the country's shift to a federal government, Palace spokesman Harry Roque said Thursday.
Alvarez said on Wednesday that the no-election scenario in 2019 would be "practical" as it would make way for an easier transition to the proposed federal form of government.
Roque, however, said the postponement of the midterm polls is unlikely to happen unless the proposed charter was ratified earlier than expected.
"The president has the duty to implement the provisions in the constitution and unless the date of the elections is not changed in the charter, the elections in 2019 would still push through," Roque told reporters in a press briefing in the Palace.
Alvarez made the remarks after the 22-man consultative committee, led by retired Chief Justice Reynato Puno, submitted its draft federal charter.
Roque said lawmakers would be very busy in the next few months with the coming third State of the Nation Address of President Rodrigo Duterte on July 23, the official filing of candidacy in October and the start of campaign season in February.
"Focus is really needed, we can't do it (charter change) recklessly," he said.
READ: Speaker Alvarez proposes no-elections in 2019 for federalism
Roque said Alvarez need not explain his remarks to Duterte because Congress is an "independent" branch of the government.
"Surely, our lawmakers know the president's obligation to implement and enforce our Constitution and the other laws of the country," Roque said in Filipino.
Despite senators saying that charter change is not their priority, the president's spokesman said Malacañang remains optimistic that the ratification could still take place next year.
"We remain optimistic and the president has said that if it is finally ratified by the people he will step down and he is hoping that both the consultative committee and Congress would adopt his suggestion calling for a transitory provision provided that the transition leader would be an elected post," Roque said.
Senate President Vicente "Tito" Sotto III earlier brushed aside Alvarez's statement, saying he strongly doubts his colleagues in the upper chamber would support the speaker's suggestion.
He said postponing or scrapping the elections next year would not be possible without amending Article VI Section 8 of the 1987 Constitution, which sets the elections of senators and members of the House of Representatives every second Monday of May every three years.
Members of the Concom submitted the draft of the proposed charter to Duterte on July 9.
The House of Representatives received its own copy on Wednesday, while the Senate received its own today. —? Philstar.com intern Christian De Lano Deiparine