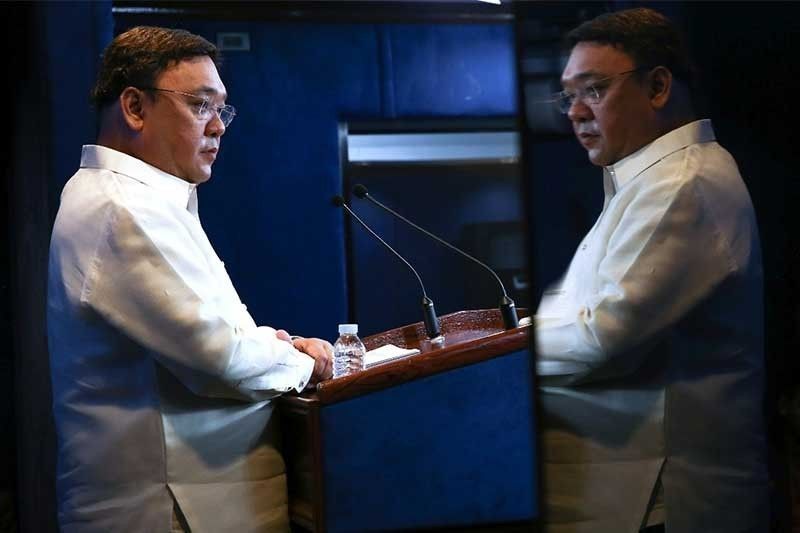 Presidential spokesperson Harry Roque described the Philippine economy as the "second fastest growing" in the world, adding that manufacturing output had reached "all time high."
Presidential Photo/Toto Lozano
No problem with Philippine economy, Palace claims
(Philstar.com) - July 12, 2018 - 6:05pm
MANILA, Philippines — In an attempt to fire back at Vice President Leni Robredo's advice to the chief executive, Malacañang on Thursday painted a rosy picture of the country's economy.
Robredo on Wednesday advised President Rodrigo Duterte to mind the problems hounding the economy instead of hurling tirades against her or God.
As a response, presidential spokesperson Harry Roque described the Philippine economy as the "second fastest growing" in the world.
He, however, downplayed June's inflation of 5.2 percent—the highest in five years. This pushed the year-to-date inflation to 4.3 percent, piercing the central bank's 2-4 percent range.
Roque noted that this is due to the increase of the price of oil in the world market, among others.
"All economies in the world will agree that we are a darling economy," the spokesperson claimed in a press briefing.
He added: "Madam vice president, there is no problem with the economy."
In the first quarter of 2018, the Philippines remained one of the best performing economies in the region after it grew 6.8 percent, although the expansion pace missed the government's expectations due to "spoiler" inflation.
Meanwhile, some economists expect the Bangko Sentral ng Pilipinas to lift its benchmark rates again in August to temper rising inflation and prop up the country's financial markets, which have been one of Asia's worst performing so far this year.
The rising prices have been blamed on the Tax Reform for Acceleration and Inclusion law, which lowered the income tax rate but also imposed higher taxes on fuel and "sin" products.
The peso also continues to be weak against the dollar but Duterte's economic managers and Roque said this was not a cause for concern.
'Frank, objective assessment'
The president's mouthpiece said Robredo might have been hurt when Duterte mentioned that she is "incompetent" and does not have the ability to lead the country.
"It's the assessment of a person who has served the government for about 40 years. Maybe we should look into the merits of what he said," Roque said, comparing Duterte's long years of government service to Robredo's five years.
He added: "It has no malice. It's just a frank, honest, objective assessment of the president."
Despite being sidelined in most of the government's affairs and activities and the small budget of her office, Robredo launched projects that have extended assistance to poor Filipinos to make the Office of the Vice President "more relevant."
Robredo, who is from the erstwhile ruling Liberal Party, said she is willing to unite opposition groups and take on the role as opposition leader.
READ: Robredo willing to unite, lead opposition coalition
— Gaea Katreena Cabico with reports from Ian Nicolas Cigaral