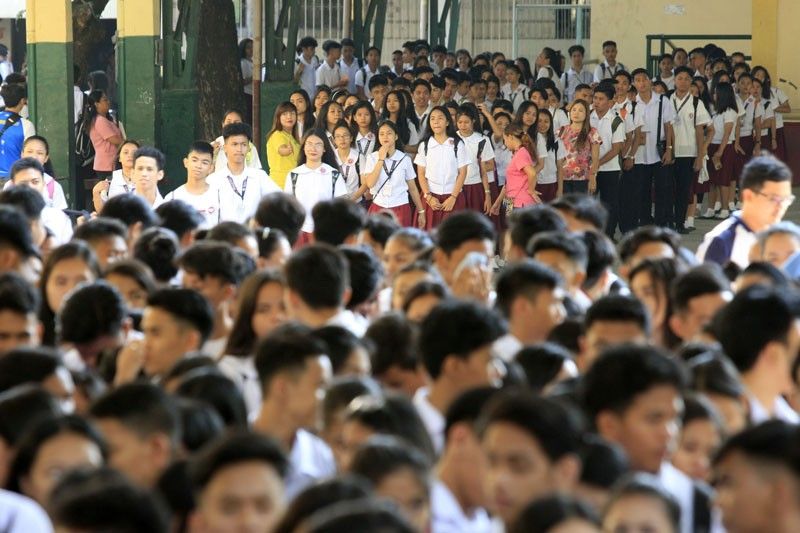 Latest data released by the agency showed the number of private schools allowed to raise fees represents seven percent of the 14,430 schools operating nationwide.
Edd Gumban
DepEd OKs tuition hike in 947 private schools
MANILA, Philippines — The Department of Education (DepEd) has approved the request of 947 private elementary and high schools to increase tui­tion this school year.
Latest data released by the agency showed the number of private schools allowed to raise fees represents seven percent of the 14,430 schools operating nationwide.
This is lower than the 1,013 private elementary and high schools allowed to increase fees last year.
Based on the breakdown, Central Luzon has the most number of schools with approved tuition hikes at 172, followed by Metro Manila with 170 and Central Visayas with 169.
No private school will hike tuition this year in Western Visayas and Zamboanga Peninsula.
Meanwhile, 114 private schools will decrease tuition this year, including 28 in Metro Manila and 26 in Central Luzon.
DepEd officials earlier said that the increase will enable private schools to increase the salaries of teachers.
Under Republic Act 6728 or the Government Assistance to Students and Teachers in Private Education law, private schools are required to allocate 70 percent of the tuition increases for payment of salaries, wages, allowances and other benefits of teaching and non-teaching personnel.
The remaining 20 percent should be allotted to the improvement of facilities or modernization of buildings, while 10 percent may be used for return of investment or utilized for the operation of the institution.
The Commission on Higher Education (CHED) has yet to release the final list of tertiary institutions allowed to implement hikes in tuition and other fees.
Initial information showed that CHED regional offices have endorsed the application for tuition and other fee increases of 248 private higher education institutions.
The number could increase as the data has yet to take into account figures from Southern Tagalog.
Meanwhile, private schools hiring unlicensed teachers will not be shut down by the DepEd, an official said yesterday.
Addressing concerns over his recent memorandum on minimum qualification requirements for teachers, DepEd regional director for Metro Manila Wilfredo Cabral said his directive was only a reminder of existing guidelines in hiring teaching personnel.
"We are trying to strike a balance on how to implement existing policy and address concerns of private schools," Cabral told The STAR in a phone interview.
He said the memorandum, which directed division offices to inform private schools that teachers need to have passed the Licensure Examination for Teachers (LET), is aimed at encouraging schools to support teachers in taking the examination.
He clarified that private schools that will be discovered to be violating the guidelines will not be shut down.
"We're trying to marry what the policy says and how we can help private schools be compliant," he said.
Some groups earlier warned that the stricter implementation of the LET requirement could result in closure of schools and shortage of educators.
Education lawyer Joseph Noel Estrada said the hiring of unlicensed teachers in private schools is due to the shortage of licensed teachers available and the migration of licensed teachers to public schools due to higher salary.
"The government should provide an environment where subjects of the law, as in this case the private schools and the teachers, can comply in good faith and equitably," he said.
"Unless the problems on shortage of licensed teachers are addressed, teacher education curriculum reviewed and the compensation structure of all public and private school teachers studied carefully, the spirit of the Teachers Professionalization Act will not be realized, and quality education will suffer," he added.