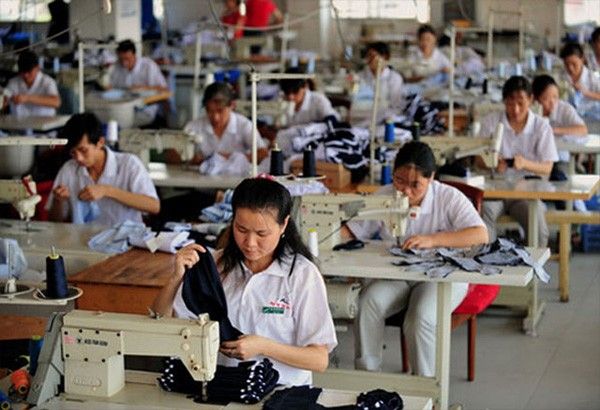 Presidential spokesperson Harry Roque said the proposed cash assistance has to be studied by the economic team.
The STAR/File photo
Palace has reservations on proposed subsidies for minimum wage earners
MANILA, Philippines — Malacañang Thursday expressed reservation on the Labor department's proposal to provide P200 monthly subsidy to the country's four million minimum wage earners, saying it might require the government to raise taxes.
Labor Secretary Silvestre Bello III is eyeing the giving of monthly cash assistance to minimum wage earners for three years, saying it would help them cope with the rising prices of goods.
He said the Budget department is studying where to source the funds.
Presidential spokesman Harry Roque said he does not know the status of Bello's proposal noting that the proposed budget for next year has been completed.
"Anything is possible but of course it has to be discussed and examined. Of course, we raise taxes because we have projects to fund but if we give benefits, where will we get the P200? That means taxes will have to be raised again?" Roque said.
"We need to balance these things," he added.
Roque said the proposed cash assistance has to be studied by the economic team.
"Let's see what will be agreed upon. We will have one final Cabinet meeting before the SONA (state of the nation address) so it might be discussed. It might be included in the budget proposal of Malacañang."
Duterte will deliver his third SONA on July 23.
'Duterte wants projects in provinces to move faster'
Roque also insisted that the infrastructure projects in the provinces have to move faster after Budget Secretary Benjamin Diokno denied that the Philippine economy is in bad shape.
Duterte previously said the economy "is in the doldrums" but Roque claimed that the President was just emphasizing the need to fast-track the infrastructure projects in the provinces.
When asked last Wednesday to react to the President's remark, Diokno said it is not the case if one looks at "hard facts" and not at impressions, not perceptions."
Roque said Duterte was expressing "a preference that the Build, Build, Build projects in the provinces be implemented faster."
"He (Duterte) has also shown impatience that the major projects appear to be taking long, and that's why it's a message everyone to double time in their effort to begin and finish the major infrastructure projects that we have lined up," the presidential spokesman said.
"We're still aiming for a majority of these projects to be finished within the term of the President. And unless we start soon, we may not able to achieve that. I think that's the message," he added. — with a report from Job Manahan