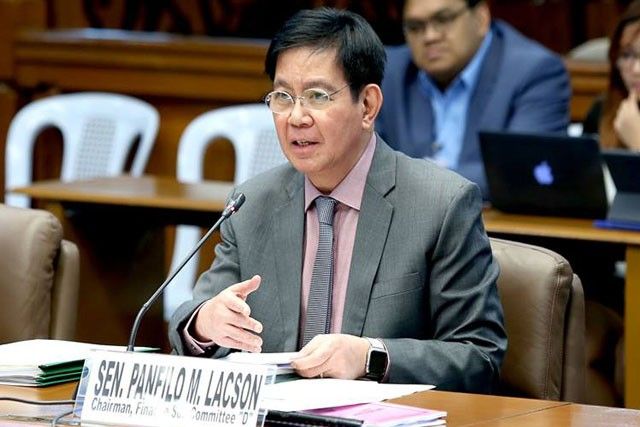 Sen. Panfilo "Ping" Lacson said that there were times he thought Duterte was "God's gift to a benighted land."
PRIB/Alberto Calvelo, File photo
Lacson sides with God after Duterte's anti-Catholic remarks
MANILA, Philippines — Sen. Panfilo "Ping" Lacson on Sunday drew the line for God after President Rodrigo Duterte lambasted God and the Bible creation story.
"In many conflicts with his political adversaries, I took his side more than I did not, even when sometimes I had many doubts because I believed he was different from all presidents who led before him," Lacson said in a statement.
The senator cited that there were times he thought Duterte was "God's gift to a benighted land." He added that he hoped the president's leadership is "the elusive change for the better."
However, following Duterte's reported remarks against God, Lacson said he is choosing God.
"Between him and my God to Whom I pray every single day and with Whom I've found solace and comfort in all my difficult times, I don't even have to think of my choice," Lacson said.
Last Friday, Duterte, who is known for criticizing the Catholic Church, called God "stupid" after he questioned His logic in the creation story.
READ: Duterte rants on, calls God stupid!
In a speech in Davao City, the president doubted why God created something perfect and eventually allowed an event that would tempt and destroy the quality of his work.
"Who is this stupid God? Estupido talaga itong p***** i** kung ganun," Duterte said.
Duterte cited that malice was born when Adam and Eve bring in the original sin when they ate the forbidden fruit.
The president said he cannot rationalize the concept of original sin.
"Eh 'yan ang hindi ko matanggap. Very stupid proposition. Anong kasalanan? Original sin, tapos i-baptize ka. Basain pa 'yang ulo mo ng tubig. Maniwala ka niyang pari na 'yan," Duterte said.
In the same speech, Duterte also said he does not believe in religion but he believes in "universal life."
In his previous speeches, Duterte repeatedly claimed he became president because of God.
"But I think God has placed me here to do this job in this generation of our country, faced with so many problems from insurgency, illegal drugs," he was quoted in March last year.
READ: Presidency is killing me – Duterte
The president last February 2017 also called God "very stupid" when he defended why he believes he is not destined for hell.
He claimed only "a very stupid God" can create a human being only to leave him/her in eternal damnation.
READ: Rody: Only stupid God will send me to hell
After the president's tough talk against God, Lacson hoped that God may forgive Duterte.
"May my God forgive him (Duterte) and make him atone for all his sins," Lacson said