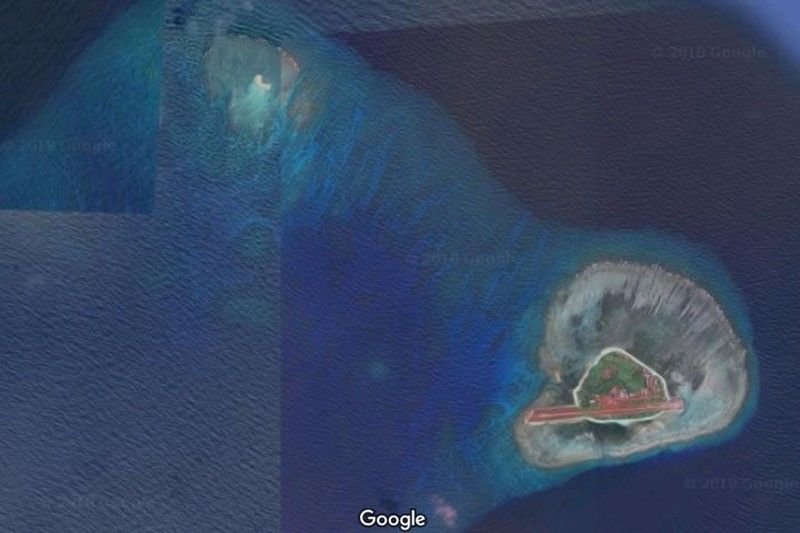 Sandy Cay is a shoal near Pag-asa Island in the West Philippine Sea.
Google Maps
Cayetano: Philippines has control of Sandy Cay, Alejano a liar
MANILA, Philippines — Calling an opposition lawmaker a "liar," Foreign Affairs Secretary claimed that the Philippines still has control over Sandy Cay, a shoal located some 2.5 nautical miles off Pag-asa Island in the West Philippine Sea.
Magdalo Party-list Rep. Gary Alejano earlier told Cayetano that Chinese coast guard vessels and militia fishing boats have been stationed near Sandy Cay since August 2017.
Cayetano, however, insisted that the Philippines can patrol the area.
"No one built on Sandy Cay. It's uninhabited and it is beside Pag-asa (Island) so we're free to patrol there. Our fishermen can go," Cayetano told CNN Philippines' The Source Friday morning.
Other claimant states such as Malaysia, Vietnam and China do not want the Philippines to build on Sandy Cay as agreed upon the Declaration on the Conduct of Parties in the South China Sea, or the DOC.
Article 5 of the DOC states that, "The Parties undertake to exercise self-restraint in the conduct of activities that would complicate or escalate disputes and affect peace and stability including, among others, refraining from action of inhabiting on the presently uninhabited islands, reefs, shoals, cays, and other features and to handle their differences in a constructive manner."
When asked whether he would go to Sandy Cay to assert the Philippines's sovereignty, Cayetano implied that it wouldn't be prudent to do so.
"Of course you can go there anytime but is it prudent? Is it time for you to go? 'Cause if you go what if Malaysian parliamentarians go to the features they control? What if the Vietnamese go there?" Cayetano said, recalling his previous conversation with Muntinlupa Rep. Ruffy Biazon.
The Philippines' top diplomat added that all countries are trying to "lower the temperature" as negotiations on the Code of Conduct in the South China Sea are ongoing.
"It's either we want the COC or we want to shout at each other and the reality is there is geopolitics here. This is a battle of the superpowers, it's the national security of US in the region and the national security of China," he said.
Cayetano called Alejano and Sen. Antonio Trillanes "liars" for accusing President Rodrigo Duterte of stopping the patrols in the West Philippine Sea.
"They're liars. They're trying to take down the government and they're lying left and right about it," Cayetano said.