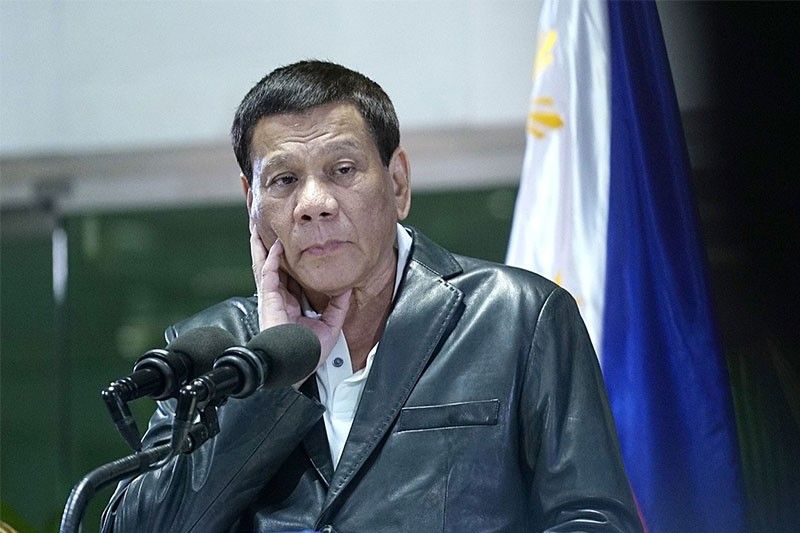 President Rodrigo Duterte admitted that he had no idea of the reported harassment of Filipino troops by Chinese vessels in Ayungin Shoal.
Presidential photo/King Rodriguez
Duterte needs 'fuller briefing' on West Philippine Sea — Del Rosario
MANILA, Philippines — President Rodrigo Duterte appears to need a "fuller briefing" on the situation in the South China Sea, part of which is the West Philippine Sea, following his recent pronouncements, former Foreign Affairs Secretary Albert del Rosario said.
The former DFA chief suggested that the president should consult Acting Chief Justice Antonio Carpio, who is an expert on the issue.
Del Rosario noted how Duterte reacted to the reported harassment of Filipino troops in Ayungin Shoal, as well as the Philippines' loss of control on Sandy Cay.
Duterte admitted that he had no knowledge that Chinese vessels harassed Filipino troops conducting resupply missions to Ayungin Shoal.
The country's loss of control of Sandy Cay was not given much importance, Del Rosario noted.
"Our President seemed to dismiss Sandy Cay as merely a sand bar, not worth protesting. The reaction to Sandy Cay was obviously a decision made without the benefit of being provided full information," Del Rosario said in a statement released Friday.
Del Rosario warned that China could claim Subi Reef as part of the territorial sea of Sandy Cay should they acquire control over the sand bar.
"This would aid legitimizing China's claim over Subi Reef, and would significantly reduce the territorial sea of Pag-asa Island," he said.
The former top Filipino diplomat also suggested that the Philippine government work on drafting a resolution before the United Nations General Assembly to preserve the country's victory from the UNCLOS-basked tribunal.
The Duterte administration has so far set aside the landmark ruling and sought to resolve the issue with China through a bilateral consultation mechanism.
"The intended UN Resolution should request China and the international community to abide and implement The Hague Arbitral ruling of July 12, 2016," Del Rosario said.
Magdalo Party-list Rep. Gary Alejano earlier reminded Foreign Affairs Secretary Alan Peter Cayetano that the country effectively lost control of Sandy Cay under the Duterte administration.
Cayetano said that he was willing to quit public service if proven that the Philippines lost an island to China under Duterte.
"Every time Philippine government vessels patrol Sandy Cay, they are driven away by Chinese coast guard vessels. This could be likened to the situation in Scarborough Shoal in 2012 wherein our fishermen and military forces are prevented from approaching. Since then, China controlled the shoal," Alejano said
Under the Philippine Baselines Law, Pag-asa Island, including Sandy Cay, is part of Philippine territory under Article 121 of the United Nations Convention on the Law of the Sea.
Related video: