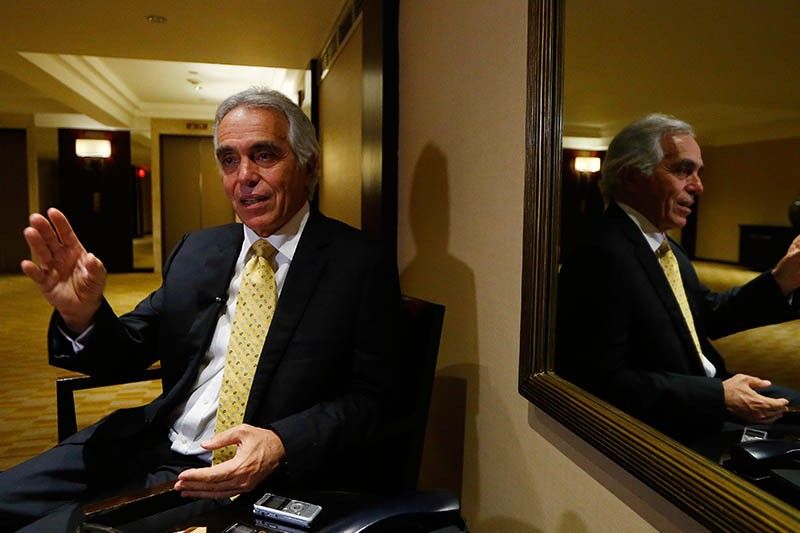 In this photo taken Thursday, May 31, 2018, Diego Garcia-Sayan, the United Nations Special Rapporteur on the independence of judges and lawyers, gestures during an Associated Press interview in the financial district of Makati city east of Manila, Philippines.
AP/Bullit Marquez
HRW: Duterte's latest tirade vs UN expert 'same old rhetoric'
MANILA, Philippines — Human Rights Watch slammed President Rodrigo Duterte for lashing out at the United Nations expert who warned that the judicial independence in the country is under threat after the ouster of Maria Lourdes Sereno as the country's top judge.
In a statement, HRW Asia Division researcher Carlos Conde said that Duterte's tirade against Diego García-Sayán, UN special rapporteur on the independence of judges and lawyers, is the "same tired, old rhetoric" designed to frustrate attempts by international bodies to look into the victims of extrajudicial killings in the government's war on drugs.
"President Duterte has been trying to evade accountability for these killings by subjecting UN experts and investigators as well as human rights defenders to relentless attacks," Conde said.
He then called on the UN not to be deterred and initiate an investigation into Duterte's continuing anti-narcotics campaign.
Before departing for South Korea on a three-day official visit, Duterte said that García-Sayán can "go to hell" for allegedly meddling in the affairs of the country.
"[García-Sayán] is not a special person and I do not recognize his rapporteur title. Tell him not to interfere with the affairs of my country," he said Sunday.
READ: Duterte tells UN rights expert: Go to hell
The UN rapporteur on Friday said that the landmark decision of the high court granting the quo warranto petition against Sereno filed by Solicitor General Jose Calida seemed directly related to the threats made by Duterte against the former chief magistrate.
"The derogatory statements and threats by President Duterte, which have been televised, broadcast on radio and carried by newspapers, constitute a vicious attack on the independence of the judiciary," the former Justice and Foreign Affairs minister of Peru said.
Although he repeatedly denied having a hand in Sereno's expulsion, Duterte declared that the former chief justice should be "out of the Supreme Court" in response to her insistence that the president was involved in moves to oust her.
Duterte maintains that he had nothing to do with it.
Presidential spokesperson Harry Roque said García-Sayán was misinformed, stressing that Duterte's dislike of Sereno "is not an attack to the judiciary or an affront to judicial independence."
READ: Sereno ouster sends chilling message to judiciary, says UN expert