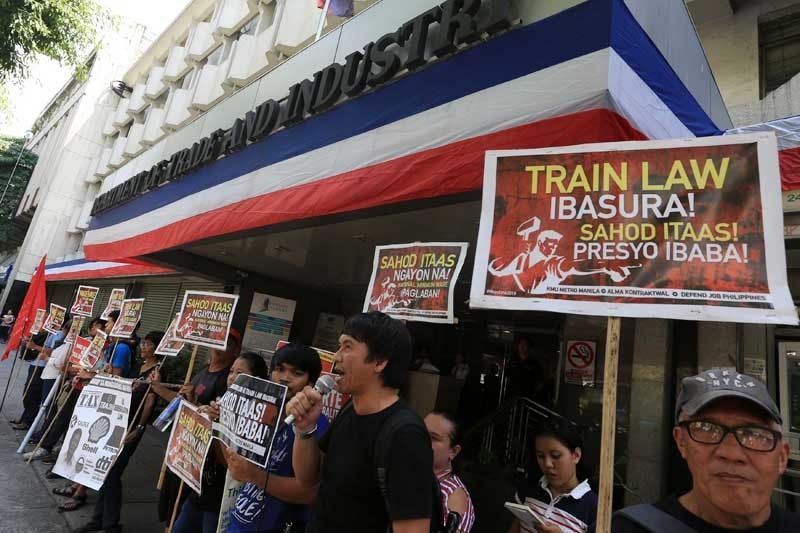 In a statement, Employers Confederation of the Philippines (ECOP) acting president Sergio Ortiz-Luis Jr. said the P800 per day minimum wage nationwide, as proposed by the Associated Labor Unions-Trade Union Congress of the Philippines (ALU-TUCP), "will continue to neglect the unemployed sector of our labor force."
Edd Gumban
Wage hike to aggravate situation of unemployed — ECOP
MANILA, Philippines — Employers yesterday warned that a wage hike at this time would only aggravate the situation of the unemployed.
In a statement, Employers Confederation of the Philippines (ECOP) acting president Sergio Ortiz-Luis Jr. said the P800 per day minimum wage nationwide, as proposed by the Associated Labor Unions-Trade Union Congress of the Philippines (ALU-TUCP), "will continue to neglect the unemployed sector of our labor force."
"The pain of inflation triggered by a wage hike will worsen the plight of the rest of the wage and salary workers," said Ortiz-Luis, adding that only minimum wage earners will benefit from any wage adjustment.
ECOP's warning comes following the recent spike in inflation that prompted organized labor to press for a new round of wage adjustments.
President Duterte has ordered the Department of Labor and Employment to convene the wage boards to revisit wage levels across the country and discuss the effect of the Tax Reform for Acceleration and Inclusion (TRAIN) law on workers.
Another measure seeking a legislated wage increase was filed before Congress despite strong opposition from the government and employers' groups.
The TUCP yesterday reported that their sectoral representative has filed a proposed bill mandating a P320 national wage hike.
The ALU also supported the passage of the National Minimum Wage Law that seeks a uniform P750 to P800 across-the-board pay hike for all workers nationwide.
Partido ng Manggagawa (PM) criticized employers for raising "disaster and doomsday scenarios" of closure and mass displacement if a national minimum wage is implemented.
Reports on the erosion of workers' purchasing power, PM said, are not imagination but based on a study conducted by the Department of Finance (DOF).
PM also urged Labor Secretary Silvestre Bello III to stand behind workers' welfare.
ECOP said the estimated number of minimum wage earners nationwide stands at 3.2 million, less than eight percent of the total Philippine labor force.
In the NCR, the group said the estimated number of minimum wage earners stands at 952,485.
Ortiz-Luis further said "setting a national minimum wage will greatly impact on enterprises, especially the micro, small and medium enterprises located in the regions which provide lower minimum wages as compared to the National Capital Region, and will definitely hamper business operations due to the dramatic increase in minimum wage." – With Mayen Jaymalin