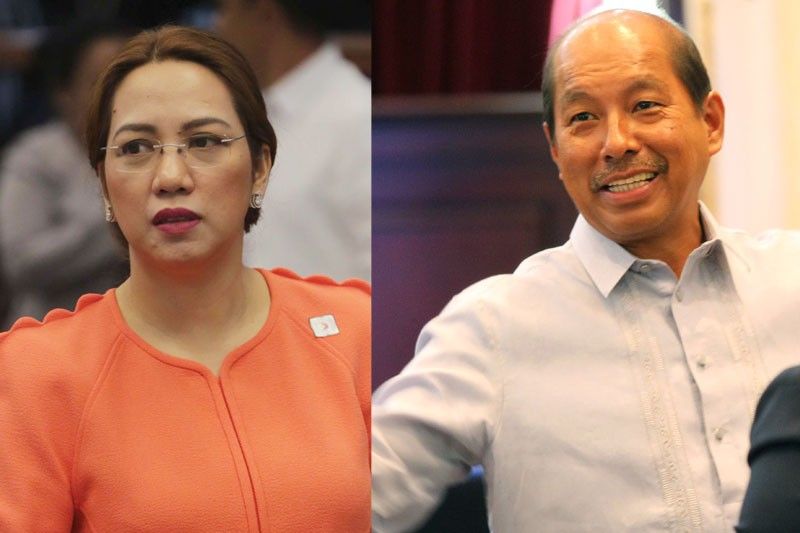 'Garin, Abad diverted P10.6-billion fund for senior citizens'
MANILA, Philippines — Some P10.6 billion in funds of the Philippine Health Insurance Corp. (PhilHealth) for senior citizens was illegally diverted in December 2015 and supposedly used for the campaign of Liberal Party (LP) candidates in the 2016 elections, a joint congressional review of PhilHealth's finances showed yesterday.
The budget was released to the Department of Health (DOH)'s rural health centers program around December 2015, prompting lawmakers to suspect the amount was used for the LP's electoral campaign, like the P3.5-billion Dengvaxia controversy.
"The diversion of the PhilHealth fund intended for the benefits of senior citizens, for me, is a heinous act three times more cruel than the Dengvaxia fiasco," Sen. Joseph Victor Ejercito, chairman of the joint congressional oversight panel, said.
"I can only describe this act as heartless and insensitive to the condition of our senior citizens," Ejercito added.
PhilHealth executive vice president Ruben John Basa said on Aug. 5, 2015, then health secretary Janette Garin and PhilHealth president Alex Padilla jointly wrote a letter to then budget chief Florencio Abad requesting the transfer of P10.6 billion from the Miscellaneous Personnel and Benefits Fund (MPBF) in the 2015 budget for the DOH program.
The amount, which was supposed to fund the additional benefits under the Expanded Senior Citizens' Act, was parked in the MPBF.
The transfer was approved by Abad and former executive secretary Paquito Ochoa.
The release of the funds sometime in December was done without the knowledge and approval of the PhilHealth board at the time and was uncovered only when the currrent board was asking the Department of Budget and Management for the money, Basa and Health Secretary Francisco Duque III told the oversight committee.
Garin and Padilla's request came around the same time the former health chief asked for P3.5 billion for the anti-dengue vaccination program.
Duque said the diversion was suspicious and questionable as not only was it done without the knowledge of the PhilHealth board, but was also made without any study on its impact on the agency's financial longevity.
He said out of the 3,200 rural health centers that were supposed to have been completed, only 217 had certificates of completion.
"We saw a lot of malgovernance, fund releases were just cavalierly done and proper process was not respected," he said.
Duque said because of the diversion, the life of the PhilHealth reserve fund was reduced from the mandatory 24 months to just 10 months as part of it was used to fill the P10.6 billion for senior citizens' benefits.
Last March 18, PhilHealth filed a complaint before the Office of the Ombudsman against Garin and Padilla for alleged violation of the Anti-Graft and Corrupt Practices Act in connection with the fund diversion.