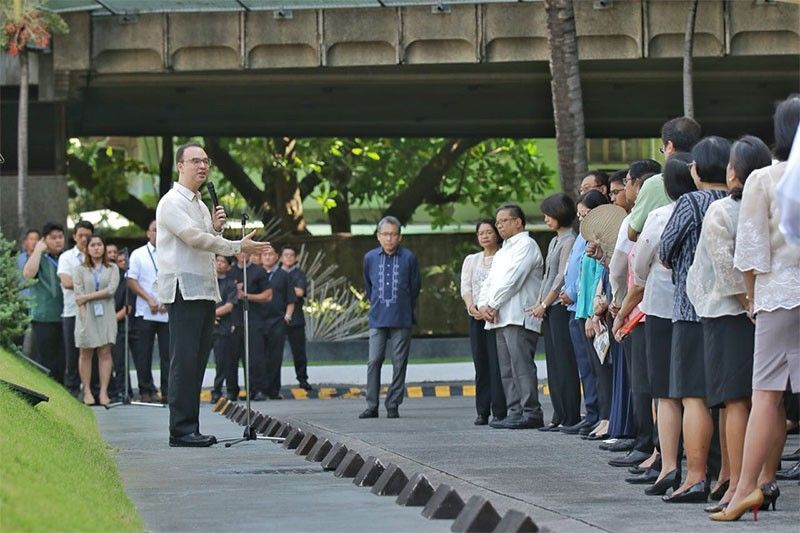 Foreign Affairs Secretary Alan Peter Cayetano speaks during a flag-raising ceremony at the Department of Foreign Affairs in Pasay City.
DFA/MJ Roldan
Philippines to disclose diplomatic actions 'at the right time'
MANILA, Philippines — Amid calls to file a diplomatic protest against China's militarization of the South China Sea, the Philippine government justified its position not to engage in "megaphone or microphone" diplomacy.
Last week, the Department of Foreign Affairs released a statement that actions have been taken to address China's landing of an H-6K bomber on Woody Island in the Paracel chain in the South China Sea.
The Philippine government, however, did not directly call out China for its recent actions in the disputed South China Sea, unlike Vietnam which asked Beijing to withdraw military equipment from the South China Sea.
Foreign Affairs Secretary Alan Peter Cayetano insisted that the DFA is doing its job in defending the country's claims over the contested waters.
'Nothing is secret forever'
"For those who keep saying, 'File a protest, file protest,' what do they think we meant when we said, 'We are taking all diplomatic actions'? At the right time, we will prove you wrong because nothing is secret forever,'" Cayetano said during the flag-raising ceremony at the DFA on Monday.
Cayetano stressed that President Rodrigo Duterte himself had asserted the country's claim over the West Philippine Sea before Chinese Preisdent Xi Jinping.
The DFA secretary said that all actions taken to address China's aggression will be revealed in the future.
"When we declassify all of this, once we have achieved our purposes in the future, you will see that the DFA was not remiss in filing whatever diplomatic action, note verbale, verbal protest, protest that is written, a demarche, discussions," Cayetano said in English and Filipino.
Acting Chief Justice Antonio Carpio earlier said that failure to formally protest China's deployment of a nuclear-capable bomber in the South China Sea means that the Philippines is consenting to militarization in the region.
Carpio warned that Beijing's bomber aircraft could also land and take-off from any of its outposts in the Spratly Islands in the West Philippine Sea.
"Failure to formally protest means the Philippines is acquiescing or consenting to the militarization, and worse, to the claim of China that all the islands, waters and resources within the nine-dashed line form part of Chinese territory," Carpio last week.
Former DFA Secretary Albert del Rosario, meanwhile, called on the Filipino people to take a united and vocal stand in urging the Philippine government to assert the country's claim.
"As we had previously said, we are opposed to war — as we should be. But if threatened by the use of force, we should be ready to inflict, at the very least, a bloody nose on any attacker who is out to harm us," Del Rosario said.