Philippines repairs Spratlys runway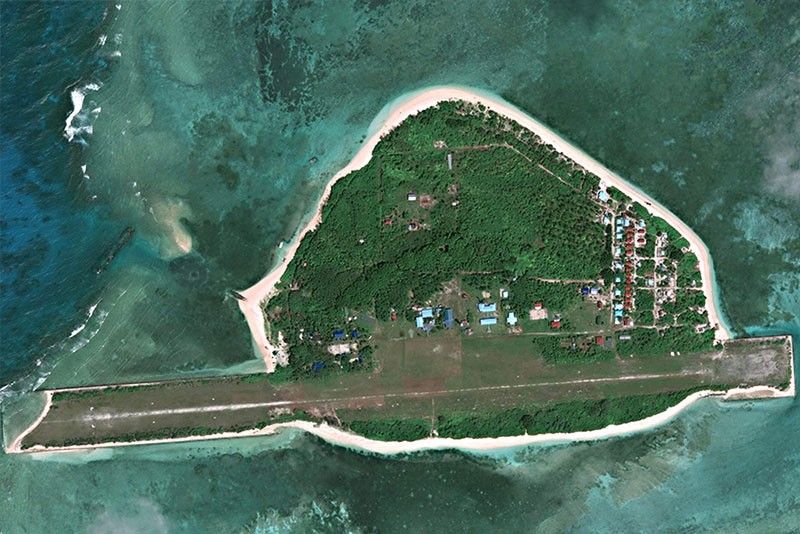 MANILA, Philippines — The long-delayed repairs of Rancudo Airfield in Pag-asa (Thitu) Island as well as other limited development projects on several smaller military outposts within the Philippine-claimed Kalayaan Group of Islands, are now underway, a senior security official said yesterday.
He issued this statement to confirm satellite imagery released by Washington-based Center for Strategic and International Studies-Asian Maritime Transparency Initiative (AMTI) showing repairs have begun at the crumbling airfield in Pag-asa.
Meanwhile, Malacañang defended yesterday the repairs, saying these are tantamount to the Philippines' assertion of sovereignty in the contested group of islands.
"(The) repair of port facilities in Pag-asa is consistent with our national sovereignty and jurisdiction," presidential spokesman Harry Roque Jr. said.
Originally designed to be a 1,300-long runway, Rancudo Airfield, also the seat of Kala- yaan town, a fifth-class municipality of Palawan with around 100 to 300 civilian residents and a small number of soldiers, is currently operating on a 1,200-meter unpaved ground.
Both ends of the runway have already eroded into the sea, making it highly dangerous for bigger planes like C-130s to land or take off. It sits 12 nautical miles from China's bustling naval and air base at Zamora (Subi) Reef.
"Even before we filed an arbitration case against China, we were already doing repairs of dilapidated facilities in Pag-asa as well as those in other outposts to at least improve the living conditions of our soldiers on forward deployment in the region," the security official, who asked not be named, said.
He added that construction materials needed for the Kalayaan projects have been pre-positioned in Palawan.
However, at the height of the trial before the Permanent Court of Arbitration (PCA), the repairs had to be stopped and hauling of construction materials was suspended so as not to affect the Philippine maritime case against Beijing.
After winning the case, he said what the Philippines got from the PCA was a piece of paper with no enforcement mechanism despite China's uncharted nine-dash line claim to almost 90 percent of the entire South China Sea being invalidated.
"This is the reason why we decided to also proceed with our long-delayed infrastructure developments not only at Pag-asa but also in all other outposts across Kalayaan," the official said.
He also attributed the slowing down of repairs of already existing infrastructures in all nine outposts in Kalayaan to China's repeated assurance that it will stop development activities, much less militarize, their seven occupied areas in the disputed region.
As AMTI reported earlier, China despite its promises, was monitored to have deployed anti-ship cruise missile and surface-to-surface missile systems on man-made naval and air bases at Kagitingan (Fiery Cross) Reef, Zamora (Subi) Reef and Panganiban (Mischief) Reef.
These former three obscure maritime features are now being described as China's "Big Three" naval and air bases located in the Spratlys.
AMTI also reported that China has landed its long-range and nuclear capable bombers on Woody Island in the Paracel Island Group, a move perceived by defense and military analysts to be a prelude for the deployment of this aircraft on the so-called "Big Three" down south in the Spratlys.
"If Congress and the Senate will openly commit and allocate funds for the improvements on our occupied islands, then we will have a more strong stance out there," the official said.
He added that while diplomacy is necessary, which most of President Duterte's critics have been clamoring for if only to show that the Philippines is standing up against China, a strong and highly motivated military must be always around to support this.
"Diplomacy will only work if you have the strength to back it up," he said, quoting another officer, as telling him.
As early as last year, Defense Secretary Delfin Lorenzana has announced the government's plans to upgrade all nine military outposts in Kalayaan, beginning with the building of a beaching ramp at Pag-asa to be followed by the repairs of Rancudo Airfield.
The defense chief said he expected no opposition from China because the Philippines is simply improving the living conditions of its soldiers.
Aside from Pag-asa, where two barges were anchored off on the western end of Rancudo Airfield, AMTI also monitored limited infrastructure developments on Rizal (Commodore) Reef, Lawak (Nanshan) Island and Panata (Lankiam Cay) Island.
"In addition to the start of work on the runway, other upgrades are visible around Pag-asa (Thitu) Island. At least seven new buildings have been constructed in the last year, with four near the residential area on the eastern side of the island, one near the administrative facilities at its center, another along the northern shore and one at the western end next to the island's basketball court," AMTI reported last Friday. – With Janvic Mateo, Christina Mendez