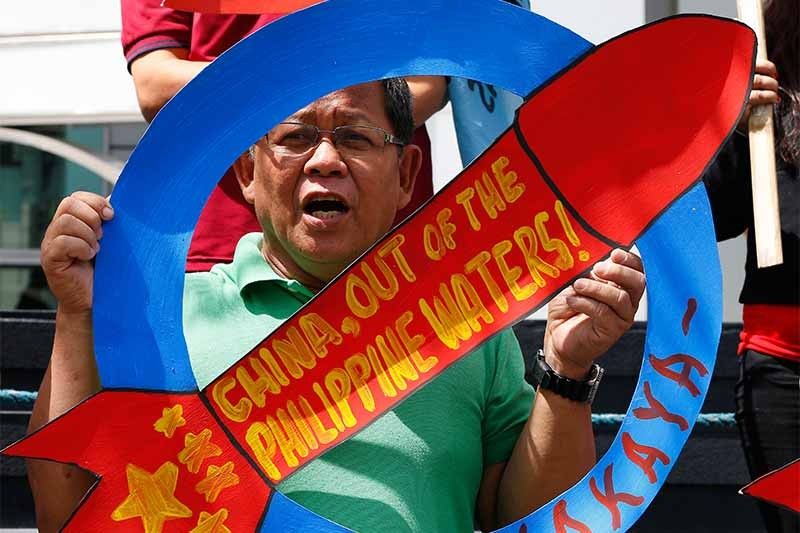 In this May 18, 2018, file photo, a protester shouts slogans during a rally at the Chinese Consulate to protest China's deployment of missiles on the Philippine-claimed reefs in South China Sea Friday, May 18, 2018 in the financial district of Makati city east of Manila, Philippines. The Philippines says it is taking "appropriate diplomatic action" to protect its South China Sea territorial claims, after China landed bombers on one of the islands it controls.
AP/Bullit Marquez, File
Amid China's aggressive actions, De Lima calls on Duterte to convene security council
MANILA, Philippines — President Rodrigo Duterte should immediately convene the National Security Council to help him identify the country's right response to China's increasingly aggressive military behavior in the South China Sea, according to opposition Sen. Leila de Lima (Liberal Party).
De Lima said that Duterte should be presented with all possible actions on China's militarization of the dispute, which could range from forceful diplomacy, close collaboration with allies and neighboring countries and use of proper United Nations mechanisms.
The opposition lawmaker filed Senate Resolution 744 to urge the chief executive to immediately convene the NSC, the principal advisory body on the coordination and integration of plans and polices on national security.
READ: After landing bomber aircraft, China installs new weapons in Paracels
"Inaction or soft diplomatic actions are no longer options as the military activities of China over West Philippine Sea have placed the whole country under perpetual threat," said the senator, who is currently detained in Camp Crame on drug-related charges which she maintains are trumped up and meant to silence her.
"The President should be presented all possible actions, including forceful diplomacy, close collaboration with allies, such as Australia, Japan, and the United States, renewed partnership with Indonesia, Vietnam, and other allies in ASEAN, and availment of other proper UN mechanisms," she added.
In recent weeks, China has been reported to have deployed missile systems on three of its artificial outposts in the South China Sea, effectively putting some parts of the country within Beijing's range.
Then, it was also reported that several bomber planes capable of carrying nuclear-tipped missiles landed and took off from an outpost in South China Sea. This puts the whole of Southeast Asia within the range of China's air force.
Despite these actions, the Philippines has chosen to adopt a non-confrontational approach to the issue and insisted that Manila is taking the necessary actions.
Duterte also justified his government's timid approach to China's aggressive behavior, saying that the Philippines cannot win a war with Beijing, suggesting that the president is thinking of war as his only other option.
Vice President Leni Robredo and former National Security Adviser Roilo Golez have both called on the government to file a diplomatic protest against China and to use the law to counter its militarization.
De Lima underscored the need for the government to establish a clear policy on the militarization activities of China in the South China Sea and to pressure it remove its facilities that threaten the security of Southeast Asia.
Under Duterte, the Philippines has chosen to adopt a more conciliatory tone with Beijing in an effort to court Chinese money and investments into the country.
READ: China insists 'inherent right' to military activities in South China Sea