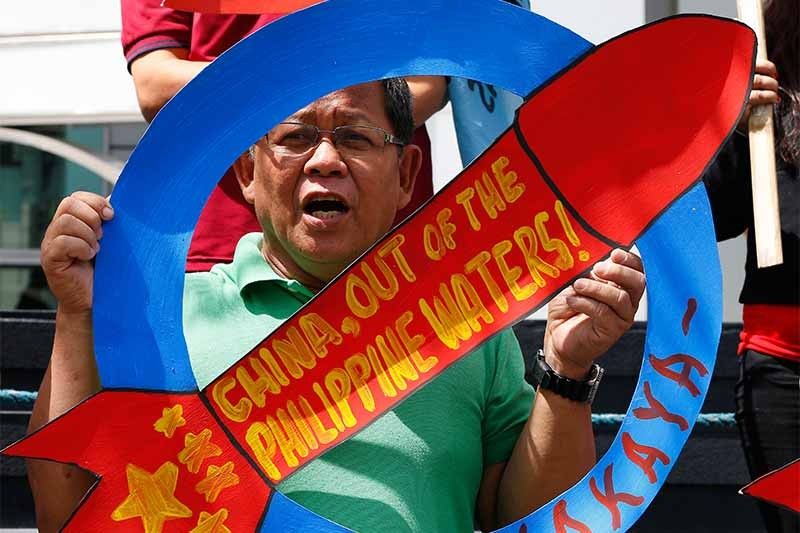 In this May 18, 2018, file photo, a protester shouts slogans during a rally at the Chinese Consulate to protest China's deployment of missiles on the Philippine-claimed reefs in South China Sea Friday, May 18, 2018 in the financial district of Makati city east of Manila, Philippines. The Philippines says it is taking "appropriate diplomatic action" to protect its South China Sea territorial claims, after China landed bombers on one of the islands it controls.
AP/Bullit Marquez, File
Duterte explains soft stance on West Philippine Sea dispute: We can't win
MANILA, Philippines — President Rodrigo Duterte justified Tuesday the soft stance that the Philippines has taken in the face of China's militarization in the South China Sea, saying he would not want to destroy the country and military and lose a war.

This is Duterte's first comment on the issue after it was reported that China sent long-range bombers to one of its outposts in the South China Sea, a move that demonstrates Beijing's capacity to strike any country in Southeast Asia.

Speaking during the 112th anniversary of the Philippine Navy, Duterte said that he would have wanted to take a stronger and more "violent" stance on the dispute.

"Because in my simple calculation, with every common sense that is available to me, I would have taken a stronger, probable a more violent way of doing it. I said, in my own estimation, it would probably be a great loss to the nation and probably end up losing a war," Duterte said in his long-winding remarks.
War not the only way
Duterte's statement however ignored how the Philippines' options are not limited to waging a war over the issue.

Former National Security Adviser Roilo Golez said that filing a diplomatic protest is not an act of going to war and is instead an act of peace.

He stressed that what was being suggested for the government to do was using international law.

"No one is even half suggesting we go to war," he said in a post on Twitter.
Duterte, upon assuming the presidency in 2016, has tried to forge closer ties with China as he courts Chinese money to finance his government's infrastructure projects and to invest in the country's developing economy.
He has also set aside a 2016 ruling by an international arbitral tribunal that said China's sweeping nine-dash-line claim over a large part of the South China Sea has no basis in international law. More recently, Duterte has been claiming incorrectly that the ruling was handed down before he became president.

China's long-range bombers were reportedly involved in a military exercise and landed on and took off from Woody Island, its largest base in the Paracel Islands, claimed also by Vietnam and Taiwan.

Duterte said that he would not afford to go to war with China because the Philippines would only be defeated.

"I cannot go into a battle which I cannot win and would only result in the destruction and probably a lot of losses for our Armed Forces," the president said.