Higher fares loom as LTFRB studies petitions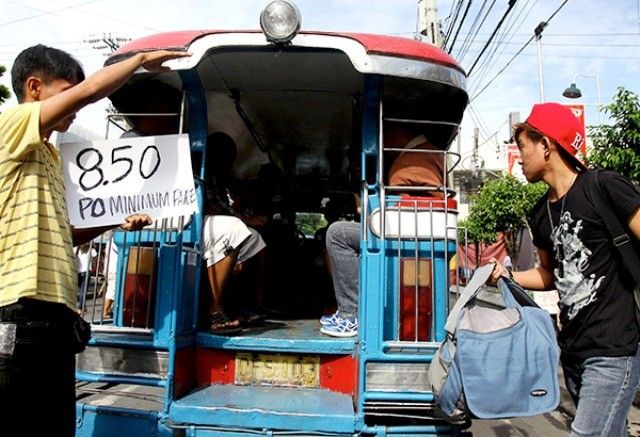 MANILA, Philippines — With skyrocketing fuel prices, the Land Transportation Franchising and Regulatory Board (LTFRB) is now open to granting the fare hike petitions of transport groups.
LTFRB chairman Martin Delgra III said yesterday they are studying petitions for fare increase filed by transport groups amid the steady rise in fuel costs, particularly diesel.
Local pump prices have been rising steadily for weeks largely due to spikes in the costs of crude in the world market and the effects of the Tax Reform for Acceleration and Inclusion (TRAIN) law.
Delgra stressed any increase should be based on thorough study to minimize its impact on commuters and the public in general.
"There is a process that needs to be done and they have to prove the basis of the increase," he said in an interview over dzMM.
Delgra cited the fare hike petition filed by Roberto Martin of the Pangkalahatang Sangguniang Manila and Suburbs Drivers Association or Pasang Masda and four other groups of jeepney operators seeking to increase the minimum jeepney fare from P8 to P10 for the first four kilometers.
In pushing for fare hike, Pasang Masda and other groups like the Jeepney Operators and Drivers' Associations of the Philippines, Alliance of Concerned Transport Organization, Alliance of Transport Operators and Drivers Associations of the Philippines and Liga ng Transportasyon at Operators sa Pilipinas also cited their huge capital expenditure for acquiring new units.
"We are open to granting the petition in the context na mas magara, magaan yung (of better and lighter) public transport service na ibibigay ng mga (that would be offered by) petitioners," said Delgra.
The LTFRB chief said they are also studying another petition filed by a group of jeepney operators in Marikina City last week seeking not only higher minimum fare but also a "rush hour rate" of P1 from 5 a.m. to 8 a.m. and 5 p.m. to 8 p.m. to mitigate losses during heavy traffic.
Delgra recalled the highest jeepney fare authorized was P8.50 in 2012 when prices of gasoline reached P48 to P50 per litter.
He said they would factor in inflation since 2012 in deciding on fare hike petitions, as he admitted an increase of 50 centavos might be too small.
With no end yet in sight to fuel price hikes, the Department of Energy (DOE) is urging oil companies to extend further assistance to public utility vehicles (PUVs) while it works to have the second tranche of the TRAIN Law suspended.
Energy Secretary Alfonso Cusi made the request at a meeting with oil industry stakeholders.
Oil companies have voiced their readiness to help by giving discounts and scaling up their corporate social responsibility (CSR) programs. They hope to formalize their commitment through a Memorandum of Agreement (MOA) with the DOE.
At present, PUVs are entitled to P1 per liter discount under an existing MOA between the DOE and three oil firms, namely Petron Corp., Phoenix Petroleum Philippines Inc. and Pilipinas Shell Petroleum Corp.
"We are here to help one another find ways to cushion the effect of the oil situation, and ensure the utmost protection of our consumers despite the geopolitical factors abroad that we cannot control affecting the world oil market," Cusi said.
The DOE said it is also closely coordinating with the Department of Finance (DOF) for discussion of new measures concerning the excise tax and value-added tax on oil arising from the implementation of the TRAIN law.
DOE-Oil Industry Management Bureau (OIMB) director Rino Abad said the agency will recommend the suspension of the excise tax on fuel scheduled in 2019 if and when world oil prices hit the three-month average of $80 per barrel.
In January, the TRAIN law caused the imposition of higher excise tax on gasoline at P7 per liter from P4.35 and the setting of new tax rates of P2.50 per liter on diesel, P3 per liter on kerosene and P2.50 per liter on auto liquefied petroleum gas (LPG).
In 2019, an additional P2 per liter excise tax and value-added tax of P0.24 per liter – or a total of P2.24 per liter – would be imposed on gasoline and diesel.
The DOE will also be working with the Department of Transportation (DOTr) for the swift implementation of Section 82 of the TRAIN law on fuel vouchers for PUVs.
The agency is working on a department circular requiring oil companies to provide a weekly notice of price status, including computation of their products' components based on elements affecting international price movement like biofuels cost and the capital/operational cost recovery.
On Tuesday, oil companies raised gasoline prices by P1.60 per liter; diesel by P1.15 per liter and kerosene by P1.00 per liter.
International geopolitical developments that pushed oil prices include US sanctions on Iran, the drop in the production of the Organization of Petroleum Exporting Countries (OPEC) and the political changes unfolding in Venezuela.
Based on International Energy Agency (IEA) reports and Mean of Platts Singapore (MOPS) trends, oil price in the short and medium term is expected to reach $80 per barrel.
Meanwhile, Malacañang said it is studying proposals to put on hold the P5 to P7 fare hike for the Light Rail Transit Line 1 (LRT-1) and Metro Rail Transit Line 3 (MRT-3).
"We'll see if we can do something about it. But if it can't be suspended, then it will inevitably rise," presidential spokesman Harry Roque said.
Roque added he would confer with Transportation Secretary Arthur Tugade regarding the matter.
The Palace official was reacting to Bayan Muna's calling the coming fare hike "gravely and greedily insensitive" and "grossly unwarranted."
"It's another burdenon the people that we should oppose," Bayan Muna Rep. Carlos Zarate said in Filipino. – With Christina Mendez