Australian community throws support behind Sister Patricia Fox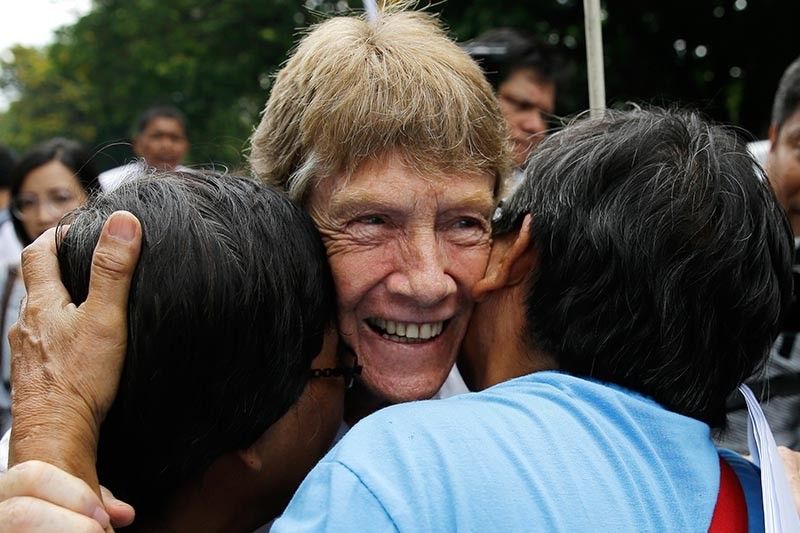 MANILA, Philippines — Australians expressing support for Sister Patricia Fox called on the Philippine government to rescind its order against the 71-year-old nun to leave the country.
Nearly 500 leaders and members of the religious community, politicians, and union and community members signed the campaign initiated by Movement Against Tyranny Australia, International Coalition for Human Rights in the Philippines and Migrante Australia.
They are urging President Rodrigo Duterte and the Bureau of Immigration to restore the missionary visa of Fox, a Melbourne native, and thank her for dedicating 27 years of her life to help the poor and the marginalized.
"We unreservedly condemn the detention of Sr. Pat on April 16 to 17, 2018 and the subsequent 30-day deportation order of April 25 as an arbitrary act of repression against her and against all foreigners who have committed to assist and support the Filipino people in their struggles to live in a poverty-stricken, exploited and violent society," the collective statement read.
BI is seeking the expulsion of Fox from the country, citing her alleged violation of immigration rules by participating in partisan activities while she is in the Philippines with a missionary visa.
On May 3, Fox filed her 26-page counter-affidavit on the deportation case, arguing that Intelligence Agent Melody Penelope Gonzales "has no right to define and delimit what constitute the apostolate and missionary works of the Sisters of Our Lady Sion."
READ: Fox to Immigration: You cannot define my missionary work
The Australian community stressed that the nun did not commit any illegal political activity in the Philippines and applauded Fox for fighting for her right to stay and do her duties in the country.
"As she has stood alongside the poor farmers, workers and indigenous people these last 27 years, we are proud to stand alongside her now," they said.
In a speech last month, an angry Duterte blasted Fox for her supposedly having a "shameful mouth" and admitted that he was the one who ordered Immigration officials to investigate her.
READ: Despite visa cancelation, Sister Patricia Fox vows to continue helping marginalized