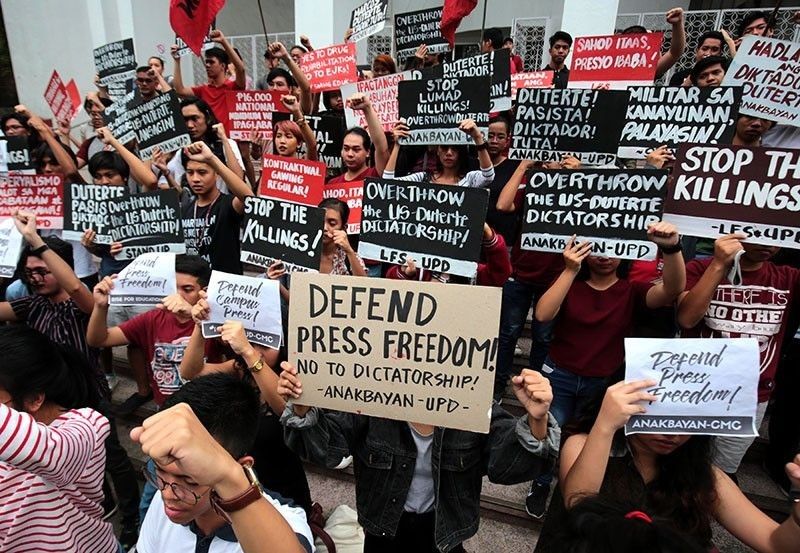 According to the Center for Media Freedom and Responsibility and the National Union of Journalists of the Philippines, nine journalists have been killed from June 30, 2016 to May 1, 2018.
File
Press groups count 85 attacks vs media under Duterte
MANILA, Philippines — There have been 85 cases of attacks against the Philippine press— long considered the freest and liveliest in Asia—since President Rodrigo Duterte assumed office, according to a report of various media watchdogs.
According to the Center for Media Freedom and Responsibility and the National Union of Journalists of the Philippines, nine journalists have been killed between June 30, 2016 and May 1, 2018.
There were also nine media murders during Benigno Aquino III's first 22 months in office.
Two days before the celebration of World Press Freedom Day, radio broadcaster Edmund Sestoso died while he was being treated in the hospital. He had been shot by motorcycle-riding gunmen in Dumaguete, Negros Oriental Monday.
READ: Rights, media groups denounce killing of radio broadcaster
Aside from the killings, the media watchdogs also recorded:
16 libel cases
14 cases of online harassments
11 death threats
six slay attempts
six cases of harassment
five cases of intimidation
four website attacks
three cyber libel cases
three cases of journalists barred from coverage
two revocations of registration or denial of franchise
a strafing incident
and a case of verbal assault.
Luzon had the most number of attacks and threats against media with 57, followed by Mindanao with 17 and Visayas with 10.
Duterte created the Presidential Task Force on Media Security in 2016 to address media killings but has also gone on tirades against journalists and media outlets that have been criticial of his policies.
Risky endeavor
In a pooled editorial, CMFR, NUJP, Philippine Center for Investigative Journalism and Philippine Press Institute said these 85 cases have made the practice of journalism an "even more dangerous endeavor" under Duterte.
They noted that the presidency of Duterte has radically altered public discourse in its favor.
"One tragic result: it has restricted and narrowed the celebrated freedom of the Philippine press and the people's cherished right to know," the groups said.
The media organizations stressed that the attacks on press freedom do not only diminish the news media but also weaken the capacity of media outlets to "sustain the people's unfettered exchange of ideas about public issues."
They urged journalists to stand firm and to keep power in check.
"Whoever is the president, the paramount duty of a free press in a democracy is to defend and uphold the people's right to know, with unqualified courage and unity," the groups said.
Malacañang has repeatedly maintained that the president's moves and tirades are "not an attack on press freedom."
Asia's deadliest country for journalists
In a press briefing Thursday, presidential spokesperson Harry Roque condemned the killings of Sestoso and of priest Mark Ventura in separate incidents. He said the government would bring the perpetrators to justice.
When asked about the findings of CMFR and NUJP, Roque claimed that the Philippines has improved its position on the list of deadliest countries for journalists.
"The country slipped in the ranking on the dangerous place to be a journalist. Let's give credit where it is due," Roque, a former press freedom advocate, said.
But according to the annual report published by media watchdog Reporters Without Borders (RSF) last December, the Philippines is the deadliest country for journalists in Asia after four journalists were killed in 2017. It joined the ranks of Syria (12 people killed), Mexico (11), Afghanistan (9) and Iraq (8).
The Philippines also ranked 133rd out of 180 countries in the RSF's 2018 World Press Freedom Index, falling six places from 127th in 2017.
READ: Philippines down 6 notches on World Press Freedom Index