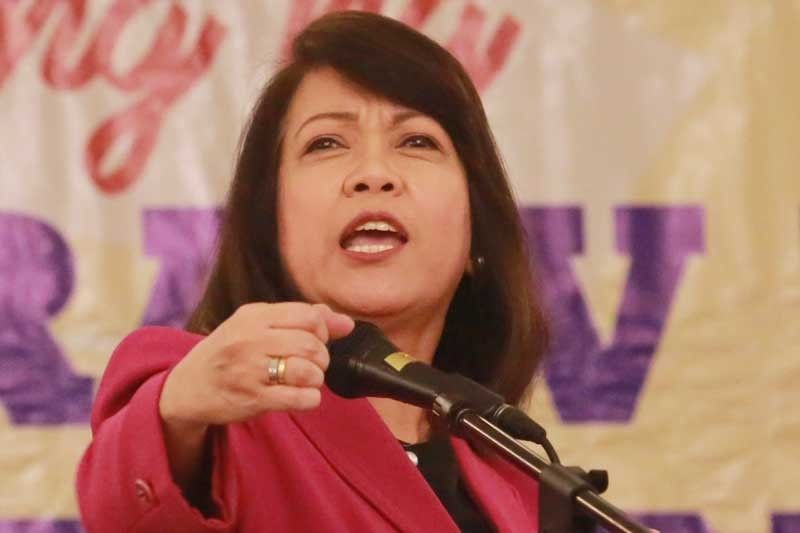 In her speech at a forum on judicial independence at the Ateneo Law School, Sereno said the country's democracy is facing a grim future as those in power are making a mockery of the justice system.
Michael Varcas
Sereno to law students: 'Oppose one-man rule'
MANILA, Philippines — Lawyers should do their part in stopping "one-man rule" by actively protesting efforts to undermine judicial independence and stifle dissent, Chief Justice-on-leave Maria Lourdes Sereno told a gathering of law students yesterday.
In her speech at a forum on judicial independence at the Ateneo Law School, Sereno said the country's democracy is facing a grim future as those in power are making a mockery of the justice system.
She was apparently referring to President Duterte and his officials.
She said the country's lawyers should not stay complacent in the face of the brazen disregard of the law by the very people tasked to protect the democratic way of life.
"Would you law students, when you become lawyers, just play lackey to the Office of the Solicitor General and not fight for your client for fear of losing your case anyway because judges can be intimidated?" she said in Filipino.
She said the quo warranto case against her – if it succeeds – would embolden Solicitor General Jose Calida to harass or force out of office any official who criticizes the Duterte administration or contradicts its questionable initiatives.
Sereno is also facing impeachment before Congress.
"You fight them in a proceeding, your client is being shortchanged, the representative of the solicitor general can just remind the judge that the office can file a quo warranto against the judge," she said.
"It is effectively dictatorship because the future of so many – the rights of so many – are being held in the hands of the solicitor general and his boss… our democratic way of life is in danger. We will fall into one-man rule," she added.
Sereno said there might come a time when executive officials will just call justices or judges and bluntly tell them how they should decide on a ruling.
As future lawyers, she said they should carefully observe what is happening around them and see how the government is exercising its power.
"Inaabuso po ba? Ginigiit ang human will (Is there abuse, is human will being forced on the people)? Ang Constitution at ang mga batas (and our laws), they are there para may (to put a) limit with the exercise of the human will. The exercise of will by one man or his government is not the law, is not the Constitution," she said. She vowed to continue her fight for judicial independence.
She also lashed out at Speaker Pantaleon Alvarez and Larry Gadon, the lawyer who filed the impeachment case against her.
On questions regarding her statements of assets, liabilities and net worth or SALN, Sereno said her critics seemed to be singling her out as they were reportedly ignoring lapses committed by some of her colleagues in the judiciary.
"And so it will appear that this is selective targeting – selective targeting like trying to kill a rat by burning the whole house. They want to dispose of a certain person, but they're burning the whole institution," she said.
Sereno claimed her main critic only filed 15 of the required 39 SALNs.
She explained that the issues hounding the judiciary as well as the cases lodged against her could be discussed in a diplomatic manner and that her detractors did not have to resort to impeachment.
"I think we should have group dynamics. We can have a retreat – with priests, bishops, pastors – and exorcise any demonic presence in our midst," she said.
"The problem at the SC is that simple," she added.
Oust De Castro? No way
Meanwhile, Calida has rejected the bid of a private citizen to initiate an ouster petition against Supreme Court Associate Justice Teresita de Castro, Sereno's arch critic.
Calida denied for lack of merit the request of a certain Jocelyn Marie Acosta for filing of quo warranto petition against De Castro before the high court based on the same grounds used against Sereno, particularly the alleged failure to file SALNs.
Acosta stressed that De Castro should be removed from her post also after failing to file complete SALNs in violation of the law.
De Castro admitted during the House's impeachment hearing against Sereno that she was able to submit 15 of her SALNs, but Judicial and Bar Council records showed that she has been in government service since 1973.
"Following the logic" Calida and De Castro employed to seek Sereno's ouster, Acosta said De Castro also lacks integrity and is not qualified to sit as magistrate.
But Calida rejected the argument, citing lack of evidence.
"The rule vests on the Solicitor General the discretion to commence an action for quo warranto, if he has good reason to believe that the case can be established by proof. Your letter, however, does not advert to any supporting evidence. It is basic that evidence is the means to proof; proof is the result of evidence," read his two-page reply to Acosta.
Calida also stressed that the comparison made by Acosta on the cases of Sereno and De Castro does not hold water.
"Justice De Castro, who is subject of your request, was appointed to the Supreme Court on Dec. 4, 2007. The argument which the OSG propounded against Sereno does not apply to Justice De Castro since it was Sereno who was appointed as the Chief Justice without the qualifications back in 2012," he explained.
The solicitor general also pointed out that his office did not pursue the case against Sereno before the SC based on request by suspended lawyer Eligio Religio but rather due to findings in the House impeachment hearings.
"Sereno's eligibility was brought to our attention when it was found out in the course of the impeachment proceedings before the House of Representatives that she did not file her SALNs, as required by the JBC for the position of Chief Justice at that time," he added. – With Edu Punay