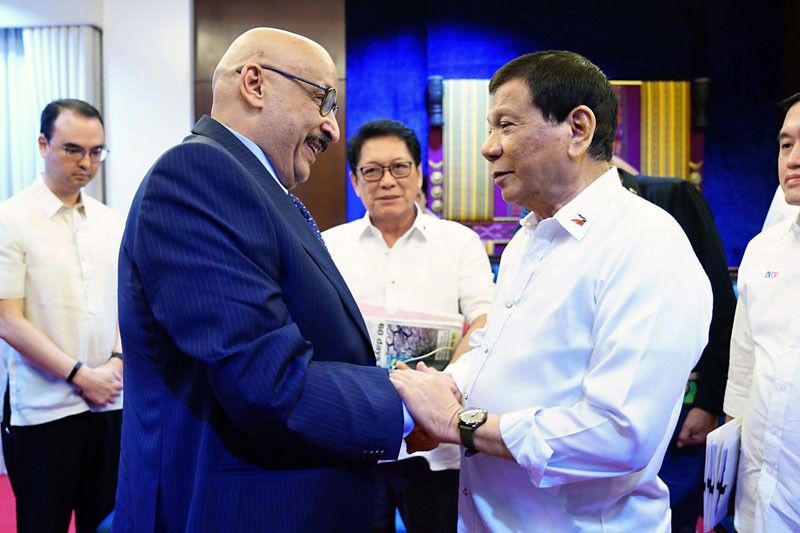 President Duterte greets Kuwaiti Ambassador Musaed Saleh Ahmad Althwaikh at the presidential guest house in Davao City on Monday as Foreign Affairs Secretary Alan Cayetano (left) and Labor Secretary Silvestre Bello III look on.
Philippines apologizes to Kuwait
MANILA, Philippines — The Philippines apologized yesterday to Kuwait for the rescue of distressed Filipino workers after the Gulf state protested the mission, which it viewed as a violation of diplomatic norms and an infringement on Kuwait's sovereignty.
"We are apologizing for certain incidents that the Kuwaitis view as a violation of their sovereignty," Foreign Affairs Secretary Alan Peter Cayetano told reporters.
Cayetano said the Philippines extended the apology to Kuwaiti Ambassador Musaed Saleh Ahmad Althwaikh but would reiterate it in a formal apology to be sent to the Kuwaiti government.
"I apologize to my counterpart and we apologize to the Kuwaiti government, Kuwaiti people and the leaders of Kuwait if they were offended by some actions taken by the Philippine embassy in Kuwait, but we have explained to their ambassador and the ambassador has accepted this explanation," Cayetano told reporters.
"Of course we will also send it to our counterparts, that this was all done in the spirit of emergency action to protect Filipinos," Cayetano added.
He noted that only Kuwaiti police were authorized to respond to reports of abuse in private residences, but explained that assistance was given to Filipinos in Kuwait over the past days and some operations were called rescues.
As a general rule, Cayetano said the embassy coordinates with the Kuwaiti government. But he said there are exceptions, such as when there is a life-or-death threat to Filipinos.
Cayetano said Kuwait has made "no threat" to expel Philippine Ambassador Renato Villa and gave assurance that diplomats would not be detained.
For his part, President Duterte stated that the government respects the sovereignty of Kuwait. The President avoided a diplomatic crisis by meeting with Althwaikh at the Malacañang of the South guest house in Davao City on Monday afternoon. They were joined by Cayetano, Environment Secretary Roy Cimatu, Labor Secretary Silvestre Bello III, Presidential Communications Operations Office (PCOO) secretary Martin Andanar and presidential special assistant Christopher Go.
"They discussed recent events that transpired in Kuwait. They parted on a positive note, emphasizing that while the Philippines will always exercise its obligation to protect its nationals abroad, they will do so in a manner respecting the sovereignty of Kuwait," presidential spokesman Harry Roque Jr. said.
Roque added that the parties were able to patch things up without the need for any drastic action from any of them.
Meanwhile, Roque assured the public that there is no need to pull Villa from his post in Kuwait, owing to the President's "personal, warm and friendly-negotiation style" when he spoke with Althwaikh.
Villa's recall has been talked about also in the Senate, with Minority Leader Franklin Drilon and Sen. Cynthia Villar discussing the possibility.
Drilon said yesterday the government should defend the actions of Villa in rescuing distressed Filipinos from their abusive employers.
"I support Ambassador Villa and what he's doing, because it's not easy to be in the situation, and I support him fully. He's there to protect our interest and the interest of our Filipino workers and, forced by necessity, he did what he did for the welfare of our Filipino compatriots," Drilon said.
Villar, however, said nothing would be lost if Villa is recalled and replaced with another diplomat.
"If there's a problem, let's just recall (Villa). We may be right but we're in their country, so there's bad blood already," Villar said.
PCOO assistant secretary Mocha Uson was said to be among the first to post the video of an unauthorized rescue that became viral in social media.
Roque said he leaves it up to the PCOO to review its policies on the use of social media by government officials to avoid any more diplomatic faux pas.
Apart from Uson, another pro-Duterte blogger circulated the viral video.
Reports added that a Department of Foreign Affairs (DFA) official shared the video in the Viber accounts of reporters covering the DFA.
MOA signing soon
Roque said a Memorandum of Agreement (MOA) benefiting overseas Filipino workers (OFWs) between the Philippines and Kuwait will still be signed, most probably after Ramadan.
"We still expect the MOA providing the minimum terms and conditions of employment for our OFWs to be signed soon. In fact, they're already talking about possible dates – maybe after this year's Ramadan," he said.
As this developed, Bello told The STAR the matter of the viral video will be fully discussed next week after the delegation of the Philippines accompanying the President to the 32nd ASEAN Leaders Summit in Singapore returns to the country.
Bello said Cayetano would be among the Cabinet officials who will discuss the matter with Althwaikh next week.
Despite the controversial rescue video, the Kuwaiti government vowed to help in the repatriation of more than 1,000 OFWs who have remained in Kuwait.
"That was the assurance that we got, that Kuwait will help in repatriating the remaining OFWs. There are about 1,000 of them," Bello told The STAR.
A MOA is being formulated to benefit OFWs in Kuwait as well as in other Middle Eastern countries as the DFA said both countries have agreed to work together to address matters of mutual concern.
"During (his meeting with the President), Ambassador Saleh reiterated to us the commitment of the Kuwaiti government to protect and ensure the welfare of our more than 250,000 kababayans working there," the DFA said in a statement. "For our part, we gave renewed assurances of our respect for the sovereignty of the State of Kuwait and the dignity of the Kuwaiti people."
Catholic Bishops' Conference of the Philippines Episcopal Commission on Migrants and Itinerant People chairman Bataan Bishop Ruperto Santos hoped the controversy surrounding the unauthorized rescue would not affect the efforts of the Kuwaiti and Philippine governments in signing the agreement. – With Mayen Jaymalin, Evelyn Macairan, Christina Mendez, Edith Regalado, Paolo Romero
Related video: