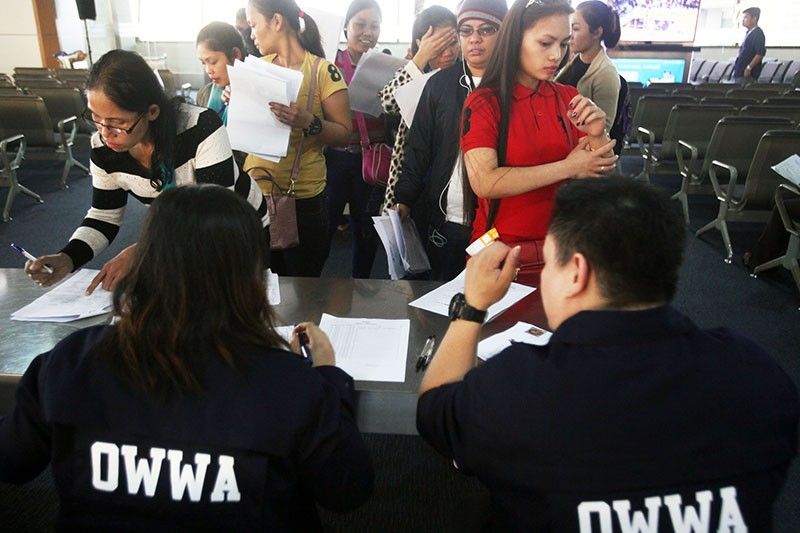 OWWA Personnel of welfare officer repatriation and assistant division was de-briefing the 25 OFWs who arrived at Manila International Airport Terminal I from Kuwait.
The STAR/Joven Cagande
Arrested Filipinos in Kuwait, drivers of OFW rescue teams — Cayetano
MANILA, Philippines — The two Filipinos arrested by Kuwaiti authority for allegedly convincing domestic helpers were merely hired as drivers by the Philippine Embassy conducting rescue operations, Foreign Affairs Secretary Alan Peter Cayetano said Tuesday.
State-run Kuwait News Agency earlier reported that the two Filipinos "confessed to the crime in addition to other similar offenses that had been committed in various regions of the country."
The arrests came after Kuwait's Ministry of Interior summoned Philippine Ambassador Renato Villa over comments he made regarding the embassy's effort to rescue distressed Filipino domestic workers.
RELATED: Philippines asks for 'diplomatic space' while settling issues with Kuwait
"We're asking them to confirm to us if they're in their custody and then we're asking for assistance explaining to them kung ano talaga 'yung mission ng DFA team, mission ng embassy and that itong mga ito just became part of it because we needed a driver," Cayetano told reporters.
Cayetano added that the Philippine government will be providing legal assistance to the arrested Filipinos who were part of the rescue teams.
The Department of Foreign Affairs is still confirming whether a third Filipino, who was also involved in the rescue efforts, was arrested.
The Kuwait News Agency, however, did not report what law the two Filipinos were accused of breaking.
READ: Kuwait arrests 2 Filipinos accused of helping runaway maids
According to Cayetano, the two men were rumored to be part of a conspiracy to "kidnap" Filipino domestic helpers, which was not the case.
He added that the violations of the arrested Filipinos were related to the incidents in connection to the assistance or the rescue operations conducted by the Philippine embassy.
Cayetano said that he had apologized to the Kuwaiti government "if they were offended by some actions taken by the Philippine Embassy in Kuwait."
"But we have explained to their ambassador and their ambassador has accepted this explanation. Of course, we will also send it to our counterparts that this was all done in the spirit of emergency action to protect Filipinos," Cayetano said.
The Philippine government had asked for the public's understanding as it aks for "diplomatic space" to continue its engagement with Kuwait to settle the issue.
Related video: