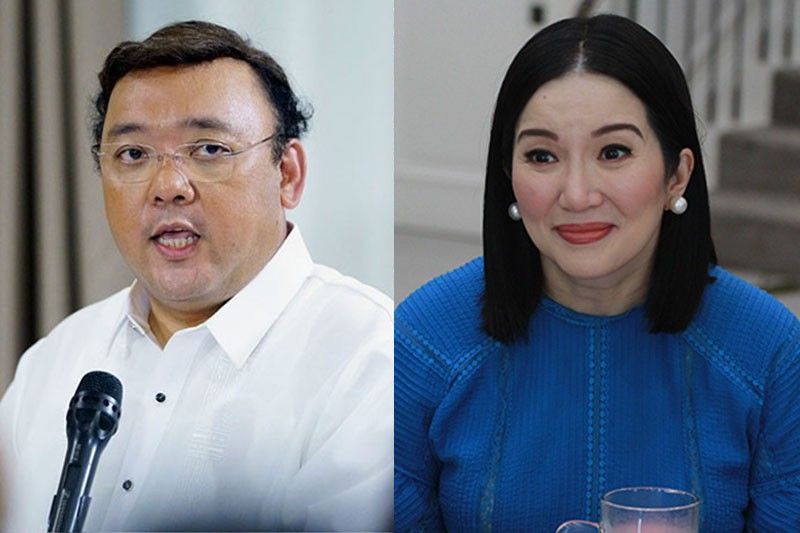 Roque to Kris: Welcome aboard
MANILA, Philippines — Presidential spokesman Harry Roque Jr. welcomed yesterday presidential sister and actress Kris Aquino to the Duterte administration's side after her social media rant against defeated Liberal Party presidential candidate Manuel Roxas and his wife, TV host Korina Sanchez.
"Welcome on board," Roque said, extending his fist forward – a move to show solidarity with the supporters of President Duterte.
Roque virtually extended the hand of reconciliation to the youngest sister of former president Benigno Aquino III, who is facing complaints regarding the Dengvaxia vaccine controversy and the botched Mamasapano, Maguindanao raid where 44 members of the police Special Action Force were killed in 2015.
Roque said Kris has expressed belief that she and the President were not supposed to have any rift despite her brother's support for Roxas in the last elections – and that then mayor Duterte was always kind to her when she visited Davao.
"Ang nabasa ko sa statement niya...walang masamang ipinakita si Presidente Duterte sa kanya at sa kanyang pamilya noong nangangampanya siya para sa kanyang kapatid sa Davao," Roque said in a press briefing in Malacañang.
Duterte, however, seems not too keen on running into Kris. He did not attend the Go Negosyo event right in Davao City shortly after he won the presidency owing to a busy schedule.
Kris even remarked, somewhat tongue in cheek, that she went on a diet to prepare for the Davao hosting event.
According to Roque, Duterte also had supported former president Corazon Aquino in 1986 and he was appointed as officer-in-charge of Davao City under her revolutionary government.
"At alam mo yun din ang sinabi sa akin ng Presidente. Si Presidente noong 1986 Revolution nagsuporta kay Cory at lahat ng kampanya ng pamilyang Aquino suportado ni Presidente Duterte sa Davao and the mother of course of the president," he said.
Kris Aquino took to social media to vent her anger at Roxas' wife Korina for featuring Kris' former husband and basketball star, James Yap, and his new family on her ABS-CBN program Rated K.
It was in one of her rants that Kris revealed that Duterte had welcomed her in Davao when she campaigned there in the past elections.
Judging by Korina's actions, Aquino said she now knows why Roxas did not win in the presidential election.
The actress later apologized to Duterte, brother Noynoy and Mar Roxas.