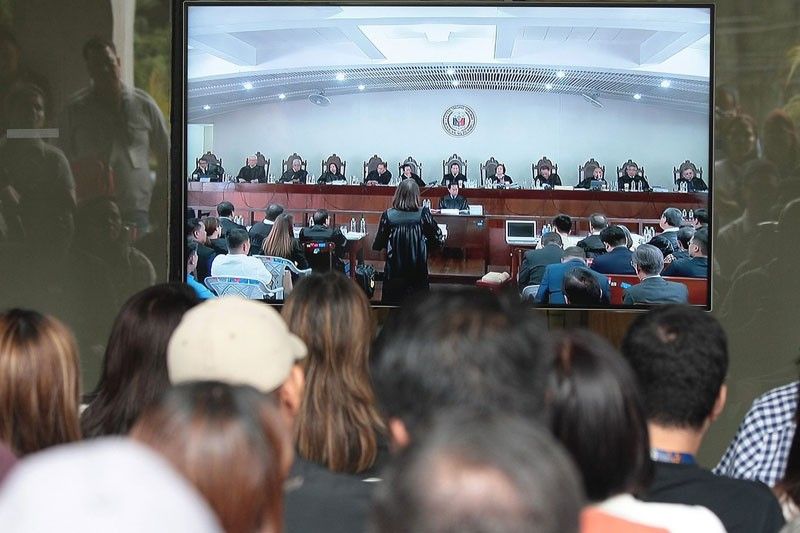 Sereno, SC justice in heated exchange
Edu Punay
(The Philippine Star) - April 11, 2018 - 12:00am
Only 3 to vote vs CJ's ouster?
BAGUIO CITY, Philippines — Chief Justice Maria Lourdes Sereno faced her fellow magistrates in the Supreme Court (SC) yesterday in a heated argument on the petition of the solicitor general seeking her ouster from the top judicial post.
The oral arguments turned out to be a shouting match between Sereno and her nemesis, Associate Justice Teresita Leonardo-de Castro.
Sereno, in a fighting mood, opened the interpellation with a challenge to the justices to make sure that they would also undergo the same proceedings should similar quo warranto petitions be filed against them.
This developed as sources said only three SC justices are expected to vote against Sereno's ouster by her colleagues: acting Chief Justice Antonio Carpio, Marvic Leonen and Benjamin Caguioa. Leonen and Caguioa, like Sereno, were appointed by Benigno Aquino III.
De Castro grilled the embattled Chief Justice, who was required by the high court to answer questions under oath, on the statements of assets, liabilities and net worth (SALNs) she submitted to the Judicial and Bar Council (JBC) during her applications for associate justice in 2010 and chief justice in 2012.
She asked Sereno why she supposedly submitted a false SALN in 2010 and incomplete SALNs in 2012.
De Castro said Sereno did not meet the requirement under the Constitution when she filed only one SALN in 2006 during her teaching stint at the University of the Philippines College of Law and submitted it only in 2010.
"When you resigned from UP in June 2006, you should've filed two SALNs – one in April 2006 for 2005 and then another in June 2006 when you resigned. But you only submitted one for 2006 and executed it in 2010, which was not even notarized," De Castro told Sereno.
Sereno denied the allegation, calling the interpretation of De Castro of the SALN requirement as "absurd, unreasonable and oppressive."
Sereno admitted that she was unable to submit her SALN for 2006 in 2010 because she was required by the JBC to submit the requirement on a Friday afternoon.
"I only submitted a downloaded form and dated it 2010; it's not SALN," she confessed, but argued that it was then accepted by the JBC.
Sereno insisted she did not violate the SALN law by failure to comply with the requirement unless there is allegation of corruption against her.
But De Castro cited a previous opinion of Sereno where she held that "under the law, failure to comply is prima facie evidence of unexplained wealth."
De Castro also confronted Sereno over her allegations in seeking her inhibition from the case. Sereno had claimed De Castro said she would never forgive her for accepting the chief justice post.
"That conversation never happened. I'm going to prove that," De Castro stressed.
Associate Justice Noel Tijam also confronted Sereno on her insinuation that the case against her is a fight between good and evil.
"I am just alarmed by the insinuation when you said evil will not triumph. It seemed that there is a morality play here, a fight between good and evil," he told the Chief Justice.
"The members of the Court are not obsessed by that. We will decide the case based on evidence presented," Tijam added.
De Castro, Tijam and three other magistrates – Associate Justices Diosdado Peralta, Lucas Bersamin and Francis Jardeleza – all rejected the motions of Sereno seeking their inhibition from the case over alleged biases.
Acting Chief Justice Antonio Carpio, who presided over the oral arguments, said the justices would explain their reasons for refusing to inhibit from the case in their respective opinions when the SC issues its decision.
Associate Justice Marvic Leonen, for his part, pointed out that failure to comply with the SALN requirement appears to be not a major violation to constitute "lack of proven integrity."
Leonen stressed that integrity issue should involve bigger allegations such as corruption.
Solicitor General Jose Calida, however, insisted Sereno did not meet the eligibility of proven integrity due to her false and incomplete SALNs.
"Sereno was a permanent faculty member of the University of the Philippines College of Law from 1986 until 2006. She deliberately failed to file her SALN eleven times in her twenty years as a law professor," Leonen said.
Leonen said Sereno "selectively filed her SALNs for the years 1985, 1990, 1991, 1993, 1994, 1995, 1996, 1997 and 2002."
Calida added the Constitution demands that a public officer or employee shall, upon assumption of office and as often thereafter as may be required by law, submit a declaration under oath of his or her SALN.
"The Code of Conduct and Ethical Standards is no less emphatic: it behooves every government official or employee to accomplish and submit a sworn statement completely disclosing his or her assets, liabilities, net worth and financial and business interests," Calida said.
Defective endorsement
Sereno's lawyer Alex Poblador, on the other hand, pushed for the dismissal of the quo warranto petition on technical grounds.
He particularly argued the case was belatedly filed since such petition has a prescription period of only one year.
Poblador said the solicitor general should have instead filed a petition for certiorari because he was questioning the action of the JBC.
Fr. Ranhilio Aquino, dean of San Beda College's Graduate School of Law, added the JBC could be held liable if the SC rules that Sereno is not qualified to hold the position as chief magistrate.
Aquino, however, stressed a quo warranto petition to remove Sereno is not in violation of the Constitution.
"Why did they endorse somebody whom they knew not to be qualified? The JBC would also be held liable. But it will be held liable in a different proceeding, not in a quo warranto proceeding," Aquino said in an interview with dzBB.
Aquino also noted that most members of the consultative committee (Concom) tasked by President Duterte to review the 1987 Constitution are against the JBC.
"Many of us in the consultative commission are not in favor of the JBC," he said.
Calida earlier asked the SC to void Sereno's appointment due to her alleged failure to fully disclose her wealth.
Under Rule 66 of the Rules of Court, a quo warranto proceeding is an action by the government against an individual who "usurps, intrudes into or unlawfully holds or exercises a public office, position or franchise."
According to Calida's petition, Sereno failed to declare her wealth in full during 17 years out of her 28-year teaching stint at the UP College of Law.
Not his style
Calida denied Sereno's allegation that Duterte was behind the impeachment case in Congress as well as the quo warranto petition.
Shortly before yesterday's oral arguments, Calida insisted to reporters that there was no instruction from the Chief Executive to oust Sereno.
"The President never instructed me to file a quo warranto case against respondent Sereno; that's not his style," he stressed.
Groups and personalities sympathizing with Sereno assembled at the SC compound here, calling on the high tribunal to "not allow itself to be used as an instrument for Duterte's tyrannical plot to gain absolute control of the judiciary."
Calida, however, stressed he filed the petition against Sereno on his own initiative.
"I can look at you straight in the eye and say the President has nothing to do with this," he said.
Calida also rebutted the allegation made by Sereno in her speech last Monday that the quo warranto case against her was unconstitutional.
"Maybe I should add one more violation (as ground for quo warranto) – proven incompetence. She doesn't even know the nitty gritty of the Constitution," he said.
Calida though welcomed the President's pronouncement that he would support the quo warranto case against Sereno.
"I'm very happy that he supported our quo warranto and he even said that I should do my best. Rest assured I will do my best," Calida said.
Sereno believes the hand of the Chief Executive in the quo warranto petition cannot be denied.
"Mr. President, if you say that you have no hand in this, please explain why Solicitor General Calida, who reports to you, filed the quo warranto," she said in Filipino.
"Is that the way it is, President Duterte? That I should be removed either by quo warranto or impeachment?" Sereno asked.
Sereno said the public would obviously see that her imminent impeachment in Congress and ouster petition before the SC had the imprimatur of Duterte.
"The budget for this must be in the hundreds of millions. It could even run up to a billion," she alleged.
An irate Duterte quickly responded and called for Sereno's ouster, asking Congress to "fast track" the impeachment proceedings.
"I'm putting you (Sereno) on notice that I am now your enemy and you have to be out of the Supreme Court," Duterte told reporters before flying to China for an economic forum.
Sereno's camp denied that her statements were made to provoke Duterte and that she was just exercising her freedom of expression.
Her spokesman lawyer Carlo Cruz explained the question raised by Sereno during her speech last Monday only echoed the question asked by many people.
Malacañang also tried to soften the impact of Duterte's speech against Sereno last Monday.
Presidential spokesman Harry Roque Jr. said the President was speaking as chairman of the political party PDP-Laban. – Helen Flores, Christina Mendez, Artemio Dumlao